Following are updates shared from submissions of the Lutheran Office for World Community and state public policy offices.
U.N. | California | Kansas | Minnesota | New Mexico | Pennsylvania | Texas | Washington | Wisconsin
Lutheran Office for World Community, United Nations, New York, N.Y. ELCA.org/lowc
Dennis Frado, director
UN HIGH LEVEL POLITICAL FORUM ON SUSTAINABLE DEVELOPMENT: The UN High Level Political Forum (HLPF) for Sustainable Development was held virtually from 7-16 July 2020. The theme this year was "Accelerated action and transformative pathways: realizing the decade of action and delivery for sustainable development." This year also ushers in the decade of action and delivery which was launched at the Sustainable Development Goals (SDG) Summit in September 2019. The decade is geared towards stepping up progress towards the SDGs in order to realize their targets by 2030. The HLPF will also examine the impact of the COVID-19 pandemic on the progress in the implementation of the 2030 Agenda and the SDGs.
Several countries will share their Voluntary National Reviews (VNRs). In addition to the main programme, there are side events being held daily including some hosted by faith-based organizations. You can follow the sessions and watch live at http://webtv.un.org/live/.
LWF SUPPORTS UN CALL FOR GLOBAL CEASEFIRE TO CURB SPREAD OF COVID-19: On July 6, the Rev. Dr. Martin Junge, General Secretary of The Lutheran World Federation, called on the five permanent members of the UN Security Council to strengthen the Council's efforts to implement a global ceasefire. On July 1, the Security Council adopted a resolution of support for UN Secretary General António Guterres' appeal for a ceasefire to help efforts to fight COVID-19 in the most vulnerable countries. Junge  said the LWF is "painfully aware how on-going armed conflicts and hostilities in different parts of the world represent a significant impediment to stopping the spread of the virus." The letter to the permanent members — China, France, Russia, the United Kingdom and the United States — was conveyed to their permanent missions in New York by LOWC. More detailed information is here.
---
California
Regina Q. Banks, Lutheran Office of Public Policy- California (LOPP-CA) lutheranpublicpolicyca.org
BUDGET ADVOCACY WIN: California's Governor Gavin Newsom signed the Budget Act into law with funding to expand the California Earned Income Tax Credit (CalEITC) to undocumented tax filers with children under age six. We celebrate and thank the legislature and the governor for this step forward but also acknowledge that so many people are still excluded from this essential anti-poverty policy. Along with coalition partners, we have been pushing over the last months and years to expand the CalEITC to all tax filers. Immigrant tax filers contribute $3.2 billion to state and local taxes every year, yet they are ineligible to receive aspects of the safety net proving so essential in the midst of COVID-19.
OVERARCHING ANTI-RACISM VALUE: The LOPP-CA Policy Council unanimously affirmed a move to center an anti-racist lens to fuel and undergird our advocacy priorities as an organization. An anti-racist approach confronts and dismantles systems, structures, and policies which promote racism and white supremacy. White supremacy and policymaking go hand-in-hand, whether explicitly through historically segregated beaches along California's coast, or implicitly through access to state programs such as clean vehicle rebates and tax credits. An anti-racist approach centers voices, experiences, and solutions of Black people, Indigenous people, and all people of color. The board will work in conjunction with the director to develop protocols and guidance for how this value will be implemented and measured.
NEW BOARD MEMBER: The LOPP-CA Policy Council welcomes a new ex officio board member, Dr. LaSharnda Beckwith, CEO of Lutheran Social Services of Southern California. Dr. Beckwith oversees the strategic direction and execution of the agency's core mission and leads a diverse team of 150+ employees across 18  offices in eight counties to improve conditions for underserved and marginalized communities.
LOCAL PARTNERSHIP: The board also voted to participate as a placement for a local young adult discernment organization, Lutheran Episcopal Volunteer Network (LEVN). LEVN is located in Davis, Calif. and provides spiritual formation, vocational discernment, financial support, and meaningful work at a non-profit placement site. The LEVN volunteer at LOPP-CA will work remotely doing communications, social media, and administrative duties as assigned to support advocacy in the Capitol and engagement in our churches.
BALLOT MEASURES: California has a robust initiative system, whereby voters have direct power to make laws and approve constitutional amendments. Ballot measures for November 2020 include reinstating affirmative action, expanding the right to vote, updating property tax and eliminating cash bail. LOPP-CA will host forums on the most important ballot measures and release a voter guide in September.
ADVOCACY IN QUARANTINE: We continue to host our weekly Wednesdays at Noon briefing on state and federal legislation and call to action. This month, we supported affirmative action, SNAP increases, democratic integrity, and we thanked legislators for the much-needed CalEITC expansion.
---
Kansas
RENTERS RELIEF: KIFA is very concerned about the threat to stable housing due to the pandemic and recession, particularly for renters, who tend to be lower-income. Gov. Kelly's moratorium on evictions expired at the end of May, meaning that thousands of Kansans who are in arrears on their rent are left without any protection, forced to choose between housing costs and other necessary expenses such as food, transportation, medical care and prescriptions, or utilities.
KIFA has been trying to find a way to address this in the absence of a meaningful affordable housing movement in Kansas or, frankly, much concern for poor and working people being demonstrated by legislative leadership. We proposed an amendment to extend the moratorium to the omnibus COVID-19 response bill at the end of the special legislative session in early June, but it didn't pass.
Since then we've been working to get the governor's COVID-19 response task force, known as the "SPARK Committee," to take an interest in the issue. We are asking them to designate money from the CARES Act for rental relief and homelessness protection, which is included as a stated purpose in the legislation. Other states have done so.
The issue points out that affordable housing has never been an area of policy focus (or movement energy) in Kansas. It needs to be an integral part of a comprehensive anti-poverty/anti-inequality platform and will require legislative action over the medium to longer term.
---
Minnesota
Tammy Walhof, Lutheran Advocacy- Minnesota (LA-MN) lutheranadvocacymn.org
LEGISLATIVE ACCOMPLISHMENTS: Legislators have little to show for their regular session and the first special session, except for some COVID-19 Emergency Bills! However, we should not discount the challenges they've overcome with Zoom & Facebook Live committee meetings and floor sessions physically distanced by video to different places in the Capitol.
SPECIAL SESSION #1 DERAILED: June's Special Session was slated to finish leftover bills from regular session, pass a bonding bill, and provide legislative oversite over Gov. Walz & emergency declarations. The death of George Floyd (by Minneapolis police), resulting protests, and renewed spotlights on racism/policing diverted them.
The House POCI Caucus (People of Color & Indigenous legislators) created a transformative plan for policing with emphasis on systemic/institutional issues, while Republican senators created their own moderate proposals.
The policing issues, along with a House Minority threat to prevent bonding (needs 2/3 vote) unless governor emergency powers ended, individual legislators "gumming up" the process until their issues were heard, and the Senate refusing to allow the session to last longer than a week derailed most everything.
SPECIAL SESSION #2: This session began Monday, July 13. Senate leaders planned to only address bonding, and wanted it negotiated prior to session. The House POCI Caucus claims it won't accept bonding bills unless a transformative policing bill is also passed. Meanwhile, leaders of both chambers and both parties are meeting out of the limelight, trying to come to some basic agreements.
We hope bonding will pass with affordable housing (bipartisan/bicameral support) but don't expect much more than that. Even so, getting both chambers to agree to our lower, already compromised housing proposals will be an uphill push. PLEASE check our website regularly for Action Alerts (may change frequently).
[LA-MN Director: Tammy Walhof / 651-238-6506 (call/text) / tammy@lutheranadvocacymn.org. Website: www.lutheranadvocacymn.org] 
---
New Mexico
Kurt A. Rager, Lutheran Advocacy Ministry—New Mexico (LAM-NM) lutheranadvocacynm.org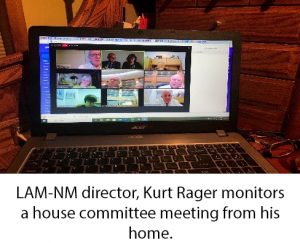 BUILDING CLOSED DURING SPECIAL SESSION: The New Mexico State Legislature was called into a Special Session by Governor Lujan Grisham that began on June 18th and lasted for four days. The primary purpose of the session was to make spending adjustments to the state's already approved spending plans for the fiscal years 2020 and 2021 due to the unprecedented fiscal crisis, which was created by the dramatic downturn in oil and gas revenue projected for state spending as well as the unforeseen economic decline and necessary relief caused by the COVID-19 pandemic. Further making the special session extraordinary was the decision by the legislature to close the State Capitol Building, known as the "Roundhouse ," to members of the public. Only legislators, limited legislative staff, law enforcement protection and select members of the press were allowed into the building. The House adopted temporary rule changes that enabled members of the House to participate off-site, from homes and offices, etc. Thus, Lutheran Advocacy Ministry – New Mexico participated and advocated entirely by digital platforms such as Zoom and FaceTime Live, in addition to phone call testimony during committee hearings. Despite being able to monitor multiple meetings and both floor sessions at the same time, public and advocate participation was significantly absent and limited due to the Capitol Building's technology limitations. LAM-NM is currently working with other advocacy organizations, as well as members of the New Mexico Legislature, to ensure a better plan and preparations are in place for the 2021 60-day session that begins in January of 2021.
---
Pennsylvania
Tracey DePasquale, Lutheran Advocacy Ministry–Pennsylvania (LAMPa) lutheranadvocacypa.org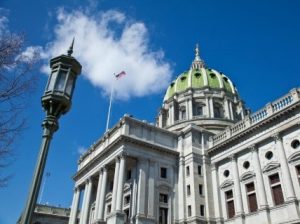 POLICING AND CRIMINAL JUSTICE REFORMS PASS, ELECTIONS REFORMS ON HOLD AS LEGISLATURE RECESSES: The General Assembly unanimously passed two policing reform bills and a measure to remove barriers to professional licensing for individuals with certain unrelated prior convictions. However, they recessed for the summer while leaving work on elections reforms on the table, as the President's re-election campaign sued the state over changes made to procedures in response to the COVID-19 pandemic. Read more.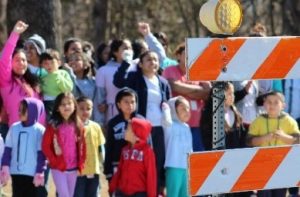 JUDGE ORDERS ICE TO RELEASE MIGRANT CHILDREN FROM DETENTION: California's Central District Court ruled that ICE should release children from the country's three family detention centers, including one in Pennsylvania. Gov. Wolf lauded the decision, saying he "will work with federal and Berks County officials to ensure the safe release of people in custody and provide any assistance necessary." LAMPa's network has helped lead monthly vigils at the center and advocated for years to an end to family detention. LAMPa is working with partners in the Pa. Immigration and Citizenship Coalition to protect families from being separated during the ordered release.
RENTAL AND MORTGAGE COVID-19 RELIEF FUNDS AVAILABLE: LAMPa staff, along with Lutheran Disaster Response in Pennsylvania, continue to monitor the potential surge in homelessness and advocate for an extension of the state's moratorium on evictions and foreclosures, set to end July 10. LAMPa is urging advocates to help spread the word about $175 million of state funding for rental and mortgage assistance. Funds will be distributed in counties on a first-come, first-serve basis. Read more.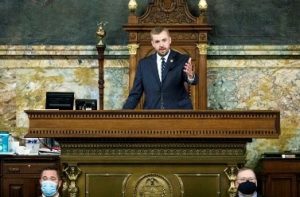 PA. HOUSE LEADERSHIP TRANSITIONS: A new slate of leaders was elected in the House Republican Caucus following the resignation of former PA House Speaker Mike Turzai. The House unanimously elected Rep. Bryan Cutler of Lancaster County as the new Speaker of the House. House Republicans chose Rep. Kerry Benninghoff (R-Centre/Mifflin) to serve as the next majority leader. LAMPa staff looks forward to working with the new leadership. Read more.
ADVOCACY ENGAGEMENT: Six alerts were shared with LAMPa constituents in June. Topics included state and federal policing reforms, DACA deportation and rental/mortgage assistance. In addition, advocates reached out to their federal lawmakers, securing signatures of the entire state delegation on a letter to U.S. Agriculture Secretary Perdue, requesting an extension of emergency food assistance waivers.
---
Texas
Bee Moorhead, Texas Interfaith Center for Public Policy texasimpact.org
Texas Impact members have been busy this week participating in legislative meetings and preparing for safe, accountable voting in 2020.
Texas Impact's Legislative Engagement Group is meeting with members of the Texas House's district offices this month about racial justice, and preparing for meetings next month to talk about the moral nature of the budget, stressing that decisions on priority spending are choices. It is not a foregone conclusion that budget cuts are required.
Texas Impact is continuing to promote the "Texas Faith Votes" campaign, organizing Texans of faith to pledge to vote based on four priorities (health, climate, immigration and non-discrimination) and organizing congregations to promote vote by mail options for eligible voters. All thirty-one districts have members who have signed the pledge.
In July, Texas Impact will re-launch our Faith in Democracy series of local advocacy trainings online. Each event will include a faith and community leader panel and tools to equip congregations to be effective advocates and promote safe, accountable voting.
Texas Impact continued the Weekly Witness podcast series featuring speakers from the Washington Interfaith Staff Community and has added a racial justice series featuring clergy of different races discussing racial justice and advocacy.
The weekly e-news has continued to highlight denominational leaders, including all three Texas ELCA Bishops, who continue to recommend congregations listen to the advice of public health officials. Texas ELCA bishops have been leaders throughout the COVID-19 crisis, helping to resource other denominational leaders throughout the state.
The news can be discouraging, but we find hope in the leadership of Texas faith leaders and the level of engagement of Texans of faith.
---
Washington
The Rev. Paul Benz and Elise DeGooyer, Faith Action Network fan@fanwa.org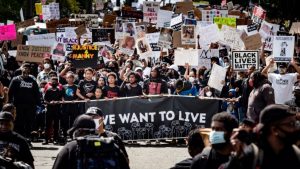 BLACK LIVES MATTER: As protests for Black Lives continue state- and nationwide, FAN has released a Statement Against Police Brutality and a Platform for Advocacy. The ongoing revelation of police brutality and white supremacist threats against Black people and People of Color has made it clear that we cannot continue the system of policing as it has been in our nation's history, and we need to examine all of our institutions to root out racism and dehumanizing practices. FAN is part of the WA Coalition for Police Accountability, which is led by families impacted by police brutality. This coalition, as well as the Governor's 21-member police reform taskforce, will bring legislative proposals to the 2021 legislative session to seek a way forward.
REGIONAL SPRING SUMMITS: We just completed our annual Spring Summits, hosting online events this year in SW WA, Spokane, Central WA, and two in Puget Sound. About 200 advocates joined us from across the state to discuss policy change around economic justice, criminal justice, housing and homelessness, environmental justice, racial equity, immigrant rights, and healthcare and mental health. This year we also highlighted Census 2020 and COVID-19. These discussions will inform our 2021 Legislative agenda as well as our advocacy efforts year-round.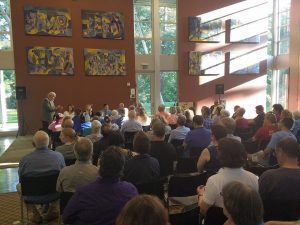 SUMMER/FALL ADVOCACY: As we move into the summer and fall, FAN will be hosting interim meetings and candidate forums in collaboration with local advocates and faith communities. Interim meetings with legislators are a great opportunity to discuss policy issues outside the busy legislative session and build relationships with elected officials. 2020 is a big election year, so hosting candidate forums will be key to hearing how candidates align with our justice priorities. These events will likely be hosted online in light of COVID-19.
---
Wisconsin
The Rev. Cindy  Crane, Lutheran Office for Public Policy in Wisconsin (LOPPW) loppw.org
As our experience with the COVID-19 pandemic continues, LOPP-Wisconsin is primarily sharing advocacy updates through video. Find great information in these areas from the previous month:
WEDNESDAY NOON LIVE (STIMULUS BILL AND SNAP): We interviewed special guest, John Johnson, ELCA Program Director of Domestic Policy: Video
STIMULUS BILL & IMMIGRATION: We sent a video message created by Bishop Paul Erickson, Greater Milwaukee Synod, to our D.C. office as part of a larger effort to contact Congress about caring for those most vulnerable during the pandemic: Video
HUNGER: LOPPW sent out its action alert on the stimulus bill again. We interviewed Lindsey Buekelman, All People's Lutheran Church in Milwaukee—Food Truck Ministry: Filling a hole during the pandemic: Video
ANTI-RACISM: An advisory council member and the director interviewed former Madison Police Chief and Police Officer in Minneapolis, now an Episcopal priest, Father David Couper – Policing & the Use of Force: Video. LOPPW also participated in the Talanoa Dialogue process led by Ruth Ivory-Moore, ELCA Program Director, Environment and Corporate Social Responsibility.
VOTING: Participated in Wisconsin Voter Rights Coalition meetings and got a former intern involved. We shared one action alert from the group.
CARE FOR GOD'S CREATION: We made the Governor's Task Force on Climate Change listening sessions known (LOPPW Press Release). We each attended one of the June sessions. We also held a webinar to help prepare interested members for the sessions: Video. LOPPW's former advisory council member and director interviewed Chief Meteorologist Bob Lindmeier on Climate Change:  Video
ADDRESSING SEX TRAFFICKING AND OTHER ABUSES: Webinar with experts – The Pandemic and Living on the Edges of Safety: Video