U.N. | California | Colorado | Delaware | Kansas | Minnesota | Ohio | Pennsylvania | Washington | Wisconsin
Following are updates shared from submissions of the Lutheran Office for World Community and state public policy offices. This January 2020 edition particularly emphasizes priorities in the new year. 
Lutheran Office for World Community, United Nations, New York, N.Y.
Dennis Frado, director
ELCA HIV & AIDS STRATEGY: In Commemoration of World AIDS Day (1 December each year), LOWC Program Associate Rebecca Anderson spoke on ELCA's HIV & AIDS Strategy at a one-day Symposium (7 December 2019) hosted by the Peoples' Community Evangelical Lutheran Church's HIV Awareness project, in Baltimore, MD. The theme was "Ending AIDS 2030, Act Now."
Dr. Ulysses Burley III (CEO of UB the Cure) focused his presentation on the UNAIDS Fast-track strategy to end the AIDS epidemic by 2030. 30 countries worldwide account for 89% of new HIV infections. The UNAIDS Fast-Track Strategy stresses the necessity of concentrating its resources towards the most affected cities and communities within those countries most affected. This requires significant commitments from both national and international sources.
Ms. Anderson highlighted the Strategy's recognition that "the body of Christ has AIDS… [we are] a church that is HIV positive." The Strategy urges the Church to turn outward in compassion through a multifaceted approach of prayer, charity, advocacy and education in combatting the HIV & AIDS pandemic. ELCA, in partnership with the Lutheran World Federation, have been working with companion churches, partners, the government and civil society to "halt the spread of HIV through effective prevention, treatment and care, eliminate the stigma and discrimination experienced by those who are HIV-positive and reduce the conditions of poverty and marginalization that contributes to the spread of HIV."
Derrick L. Weston (Director of Programs and Volunteers at HopeSprings), spoke about the faith community response to the HIV and AIDS epidemic, particularly in Baltimore and Maryland. Mr. Weston shared statistics for the Baltimore area, stating that the "Baltimore-Columbia-Towson Metropolitan Region is 10th in the nation for diagnosed HIV cases and 4th in the nation for people living with HIV, with 1 in 41 people in Baltimore City HIV positive." Mr. Weston shared HopeSprings' best practices, bringing those affected back into a positive relationship with the church. HopeSprings offers a holistic approach and appropriate referral services when working with those affected and works together with the faith community, providing wholistic ministry training and community engagement training.
A Q&A period featured Ms. Patrice Henry (Senior Community Program Coordinator/Project LINK Patient Advocate, John Hopkins University – School of Medicine) who spoke about living with HIV & AIDS. Diagnosed late and considered 'a miracle' by the doctor who correctly diagnosed her, Ms. Henry spoke of her journey fighting the stigma she grew up with and her experience counselling those affected.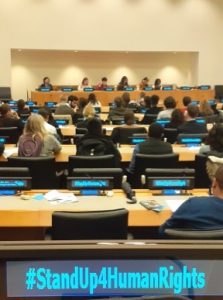 HUMAN RIGHTS DAY: On Human Rights Day (December 10), the United Nations Office of the High Commissioner on Human Rights (OHCHR) hosted an event titled "Celebrating Human Rights Day: Youth standing up for human rights." In his introductory remarks, Andrew Gilmour (Assistant Secretary-General, OHCHR) spoke about the "sustained and sometimes ferocious pushback against the entire global human rights agenda that we haven't seen before." The United Nations Secretary General Antόnio Guterres commended the efforts of young human rights activists, stating "they are powerful torchbearers for a better future, and we owe them all our support." A video message was given by the High Commissioner for Human Rights, Michelle Bachelet, who reminded viewers that "what is at stake is our freedom, our security and our environment, we must all rise up peacefully to achieve a world of rights for all."
A panel discussion featuring youth took place, moderated by Jessica Stern (Executive Director of OutRight Action International) who emphasized the importance of UN using universal language in policies that translates into local languages. Fatou (Toufah) Jallow (23), from The Gambia, supported this, commenting on her struggle to break the silence and stigma around rape after experiencing such sexual violence, as the English word translates in her local language to "falling on someone" and does not express the gravity of the human rights violation. Feliciana Herrera Ceto, (23) a youth indigenous leader from the Ixil Region in Guatemala, was unable to attend due to her visa being denied but sent her remarks including "[Human Rights] have come at a great cost. I have been criminalized for standing up for the human rights of the indigenous/for exercising my rights to self-determination in order to keep peace in our communities. We don't enjoy Human Rights." Carl Smith (17) from the indigenous Yupiaq tribe in Alaska commented on the way climate change has had a detrimental effect on his traditional and cultural hunting rituals. He submitted a complaint to the Child Rights Committee alleging that climate change is violating his human rights. Alexus Lawrence (18) spoke of her childhood experience of homelessness and now advocates to change the face of homelessness, urging all to "understand your power, understand your privilege and use it."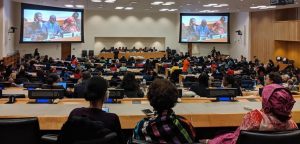 COMMEMORATION OF THE 40TH ANNIVERSARY OF CEDAW: On December 18, the United Nations held a commemorative event for the 40th anniversary of the Convention on the Elimination of All Forms of Discrimination against Women (CEDAW). Since its adoption by the General Assembly in 1979, it has become a leading force for transformative change for women's equality and empowerment. Assistant Secretary-General Andrew Gilmour (OHCHR) stated in his opening remarks that "one manifestation of all this is cases of intimidation and reprisals carried out against women who have cooperated with the UN and the human rights mechanisms."
The President of the General Assembly, H.E. Mr. Tijani Muhammad-Bande, highlighted "it is a day to celebrate…this treaty has significantly improved the lives of women over the last 40 years." Mr. Muhammad-Bande urged men and boys around the world to understand that a woman in power is not a threat and called on all Member States to uphold the rights of women.
In the following panel discussion, Ms. Bandana Rana (Vice-Chair of the CEDAW Committee) highlighted that CEDAW has "received hundreds of state parties reports on their obligations to promote and protect women's rights", and has seen an increase in the adoption of "legislative and administrative reforms to eliminate discrimination and prevent gender-based violence against women." Ms. Rana stated "we must affirm the gains we have made in advancing human rights, build on the hope of women's mobilization and transformative actions, and take collective action to forge solidarity with other movements demanding accountability of its states and the private sector."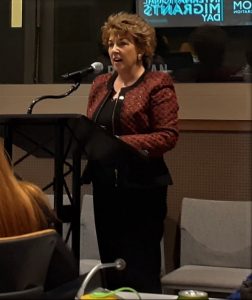 INTERNATIONAL MIGRANTS DAY CELEBRATION: The United Nations celebrated the resilience, human rights and dignity of Migrants worldwide on International Migration Day (December 18). The International Organization of Migration (IOM) hosted an event of music, documentary sharing and firsthand accounts of migration from the Democratic Republic of Congo to America. In his opening remarks, Mr. Ashraf El Nour, the IOM UN Office Director, highlighted that "we often forget the experiences, stories, sacrifices of individual migrants. Today we would like to celebrate the human face of migrants…Human mobility should not be prohibited or restricted, or even worse – criminalized." Mr. Nour emphasized that migrants add value to the societies they are in and urged all to quell toxic migration narratives.
H.E. Ms. Gerladine Byrne Nason, the Permanent Representative of Ireland (pictured), commented from a global perspective that "migrants today are all too frequently treated as a threat to security". She stated the need to engage with host countries to eradicate frequent toxic migration narratives. Ms. Nason shared 2019 migration statistics, stating in 2019 there were "25 million refugees, 3.5 million asylum seekers and 41 million internationally displaced peoples."
A film screening of "One Way Ticket", was showcased and the Director and two of the film's protagonists, Mr Jean Pieere Ntegyeye and Mr. Isaiah Bahati, joined for a panel discussion around their journey from the same migrant camp in the Democratic Republic of Congo to America. Mr Gregoire Grosset, the director, commented on the interviews he conducted within migration camps and highlighted that "even when they [migrants] face[d] distress, they never complained" and that they maintained quiet dignity through their suffering.
Read International Migration Day UN News article here.
NEW LOWC FACEBOOK PAGE! The Lutheran Office for World Community has some exciti

ng news. We now have our very own Facebook account that can be accessed here. We will share more of our work and engagement with the United Nations on this new media platform and welcome all to the page!
---
California
Regina Q. Banks, Lutheran Office of Public Policy- California (LOPP-CA) lutheranpublicpolicyca.org
The Lutheran Office of Public Policy begins the 2020 legislative year remaining committed to the principles of economic justice, human rights, accompaniment and responsible stewardship and sustainability in service of a more peaceful and compassionate California. Our legislative and executive priorities for the year are:
IMMIGRATION/MIGRATION POLICY: We are looking forward to living into the ELCA declaration of being a sanctuary denomination in California- a sanctuary state. Our foundation is to advocate for and accompany our siblings who are immigrating to and moving through California. Education, poverty and other healthcare and human services remain a challenge for this population and we are committed to walking with them to seek equity.
HOUSING RIGHTS AND HOMELESSNESS: California is in the midst of a housing crisis that is affecting every corner of the state and wide swaths of the economic scale. We here at LOPP-CA are committed to finding equitable funding streams to encourage sustainable building of housing throughout California. Additionally, we are seeking services for individuals and families experiencing homelessness.
FOOD AND FARMING: California's role in agricultural leadership is unrivaled. This affords us great opportunity to be leaders in food and farming policies that ensure just stewardship of our state's resources to feed ourselves and the nation. If we believe that food and water are human rights- and we do- care must be taken to see that food is grown, transported and distributed equitably and with maximal attention toward care of God's creation. We here at LOPP-CA are committed to these goals.
We look forward to continuing fruitful partnerships with ministry partners and others in civil society toward these and other goals as they serve to help us live our gospel mandates to Love Our Neighbor.
---
Colorado
Peter Severson, Lutheran Advocacy Ministry-Colorado www.lam-co.org
2020 Advocacy Agenda
ENDING HUNGER:
Improve access and usage rates for SNAP benefits for already-qualified individuals and support protection of the program on a federal level.
Encourage greater participation in food and nutrition programs, particularly for children age 0-18
Support and collaborate with allied faith-based entities in local and regional work, including ELCA World Hunger, the Rocky Mountain Synod World Hunger Team and Bread for the World
POVERTY REDUCTION:
Support the creation and implementation of a paid family and medical leave insurance program
Protect access to federal programs for people living in poverty
Support reform of the Taxpayer Bill of Rights to give elected representatives fiscal authority in taxation
ACCESS TO HOUSING:
Promote measures to expand and protect housing options for low-income individuals and families
Ensure that people experiencing homelessness have the right and responsibility to access robust services and support
CRIMINAL JUSTICE REFORM:
Abolish the use of capital punishment in Colorado
Work with reform advocates on automatic record sealing and sentence commutation
PUBLIC HEALTH:
Protect health care access as a public good and human right that should be available to everyone regardless of ability to pay
Support awareness of public safety in relation to firearms, and understanding firearm-involved deaths (homicides and suicides) as a major public health concern
Promote access to care and treatment for those suffering from opioid addiction
MIGRANTS AND REFUGEES:
Interpret and promote the sanctuary denomination decision of the ELCA Churchwide Assembly
Collaborate with Lutheran Immigration & Refugee Services and Lutheran Family Services Rocky Mountains
CARING FOR OUR ENVIRONMENT:
Engage proactively with Colorado legislators (state and federal) to encourage legislation to address the root causes of the climate crisis, including greenhouse gas emissions
---
Delaware
Gordon Simmons, State Public Policy Officer, DE Lutheran Office for Public Policy delutheranpublicpolicy@gmail.com
The priorities for the Delaware Lutheran Office for Public Policy for 2020 will be (1) Education (especially additional funding for students from low income families and for those learning English and (2) the Environment (especially raising the state's goal for renewable energy from 25% to a target of 40%).
---
Kansas
Kansas Interfaith Action (KIFA) today released its agenda for the 2020 Kansas legislative session, including Medicaid expansion, a reform in the laws covering the payday lending industry, and for a comprehensive statewide climate plan, among other items.
KIFA is a statewide, faith-based issue advocacy organization that represents mainstream faith voices in the state legislature and organizes people and communities of faith to bring a moral voice to public policy in Kansas. KIFA's legislative agenda focuses on the "four evils" of racism/discrimination, economic injustice, gun violence, and climate disruption. KIFA members are shaped by the values of our diverse faiths, which connect us to a timeless concern for justice, peace, and human dignity.
KIFA's 2020 legislative priorities include:
EXPANDING MEDICAID: We strongly believe that healthcare is a human right and people should not be denied access to basic medical care due to inability to pay. Medicaid Expansion is a moral imperative. We call for a clean expansion bill, without unnecessary conditions or further delays.
PAYDAY LOAN REFORM: KIFA is part of a statewide coalition introducing bipartisan legislation to ease the conditions of short-term, high-interest loans to make them less onerous for borrowers.
CRIMINAL JUSTICE REFORM: KIFA supports passage of the Smart Justice Act, which includes the return of all private property seized under civil forfeiture by police upon acquittal, banning the felony question on state job applications, and probation reform. In addition, we call for decriminalizing drug offenses, and expunging the records of those who have been caught up in the disastrous "war on drugs."
"GUNSENSE" LEGISLATION: A "red flag law" would develop a court process to temporarily remove firearms from a person who poses an imminent danger to others or themselves. Also, we oppose any legislation that would further loosen Kansas' already too-lax gun laws.
EFFECTIVE CLIMATE ACTION: Kansas must begin to plan now for the worsening impact of climate change on Kansas residents and agriculture. Such a plan would include a robust commitment to energy efficiency and clean energy — making Kansas' energy sector 100% carbon-neutral by 2030 — and building resilience to climate disruption into all our future planning.
KIFA's advocacy priorities can be found at https://www.kansasinterfaithaction.org/updates/2020-advocacy-priorities.
---
 Minnesota
Tammy Walhof, Lutheran Advocacy- Minnesota (LA-MN)  lutheranadvocacymn.org
TWO YEAR PROCESS: In 2020, Minnesota is in year two of the legislative biennium. Legislation introduced last session is still active. It does not need to be re-introduced, can be picked up again by committees, or if passed through part of the two chamber process can continue in that process. This means that legislation we addressed last year could still be passed.
2020 STATE PRIORITIES: The LA-MN Policy Council decided early on that brand new issues should not be considered, but rather that work started on unfinished issues should continue.
AFFORDABLE HOUSING, HOMELESSNESS & RELATED SERVICES: Although 2019 was not a bonding year, bonding for affordable housing was passed and was really the only issue that got significant attention from both parties and both chambers. However, the legislature was and remains behind on what needs to be passed to catch up with the statewide housing crisis.
For that reason, as part of the Homes for All coalition, we are calling for $500 million in bonding for the creation of new housing and rehabilitation of existing stock. While that may sound (including to legislators) like a huge amount of money, it is really only a down-payment on what is actually needed. Other states in similar situations with similar sized budgets have passed $900 million to $1.4 billion in bonding for housing. We will also be working to continue to address aspects from last year's Minnesota Housing and Human Services agenda, and to make policy improvements to help bring tenants more rights in a system significantly weighted toward landlords. While these changes won't impact good landlords, they will help prevent abuses by slumlords.
CLEAN ENERGY, CLEAN AIR, CLIMATE, AND JOBS: Minnesota surpassed early the Renewable Energy Standard set in 2007 of 25 percent renewable energy by 2025 for electric energy and 30 percent for Xcel Energy. Last year, the House of Representatives passed significant legislation for 100% clean energy by 2050, but it went nowhere in the Senate. Both chambers debated "Clean Energy First" provisions, which we support, with the idea that if clean energy (renewables and efficiency savings) are less expensive than energy from fossil fuels, they should be considered first. The senate version has lots of loopholes.
Much of our work on clean energy in 2020 will be focused on the senate – a) educating regarding remaining misunderstandings about the climate crisis, b) calling generally for 100% Clean Carbon Neutral Energy by 2050 and Clean Energy First (without debating every detail within the various 100% bills), and c) calling for transition provisions to help communities where fossil fuel jobs will be lost (while supporting the rapidly growing clean energy economy & jobs), and d) working for adaptation and resilience for those most impacted already by the climate crisis, especially low-income communities and farmers.
FEDERAL PRIORITIES: LA-MN will continue to partner with ELCA Advocacy to aggressively protect programs important for vulnerable people and our vulnerable earth, with special focus on protecting and welcoming vulnerable immigrants.
---
Ohio
Deacon Nick Bates, Hunger Network in Ohio hungernetohio.com  
2020 READY SET GO! The Hunger Network is ready for 2020 with a full list of priorities and agenda items that will build on our successes of 2019.
Assist legislative leaders in developing ideas to use the Ohio capital budget to address hunger in our communities.
Equip faith leaders to be actively anti-racist in our congregations and communities through dialogue and trainings around white privilege, power, and faith.
Stand in solidarity with migrant neighbors.
Stop bills that attack and blame the poor – such as SB 165 that HNO and others stopped in late 2019.
Work in coalition to foster more collaboration and a stronger faith voice in advocacy and justice work in Ohio.
As the year progresses, HNO will also work with voting rights advocates to equip congregational food pantries with resources and funding to register, educate, and mobilize their neighbors to participate in the election.
---
Pennsylvania
Tracey DePasquale, Lutheran Advocacy Ministry–Pennsylvania (LAMPa) lutheranadvocacypa.org
LAMPa's broad agenda encourages disciples to act where they are called, lifting up their ministry context, lived experiences, vocations and gifts for public witness. Alleviating hunger, protecting all of creation, especially the most vulnerable, and poverty remain central to the work of LAMPa while addressing their root causes.
In 2020, in partnership with Pennsylvania synods, congregations, social ministry organizations and other Lutheran institutions, as well as ELCA Advocacy and World Hunger, LAMPa will equip disciples to act in the following areas:
HUNGER:
Improve Access to Healthy, Affordable Food
State Food Purchase Program and Pa. Agriculture Surplus System Funding
Promoting Fresh, Local, Sustainable Food Systems
Improving School Breakfast Participation and Expanding Summer Feeding
CREATION JUSTICE:
Protecting All of Creation, Especially the Most Vulnerable
Addressing Climate Change
Protecting Clean Air, Water and Land
Sustainable Development
Conservation of Public Lands
POVERTY:
Promote Household Financial Stability
2020 Census
Oppose Predatory Payday Lending
Safeguard Benefits and Access to Benefits/Safety Net Programs
Prevent and Alleviate Homelessness
Increase Minimum Wage
HUMAN TRAFFICKING: 
Continue work to strengthen laws to prevent and protect victims of human trafficking.
EDUCATION:
 Improve Educational Outcomes for Pennsylvania Students
 Adequate and Equitable Basic Education Funding
EXPAND AND SAFEGUARD ACCESS TO AFFORDABLE HEALTHCARE:
Protect Medical Assistance
Ending Surprise Medical Billing
Mental Health Treatment Funding
CIVIL RIGHTS:

Racial Justice – Addressing disparities across policy areas
Prohibiting LGBTQIA+ Discrimination
Safeguarding the Right to Vote
Lifting the Ban on Religious Garb in Public Schools
Hate Crimes Legislation
CRIMINAL JUSTICE REFORM:
Solitary Confinement Reform
Extreme Risk Protection Orders (ERPO)
IMMIGRATION: 
Help congregations create welcoming communities and oppose legislation that would target immigrants for unjust treatment or seek to deny refugee resettlement efforts.
---
Washington
Paul Benz, Faith Action Network (FAN) fanwa.org
FAN 2020 Legislative Agenda
ADVOCATING FOR ECONOMIC JUSTICE AND REDUCING POVERTY: 
Eliminate the tax break on Capital Gains (HB 1343 Tarleton/SB 5129 Rolfes).
Fund the Working Families Tax Credit (HB 1527 Entenman/SB 5810 Nguyen), and pass the Individual Tax Identification Number bill to ensure that those in the undocumented community who are ITIN filers are included in WFTC benefits (Thai).
Pass the GRADS bill to increase support for teenage mothers and their children (HB 1327 Kilduff/SB 5379 C. Wilson).
Support the Anti-Hunger and Nutrition priorities: $1.3M for Department of Health for fresh fruits and veggies; increase the WIC/Farmer's Market Nutrition Program voucher amount (Rep. Leavitt)
Support the Tax on Extreme Wealth bill (SB 6017 Nguyen).
Reform the tax exemption structure by eliminating the pharmaceutical tax preference ($38M) (Davis). Pass the Tax Exemption and Transparency bill (HB 1703 Pollet).
Pass the creation of a State Bank bill (SB 5995 Hasegawa).
RESTORING JUSTICE IN OUR CRIMINAL JUSTICE SYSTEM:
Decriminalize the Driving While License Suspended 3 (DWLS-3) criminal code (HB 1282 Reeves/SB 5328 Salomon).
Pass the Death Penalty Repeal bill (HB 1488 Orwall/SB 5339 Carlyle).
Pass the Clean Slate Bill to create an automatic removal of certain misdemeanors and some felonies (Hansen).
Pass the Post-Conviction Review Board Bill to evaluate qualifying prisoners for early release (SB 5819 Darneille).
Pass the Justice Housing for All Bill that would remove discrimination for those exiting prison as they apply for housing (Pettigrew/Darneille).
Pass the Voting Rights Restoration bill for those exiting state prisons (SB 5076 Kuderer).
Pass the Corrections Education to Further Reentry Success bill (Leavitt).
CREATING HOUSING OPPORTUNITIES AND PREVENTING HOMELESSNESS:
Increase funding for the Housing Trust Fund ($10M).
Increase the length of housing vouchers for those exiting prison (SB 5441 Nguyen).
Curb landlord privilege by requiring a legitimate business reason to evict a tenant (HB 1656 Macri/SB 5733 Saldaña).
Pass the renters' bill to require landlords to provide a move-in fee installment plan over three months' time upon a tenant's request (HB 1694 Morgan).
Eliminate the shelter penalty for Aged, Blind, & Disabled (ABD) recipients.
Pass the Homeless ID Card Bill (SB 5664 Cleveland).
ADDRESSING CLIMATE CHANGE: 
Support the Clean Fuel Standards bill, which cuts greenhouse gas emissions from transportation fuels (HB 1110 Fitzgibbon/SB 5412 Saldaña).
Pass the Plastic Bag Ban bill, which establishes minimum state standards for use of plastic bags at all retail businesses (HB 1205 Peterson/SB 5323 Das).
Pass the Sustainable Farms and Fields bill to reduce carbon emissions produced by agriculture (HB 2095 Walsh/SB 5947 McCoy).
Support the Electric Bike Bill (Shewmake).
PROTECTING IMMIGRANTS, CIVIL AND HUMAN RIGHTS FOR ALL: 
Give authority to Washington State Patrol to destroy firearms that they come into possession of.
Ban the purchase of semi-automatic weapons.
Support the high capacity magazine restriction bill, which restricts the sale, manufacture, transfer, and possession of gun magazines holding over 10 rounds (HB 1068 Valdez/SB 5062 Kuderer).
Pass State Racial Equity Bill (HB 1783 Gregerson/SB 5776 Dhingra).
Pass the bill to make our County Courthouses open to all (Thai/Wellman).
Pass the H-2A agricultural labor restriction bill (McCoy).
Create more checks and balances on nuclear weapons policy to reduce the possibility of nuclear war (HJM 4008 Tarleton/SJM 8006 Hasegawa).
Pass the Eliminate Private Detention to Ensure Public Safety bill (Ortiz-Self/Saldaña).
Pass the Swatting bill to further reduce hate crimes (Valdez/Salomon).
ENSURING HEALTHCARE AND MENTAL HEALTH ACCESS:  
Expand Medicaid to age 26 for all, including for undocumented youth (HB 1697 Macri/SB 5814 Nguyen).
Centralize the mental health Ombuds Offices into one.
---
Wisconsin
Pastor Cindy Crane, Lutheran Office for Public Policy in Wisconsin (LOPPW) loppw.org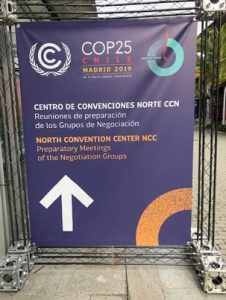 COP25: As LOPPW's director, I was very fortunate to attend the 25th Conference of Parties (COP25). The United Nations Framework Convention on Climate Change holds the COPs annually. 197 countries were represented in voting. Most people are familiar with COP21 held in Paris, where the well known Paris Agreement was written in an effort to raise ambition in combatting climate change internationally.
COP25 was held in Madrid in December after Chile canceled hosting it in Santiago due to political unrest. Ruth Ivory-Moore was able to get observer status for six ELCA members during the two-week conference. Six of us attended the first week and six the second in order to include more of our members. We gathered regularly with two international groups, Act Alliance and Climate Action Network, that had a strong interfaith presence at COP and helped to give structure to our experience.
It was striking how at the first plenary session, developing countries seemed to be vying for attention as being the most vulnerable to climate change. Many thought it was better to move ahead without trying to change anything in the Paris agreement. This was an example of how our world is experiencing the impacts of climate change right now. We continually heard people speak about how to "raise our ambition" to reduce carbon dioxide emissions. How do we mitigate the problem, adapt to the changes, and address loss and damages?
I focused on loss and damages in many of my meeting and side event choices. Equity was discussed as not only getting everyone at the table, but also evaluating how those countries that have historically created the most greenhouse gas emissions, and have benefited economically as a result, should respond to those that have been least responsible for those emissions but have been impacted the most. There is disagreement on how to address this.
It was disappointing to learn at the end of the two weeks that no decision was made on how to monitor countries'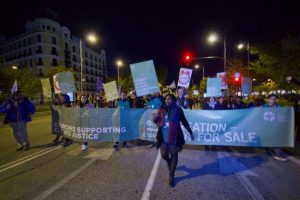 emission of greenhouse gases, especially in light of a massive peaceful march held in downtown Madrid during the first week. People of all ages marched but there was especially a large turnout of young adults asking us to care for creation. The interfaith presence was also strong. As people of faith we are hopeful, but real hope needs to include honesty. The truth is that we are in a climate emergency.
INTERN: We said good-bye to our intern, Amelia Gonzales, who did a lot of great work in her one semester at LOPPW. We wish her well as she continues her graduate studies at UW-Madison in social work. She gave a refreshing and very striking talk on her experience with the Wisconsin legislature that we taped: https://www.facebook.com/LOPPW/videos/579292785967289/