The year spent with ELCA Hunger Advocacy Fellows enhances our work and ministry at the D.C. and state public policy offices in the ELCA-affiliated network where they are located and enriches their future encounters with a year spent loaded with opportunity, networking, discernment and engagement.  
In the 2022-23 cycle, three leaders are placed through funding of ELCA World Hunger in California, Ohio and Washington, D.C. where they've expressed eagerness to connect, learn and grow as they help work for a world where all are fed.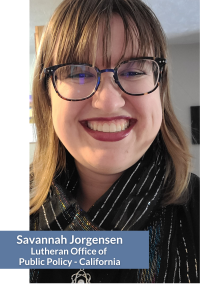 Savannah Jorgensen (she/her):
Savannah Jorgensen is currently serving with the Lutheran Office of Public Policy – California. Before joining the ELCA, Jorgensen received her master's degree in Atmospheric Sciences from Texas A&M University. She also holds her bachelor's degree in Meteorology from Valparaiso University.  
With these education foundations, this Fellow has a passionate interest in environmental justice and climate change policy, so she is very excited to work in advocacy in Sacramento. In her free time, Jorgensen enjoys singing, spending time outdoors, and relaxing with her cat.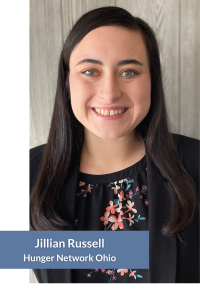 Jillian Russell (she/her):
Jillian Russell is currently serving with Hunger Network Ohio. Russell graduated from Capital University in Columbus, Ohio where she studied Youth Ministry and Christian Education and Psychology. While in her undergraduate program, she focused her education surrounding the intersection of religion and agriculture and on how religious groups can engage members in new and exciting ways and advocate for one another. This encouraged Russell to find a passion in outdoor ministry where she served two summers at both Agape Kure Beach Ministries and Rainbow Trail Lutheran Camp.  
Currently, Russell serves on the synod council of the ELCA Northwestern Ohio Synod. As an ELCA Hunger Advocacy Fellow, she hopes to continue her work in building connections between people of different faiths, traditions, and backgrounds while also advocating for state and local issues surrounding these topics.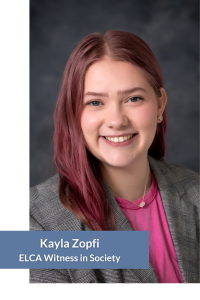 Kayla Zopfi (she/they): 
Since August, Kayla Zopfi has been serving with D.C.-based advocacy staff on the ELCA Witness in Society team. Zopfi graduated from Concordia College, Moorhead, where they studied Religion, Political Science and Interfaith Studies. Through her coursework and involvement, Zopfi became interested in understanding how people's core values affect the way they see and interact with their communities and the world around them, and found her passions for institutional reform and storytelling.   
Zopfi recently concluded a Lutheran Volunteer Corps year of service with the ELCA Minneapolis Area Synod, where she was the Communications and Administrative Associate. Outside of work, Zopfi loves podcasts and audiobooks, talking about the Enneagram and astrology, and building new connections!