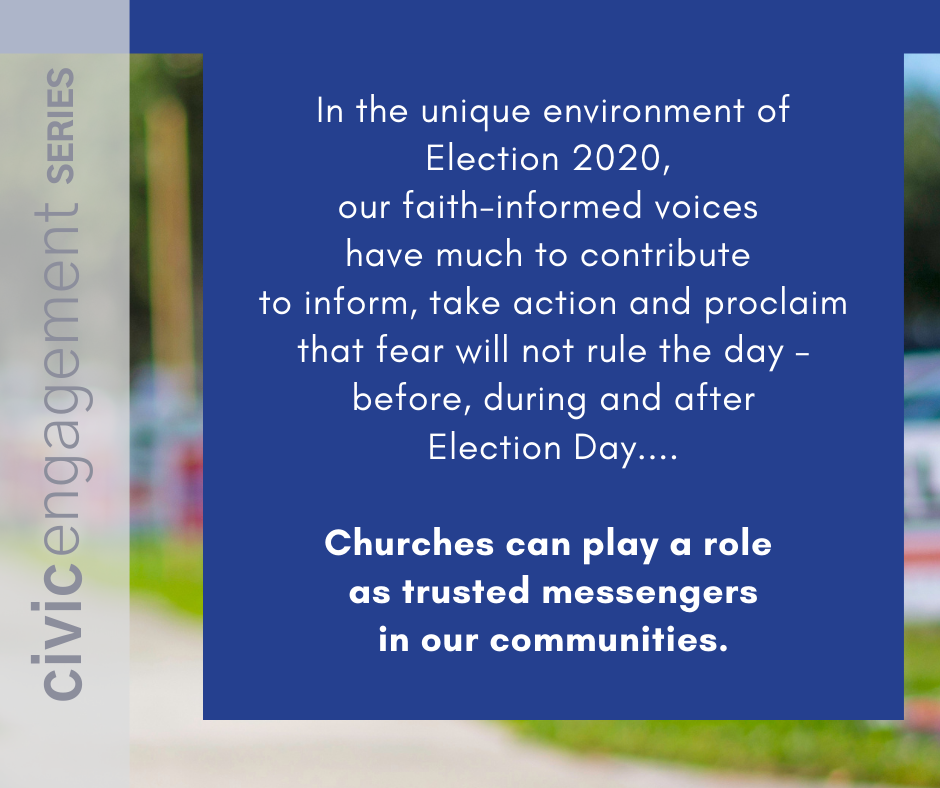 It is both privilege and responsibility for Lutherans in the United States to approach Election 2020 as faith-informed voters. Aware of needs and priorities in our own lives and connected with our neighbors who are equally beloved children of God, "Lutherans care about government because it is a gift from God intended for the safety and flourishing of human life."* We are civically engaged, mindful that "too often and in too many ways, this gift has been abused."*
Do you have your plan in place for voting?
Can you encourage and inform others through your congregation and/or personal circles?
Have you reflected on election challenges – for vote casting and after Election Day – in our unique 2020 context?
With mere days remaining in advance of Election Day 2020, here is a review of material associated with the ELCAvotes initiative.
VOTING BASICS
Rules vary state-by-state, which makes obtaining facts and planning ahead very important when challenges of polling in 2020 tweak familiar voting avenues.
If you're looking for a place to start, the national, nonpartisan Election Protection coalition can direct you to state-specific information from 866ourvote.org as well as the nonprofit, nonpartisan technology platform vote.gov. This includes:
Registration information
Vote-by-mail information
Deadlines
Polling locations
SOCIAL MEDIA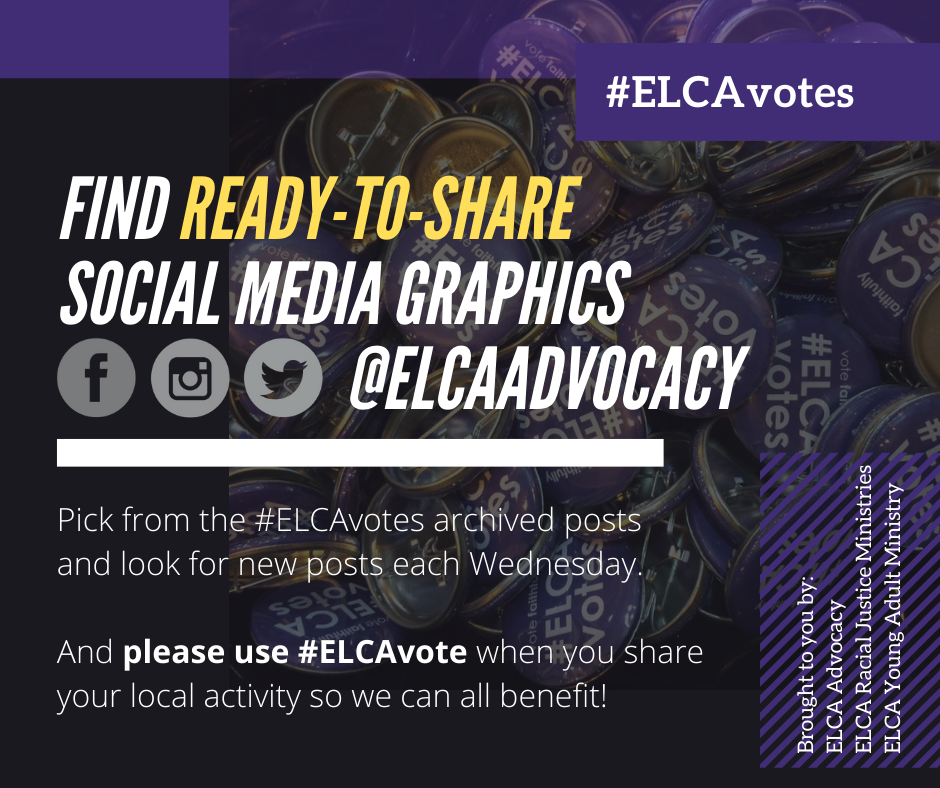 Cherry-pick from archived ELCAvotes social media posts or use new items posted every Wednesday to share important messages in your and/or your congregation's circles. On Facebook, Twitter and Instagram @ELCAadvocacy, find messages for sharing including:
Identify your polling location
Thinking of voting early? Deadlines matter.
Want to check if you are registered?
What is your state's early-voting and vote-by-mail options?
Use #ELCAvotes in YOUR posts  to help us all see & share!
VIDEOS
A brand-new short video from the Rev. Elizabeth A. Eaton, ELCA presiding bishop, raises "Civic Engagement in 2020" themes. View on YouTube, and pass along from Twitter and Facebook.
Though the video is not new, "The Right to Vote" with Bishop Eaton also contains an important message. Find it on ELCA.org/votes and YouTube.
BLOG THEMES
While the ELCA Advocacy blog spotlights varied examples of Lutheran action, several posts carry ELCAvotes themes.
Voting dialogue with persons with disabilities (10/16/20)
Sifting through misinformation (10/5/20)
Churches as polling places (9/17/20)
Voting in 2020 takes personal and public planning (8/21/20)
Voter suppression damage requires challenge (6/24/20)
Review from blogs.elca.org/advocacy/ where you can also sign up to have ELCA Advocacy blog posts sent directly via email.
WORSHIP, BIBLE STUDY AND PRAYER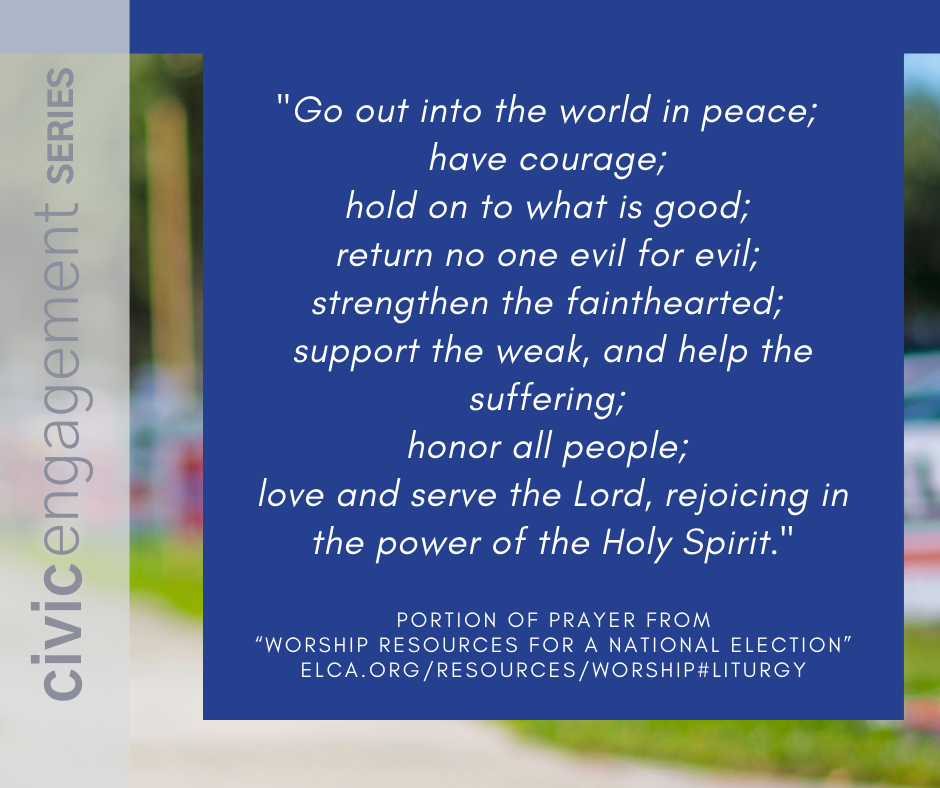 Lutherans take time for study, prayer and worship in all things.
Check for local vigils near you. Plans for a national prayer vigil through the Washington Interfaith Staff Community in which ELCA advocacy staff participate will be shared when finalized.
ADDITIONAL ELCA RESOURCES
Check out ELCA.org/votes and ELCA.org/resources/advocacy under the "Civic Engagement" tab for more information, including:
Fact & activity sheet on race and voting
Money in politics
Voter guidelines for people facing homelessness
ELCA Civic Engagement Guide with "Get Out the Vote" tip sheet and more.
FROM OUR PARTNERS
Sacred Season of Voting resources to educate yourself and motivate others to go out and vote are offered by Faithful Democracy, with which the ELCA is in partnership through the Washington Interfaith Staff Community.
Help staff your local polling place if you feel safe doing so. Our country is facing a shortage of poll workers because of the pandemic, and Power the Polls can direct you to sign up.
Tools for strengthening community resilience during the election cycle and addressing possible election-related violence in communities is available from Faith in Public Life. See "Building a Resilience Network."
TRUST AND CALM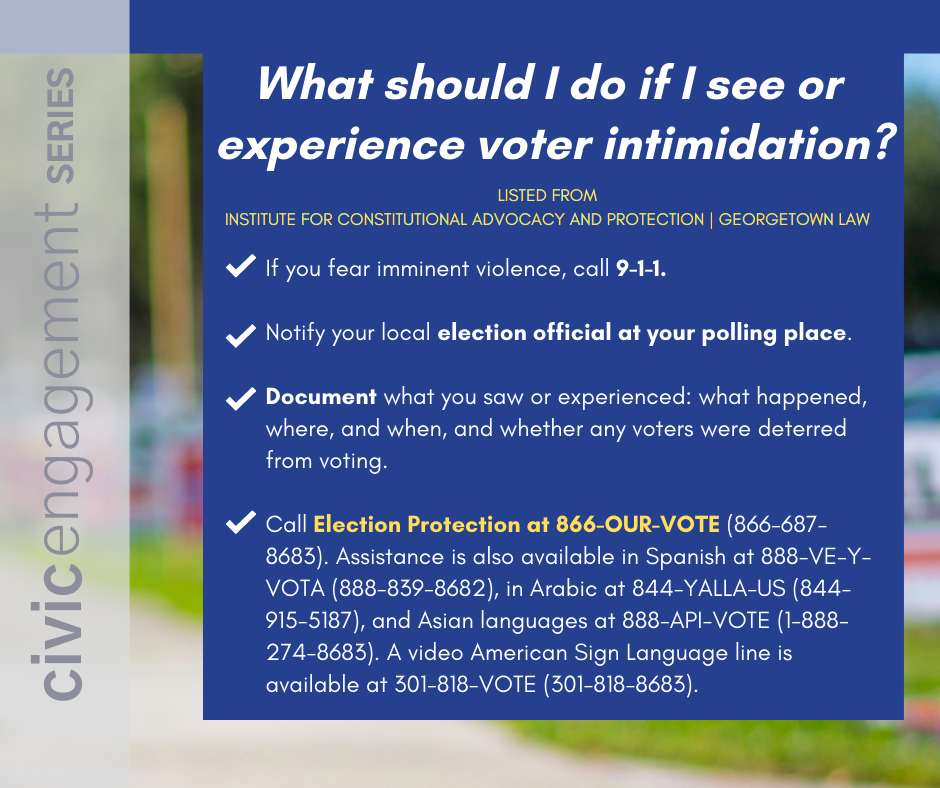 In the unique environment of Election 2020, our faith-informed voices have much to contribute to inform, take action and proclaim that fear will not rule the day – before, during and after Election Day. In a media pool tainted with misinformation, cultivating multiple info sources and "knowing where to go to find accurate information or a different perspective about a topic is extremely helpful," says a tip in the Misinformation blog post. Churches can play a role as trusted messengers in our communities.
Is voter intimidation illegal? Are guns permitted at polling places? Does the First Amendment protect intimidating speech? These are a sample of questions answered by the Institute for Constitutional Advocacy and Protection at Georgetown University Law Center. Review the responses in their "Fact Sheet: Protecting Against Voter Intimidation."
Resources for addressing voter intimidation, including state-by-state guidance on explaining the laws barring unauthorized private militia groups near a polling place or voter registration drive, have been compiled by the same source from the page: "Addressing the Rise of Unlawful Private Paramilitaries."
The national, nonpartisan Election Protection coalition runs the hotline 1-866-OURVOTE (1-866-687-8683) in English and additional languages (use link or see graphic). Call it with questions, including if you encounter problems when seeking to cast your ballot. Legal help is provided by the Lawyers Committee for Civil Rights.
With the increase in mail-in ballots and polling place challenges, it is highly unlikely that a winner in the presidential contest will be known on November 4. As our nation awaits results, we can be centered in the blessing:
"Go out into the world in peace; have courage; hold on to what is good; return no one evil for evil; strengthen the fainthearted; support the weak, and help the suffering; honor all people; love and serve the Lord, rejoicing in the power of the Holy Spirit." (from "Worship Resources for a National Election")
---
* From the ELCA social message "Government and Civic Engagement in the United States: Discipleship in a Democracy."