"Fear not, for I am with you, do not be afraid, for I am your God." Many of us rehearse these words from Isaiah not only for their instruction, but because we need to remind ourselves of God's presence and peace to push against contrary voices setting off anxiety. Anxiety is aroused around this election. The agitation is rational: pandemic realities and opportunistic impulses in electoral mechanisms, white supremacy and Christian nationalism stepping out of shadows, election results potentially unclear or contested and threats of violence.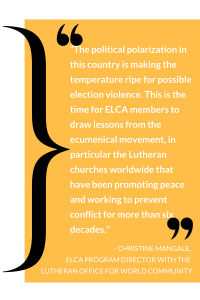 "The political polarization in this country is making the temperature ripe for possible election violence," says Christine Mangale, ELCA Program Director with the Lutheran Office for World Community. "This is the time for ELCA members to draw lessons from the ecumenical movement, in particular the Lutheran churches worldwide that have been promoting peace and working to prevent conflict for more than six decades. As churches, we have always been inspired by the rich tradition of peace, love, reconciliation and justice."
FACED BY ZIMBABWEANS
On July 30, 2018, Zimbabwe held its first free elections after the almost 30-year rule of Robert Mugabe, prime minister then president of that nation. Until election results were announced on August 3, 2018, protests flared, including the death of six people in violent clashes on August 1. The Rev. Dr. Kenneth Mtata, General Secretary of the Zimbabwe Council of Churches and pastor of the Evangelical Lutheran Church in Zimbabwe, said then, "What is really required in the long-run, if we going to have a deep cohesion among Zimbabweans, is to address the deep-seated anger, frustration and dissatisfaction on our land, which get an opportunity to manifest in such violence whenever there is an opportunity."
In a letter of solidarity, the Rev. Dr. Martin Junge, General Secretary of the Lutheran World Federation, wrote of the hope for a country flourishing "with the contribution of each member of the society, regardless of political identity."
SUPPLIES STOCKPILED BY THE CHURCH
The ELCA social message "Community Violence" conveys a practical appreciation of what many are feeling in 2020. "Violence breeds more violence. Incidents of violence stir up anger and a craving for vengeance. Fear festers an attitude of 'we're not going to take it anymore.' Increasingly, our national mood has been described as one of 'getting mad and getting even'" (pg. 2). But this response should not be indulged by Christians. The message continues: "The Holy Spirit works among us to wrench us from violence, hate, greed, and fear, and transforms us into people who are called to trust God and live in community with one another. In doing so, we need to confront the violent tendencies within ourselves and our society, and find ways to cultivate the practice of nonviolence" (pg. 2).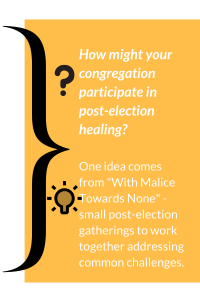 While evidence suggests toilet paper is again being stockpiled and security checks for gun purchases are on the rise, churches can position themselves to declare God's peace, marked by relationships that are just, harmonious and free from violence. "The Church as a community for peace is also to be a deliberating presence in society. As a community of moral deliberation the Church is a setting of freedom and respect where believers with different perspectives may learn from one another in the unity of faith," says the For Peace in God's World social statement (pg. 5). "We also advocate an early peace that provides security from violence and aggression, seeks just order in place of tyranny or anarchy, checks unrestrained power, and defends and enhances the life of people who are poor and powerless" (pg. 7).
MOVING TOWARD HEALING
Whether violence mars this election or not, we are a nation in need of healing. One model for local congregation leadership in this healing is available in "With Malice Towards None," a program of Braver Angels that increases capacity for working together to address our common challenges. After the election has been decided, the initiative suggests healing through organized online or in-person gatherings where "red and blue Americans consider how they want to regard their fellow citizens who voted differently and begin building the capacity of We the People to forge 'a more perfect union' moving into 2021."
As the global ecumenical communion urges us, our Christian community can hold forth a light in anxious times and not be subsumed by fear. In Zimbabwe, Junge wrote of the church's strong commitment "to walk with… all the people of Zimbabwe in prayers for peace and stability in the country in order for all to enjoy the fruits of their land." Spurred by the God of peace, we can address the deep-seated anger, frustration and dissatisfaction in our land and tend to our divisions by coming together to encounter, listen and learn about one another across differences.