Mary Minette, Interim Director of Advocacy, traveled to Paris as world leaders met to discuss a global agreement to address climate change. She served as part of a delegation representing ACT Alliance, of which the ELCA is a member. Follow our Advocacy Blog as she shares her daily reflections and the status of the negotiations.
UPDATE: On Saturday, December 12, leaders from 195 nations concluded the United Nations Climate Change Conference in Paris by approving a global agreement to address climate change. This agreement includes a commitment to keep global warming well below 2 degrees.​

A global climate agreement is adopted!
After years of negotiations, the Paris Accord was approved on Saturday, December 12
12/12/2015​
On Saturday, December 12, leaders from 195 nations concluded the United Nations Climate Change Conference in Paris by approving a global agreement to address climate change. This agreement includes a commitment to keep global warming well below 2 degrees. 
We stand at a critical moment, when the world has come together to decide the framework for our shared future.
People of faith showed up in unprecedented numbers for the climate talks in Paris because we believe that this moment includes a moral obligation to our most vulnerable neighbors, to future generations, and to all of God's creation to act on climate change.
The Paris agreement sets the world on a pathway to stewardship, justice and sustainability. All countries have, for the first time, agreed to take concrete steps to reduce greenhouse gas emissions and to review and increase their commitments over time.
The Paris agreement includes financial pledges to help developing countries adopt  clean energy technologies and adapt to already-occurring impacts of climate change.  It also includes provisions that will help the most vulnerable countries avoid the worst of human suffering from irreversible climate damage in the future,  and it sets the world on a more sustainable, low carbon, development pathway.
The outcome of the Paris talks reflects momentum brought by a growing global movement of people and communities around the world, including communities of faith, who are leading the way in pushing for a better future.
As we leave Paris and return to our own communities, we must continue to act in solidarity with those who are most vulnerable to climate change, with those yet to come, and with all of God's creation."
Along with membership in ACT Alliance, the ELCA is also a member of the Lutheran World Federation and World Council of Churches. Together these organizations had a delegation of over 100 in Paris for the summit. You can read ACT Alliance's response to the Paris Accord here.
Paris reflection: Day 5
COP21 End Game
12/11/2015
Today is the last official day of the Paris Climate meeting, and this morning in Le Bourget things are quiet. The calm in the halls is deceptive—many of the country delegates and much of civil society spent the night here, dissecting and discussing the latest draft produced at 10 p.m. last night by the French presidency of the COP. Early this morning, COP President Laurent Fabius closed the all-night session, telling delegates that they should spend the day working through their differences and that there will be a new "final" text Saturday morning and a target adjournment for the COP of 2 p.m. Saturday afternoon.​
As expected, some big issues are still to be resolved on this last day. Although the current text now mentions a global temperature goal of less than two degrees Celsius, with an aspirational goal of 1.5 degrees, there are still disagreements about when and how national emissions reduction contributions will be presented, evaluated, and potentially increased in ambition.
The issue of "differentiation"—how the agreement will treat countries that are less responsible for climate emissions and less able to reduce their emissions because they lack the means to do so and are still working to bring significant parts of their populations out of poverty—is reflected in the current draft in a number of different ways, but the language is not consistent and few parties are satisfied. As I noted earlier in the week, to reach the aspirational 1.5 degrees goal, all countries must reduce their emissions and adopt low carbon energy sources, but not all countries can reach those goals easily. Because of this, the differences in their capabilities must be reflected if the agreement is to succeed.
How these vulnerable countries can be helped to both adopt low carbon energy pathways and adapt to the inevitable impact of climate change is also still murky. The parties seem to be in agreement that wealthy countries will work to mobilize at least $10 billion in assistance annually by 2020 and beyond, but how that funding will be increased as needed is still to be agreed upon.
Regular review of goals and a transparent process that allows for evaluation and comparison between countries is critical to ensuring that these goals are increased over time. As I noted yesterday, current INDCs will only allow us to stay below three degrees Celsius, so increased ambition, and this review process, are key to success. Some countries are still fighting to prevent strong and transparent review. Perhaps they have something to hide?
And finally, the issue of loss and damage (how the agreement will deal with irreversible, and in many cases, catastrophic impacts of climate change) is still under discussion, although a number of proposals to bridge gaps between different positions are on the table.​
Paris reflection: Day 4
Aspirations vs. Reality: How to Evaluate the Outcome of Paris?
12/10/2015
Yesterday in COP21, Secretary of State John Kerry gave a speech to a packed room of reporters. He outlined the current official U.S. view of where things are with the negotiations for a new global climate agreement.  Overall, his tone was optimistic and upbeat. He talked about the transition to a new, clean energy future by pledging to double the amount of grants that the U.S. makes to climate adaptation efforts in developing countries by 2020 (the year the agreement will take effect), and for the first time, pledging U.S. support for a worldwide goal of keeping global average temperatures below 1.5 degrees Celsius above pre-industrial levels.
In the past two days, a group of more than 100 countries, including the U.S., came forward to push for a more ambitious climate agreement. Calling themselves the "high ambition coalition," they have collectively agreed to support an "ambitious, durable and legally binding" deal that includes the below-1.5 temperature goal, a clear pathway for a low-carbon future, strong updates of nationally-determined goals every five years, and a strong commitment from developed countries to support vulnerable countries with at least $100 billion annually.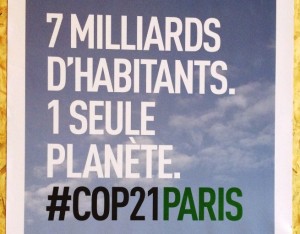 This is a hopeful sign that the agreement reached at the end of this week will be strong. However, many are pointing to the reality that the existing national commitments to reduce greenhouse gas emissions submitted by more than 180 countries before the start of the COP, sets the world on a pathway to a global temperature increase of 3 degrees Celsius.
With that kind of gap between vision and reality, how will we be able to evaluate the outcome of these talks?
If the agreement does include a five-year process to re-evaluate those national commitments with enough transparency that the commitments can be verified and compared, the hope is that the political will to make the changes required to bring the world to a 1.5 degree pathway will come over time.  As countries realize that more significant reductions are possible and even economically beneficial, they will come forward with more significant cuts at the five-year reviews.
A new draft text was released yesterday afternoon, and many issues are still in dispute, including the review process and the global temperature goal.  Parties met late into the night.
Stay tuned!
U.S. Climate Action Network Press Conference​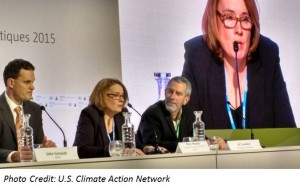 On Wednesday, Dec. 9, Mary spoke as part of a panel of experts from the U.S. Climate Action Network in response to Secretary of State John Kerry's speech at the Paris Climate Talks. Here is the statement she gave:
"Loss and damage is of paramount concern to people of faith following these talks because we know that the most challenging and irreversible impacts of climate change—sea level rise, long term drought, massive storms and other natural disasters—are already falling hardest on our most vulnerable neighbors."
"The faith community is highly supportive of the announcement Secretary Kerry made today, indicating that the US will double its commitment to adaptation focused development assistance by 2020. This money is sorely needed, and we hope that this is only the beginning of a process to increase funding for adaptation post-2020. We in the faith community stand ready to help make that happen, just as we stood with the Administration when it made its commitment to the Green Climate Fund."
Click here to watch the full press conference.
Paris reflection: Day 3
Advent Reflection: In Paris, waiting for light (with hope)
12/9/2015
All things came into being through him, and without him not one thing came into being. What has come into being in him was life, and the life was the light of all people. The light shines in the darkness and the darkness did not overcome it (John 1:3-5).
In Advent, Christians wait for the light of Christ, lighting candles and speaking of hope.
This Advent, light has multiple layers of meaning for me as I sit in Paris watching, hoping and working for a new global agreement to address climate change.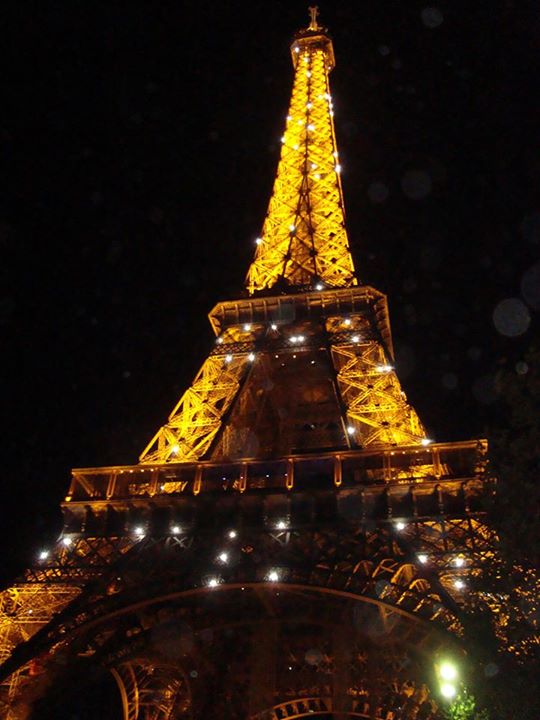 Paris is frequently referred to as the City of Light, but this December it's a city emerging from the darkness of the recent terrorist attacks that left more than 100 people dead. In the last few days I've seen Parisians going about their daily business—shopping, sitting in cafes, walking their children to school in the morning, hurrying home at the end of the day with baguettes and groceries. There are a lot of armed police and security guards—standing on street corners, in the metro stations, in big department stores filled with Christmas shoppers—but people seem determined to go on with their ordinary lives and their preparations for the holidays.
The light shines in the darkness, and the darkness does not overcome it.
In the vast complex in the Paris suburbs that houses the climate talks, signs of hope and light are faint but present: countries may disagree, but they are talking. Every few days a new draft text comes out and there are fewer "brackets" (which are placed around disputed phrases) and greater consensus. I came into the meeting with many questions. Will leaders only agree to keep temperatures below 2 degrees Celsius or can they agree to a more ambitious and safer 1.5 degrees? Is their goal of raising $100 million per year in financial assistance for developing countries even possible? How often will countries review their national emissions reduction commitments? All of these issues were still up in the air after more than a year of negotiations.
But talks seem to be coalescing around common points of agreement, and hope is growing that an agreement that will move us toward a cleaner shared future is possible.
Last week, African heads of state gathered here to announce the African Renewable Energy Initiative to develop at least 10 gigawatts of new renewable energy generation capacity by 2020, and at least 300 gigawatts by 2030, potentially making the continent, which is now one of the most energy impoverished regions, the cleanest in the world. The African Development Bank and other financial institutions, including the World Bank, pledged an initial $5 billion to support the initiative. On Monday, the group of seven advanced economies (G7) and the European Union pledged an additional $10 billion in grants and loans to support this plan.
"The light shines in the darkness .…"
At the beginning of the talks, the list of remaining issues was long. As the days pass, those issues are beginning to find solutions. An agreement from Paris will not solve every problem faced by God's creation, but it moves us closer to a more hope-filled future. Today we expect a new, more streamlined draft from the French leaders of the Conference of the Parties. I am hopeful that this momentum will continue and that the negotiations will end with a strong agreement to tackle the challenge of climate change.
"… and the darkness did not overcome it."
Paris reflection: Day 2
It's "Loss and Damage" Day
12/8/2015
Today the focus is on one of more difficult issues that negotiators are grappling with at this two-week-long meeting—how will the global community manage the impacts of climate change that are becoming more inevitable the longer we wait to reduce carbon emissions? "Loss and damage" refers to the long term and slow onset impacts that are difficult, and in some cases impossible, for people and communities to manage. This includes sea level rise that consumes coastal lands (or entire low-lying island nations), rising ocean temperatures that decimate fish populations and the livelihoods of fishing communities, and long term drought that drives small farmers from their land.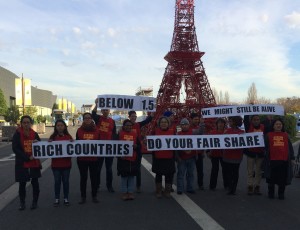 Wealthy industrialized countries, which are responsible for the majority of the emissions that are causing climate change, have long resisted action to address loss and damage out of fear that doing so would create significant financial liability. However, in 2013, countries agreed to create the "Warsaw Mechanism on Loss and Damage" to study the issue and develop strategies and resources to manage.
The Warsaw Mechanism is due to finish its initial work in 2016, so now leaders look to answer the question: what will happen after that first work period is over. Vulnerable countries argue that the new climate agreement must meaningfully address loss and damage, and should result in developing ways to support them as they face a difficult future.
Unfortunately, much of the media coverage of loss and damage this week is focused on money and liability, even though many of the irreversible impacts of climate change will not be easily quantified but will still challenge the international community in unprecedented ways. For example, people who are forced to leave their communities due to climate impacts, such as sea level rise or long-term drought, are not considered refugees under international law and are therefore not eligible for humanitarian assistance. In a more extreme example, if a small island nation disappears due to rising sea levels, there are no means currently available to address its loss of territory and sovereignty, or to help its citizens who have lost their country.
The longer countries wait to reduce emissions, the more urgent this debate will become. At this point, it seems that the Warsaw Mechanism will be included in the new agreement and will be given an ongoing mandate to develop solutions to build more resilient communities, to work with other UN agencies to address climate migration, and to find and encourage innovative ways to manage risk. But today at COP21, there is an opportunity to make sure that the Paris agreement provides assurances to vulnerable people, communities and nations that they can face the future with hope.
Paris reflection: Day 1
To avoid catastrophic climate change, who must act?
12/7/2015
Today is my first day in the Paris climate meeting, but the parties to the UN Framework Convention on Climate Change (COP21) have already been meeting for a week, with the goal of completing a new global agreement on climate change by the end of this week.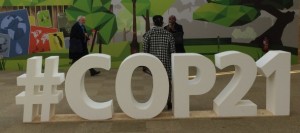 So how does it look?
A new draft agreement was completed on Friday. A number of subgroups continue to work on specific issues, including the all-important question of money, and something called "differentiation" in the agreement. ​Differentiation is essentially the idea that while all parties are responsible for reducing gre​enhouse gas emissions to help combat climate change; different parties have different responsibilities based on their abilities and on their share of climate emissions.  Here is the big question and the reason this addition is controversial: How are countries' responsibilities measured or determined?  If responsibility is determined by historic emissions, the United States and the European Union are the parties who should do the most. If it is determined by current emissions, emerging economies such as China, India and Brazil will need to accept more responsibility for their increasing emissions.
For the world to avoid catastrophic warming and remain well below an increase of 2 degrees Celsius, all countries will need to act, and all will need to accept and assume responsibility. Some countries may need help—financial and technical—to comply and to ensure that economic development that lifts people out of poverty is sustainable and low carbon producing.  Others, including some emerging economies, may need flexibility to address ongoing development needs and still-significant levels of poverty.
This issue of differentiation may hold the key to a strong and durable agreement here in Paris, but it remains to be seen whether new economic powers will accept new levels of responsibility for their emissions. Equally important is whether wealthy countries will pledge sufficient funds to help the most vulnerable countries adopt sustainable, low carbon development pathways and adapt to current and ongoing impacts of climate change.