by the Rev. Amy Reumann, Director of ELCA Advocacy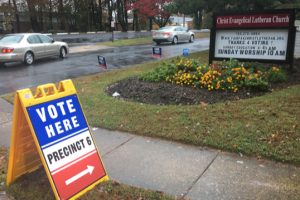 Election Day is behind us, and we have much to give thanks for as a nation and as a church. As citizens, we have come together to vote in midterm Congressional elections, state and local races. We thank God for the countless volunteers who power our democracy, those who ran for office, worked on campaigns, staffed the polls, provided rides and strove to ensure that every possible vote be cast and counted.
We celebrate the diversity of candidates elected to national office, making Congress look more like our nation, increasing the number of people of color, immigrants, and those representing varied religious traditions and sexual orientations. This year we see the largest number of women ever, including the first Native American and Muslim women to serve in Congress. We are thankful for all candidates who by running for office helped us envision thriving, healthy communities and who made solutions to the pressing issues of hunger, poverty, human dignity and care for the environment central to their campaigns.
While we look forward to the contributions of new public servants, we note some positive policy changes through referendum results. Several states voted to expand Medicaid. Others raised the minimum wage. And some made strides in expanding access to the ballot, most notably in Florida where voting rights were restored for people with completed sentences following a felony conviction.
Lutherans have engaged enthusiastically in the political process, and as a church in the ELCAvotes initiative. Congregations have used our resources to plan prayer services, conducted voter registration drives and engaged in voting rights education. Purple "ELCAvotes" buttons, brought back by popular demand, turned up on lapels, and a profile photo frame on Facebook was a big hit. Most importantly, we saw a deepening of Lutheran engagement and a claiming of our vocation as citizens dedicated to the common good. We heard about Lutherans who organized, knocked on doors or took leave from their jobs to support candidates. We also spoke to Lutherans who ran for office – one who pointed to our social statements as a foundation for his policy platform.
Our ELCAvotes commitment extends beyond November 6th. We vote every day through our voice and leadership in public life, and through the sources we turn to which shape our opinions. This election cycle included rhetoric that vilified people based on their religion, ethnicity, sexual orientation or gender. As Lutherans, alert to the ways that sin divides us as a human community, we must do more than mourn incivility. We can increase our witness against expressions of intolerance, racism, white supremacy and fear of immigrants, both in our church and local communities. We must make these expectations clear in our local witness, by who is present at our tables when action is planned as well as in our communications with elected leaders.
By casting our ballots, we live out our affirmation of baptism to "serve all people, following the example of our Lord Jesus." Thank you for thoughtfully engaging your vocation, furthering God's work in our world in our communities and lifting your voice in support of policies that promote human dignity, answer human need and preserve creation. We look forward to serving together in these areas.