Following are updates shared from submissions of the Lutheran Office for World Community and state public policy offices (sppos) in the ELCA Advocacy Network this month. Full list and map of sppos available.
U.N. | Arizona | Colorado | Minnesota | Texas | Washington
---
U.N.
Lutheran Office for World Community (LOWC), United Nations, New York, N.Y. – ELCA.org/lowc
Dennis Frado, Director
Global Reports
Several global reports of interest were issued in November:
The Global Report on Internal Displacement 2021 focuses on "the relationship between climate change, disasters and displacement, and presents good practices from across the globe in advancing policy, displacement risk reduction and effective response." The report summarized the global situation stating, "In 2020, conflict and disasters triggered 40.5 million new internal displacements across 149 countries and territories."
The Congressional Research Service outlined the Global Economic Effects of COVID-19 in an update issued on November 10.
The Global State of Democracy Report 2021 lamented the facts that the "… world is becoming more authoritarian as non-democratic regimes become even more brazen in their repression and many democratic governments suffer from backsliding by adopting their tactics of restricting free speech and weakening the rule of law, exacerbated by what threatens to become a 'new normal' of Covid-19 restrictions. For the fifth consecutive year, the number of countries moving in an authoritarian direction exceeds the number of countries moving in a democratic direction. In fact, the number moving in the direction of authoritarianism is three times the number moving towards democracy."

---
Arizona
Lutheran Advocacy Ministry Arizona (LAMA) – lamaz.org
Solveig Muus, Director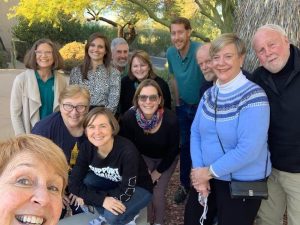 The LAMA policy council met in retreat this month to discern legislative policy priorities for 2022. The committee agreed the priorities for the coming year will be to continue building on LAMA's early efforts in (1) Food Insecurity as it relates to the root causes of hunger, as well as (2) Civic Engagement as it relates to the ELCA being a publicly engaged church and the ELCA's social teachings on educating, advocating, and engaging in our political process. The group was blessed, and the conversation enriched by the presence of the Rev. Amy Reumann, ELCA Senior Director, Witness in Society, who brought experience and insight, and helped the council to identify a framework for discernment in the future. Pr. Reumann also energized the participants at the LAMA Summit on Sunday, December 5 with her speech on "The 12 Things I know For Sure about Advocacy."
LAMA looks ahead to the Arizona State Legislature convening on January 10. With a record number of shifts in the Arizona state house mid-term, the LAMA team has been busy connecting with Arizona's 18 new and returning elected officials. Lutheran Advocacy Day at the legislature is set for Tuesday, February 1 from 8:30 – 10:30am in the Capitol Rose Garden. Many invitations have been extended, and LAMA expects to have several Arizona legislators on hand for its first advocacy day at the Capitol in more than 15 years. We pray for all government leaders as the 2022 session convenes, that they might work as one for the benefit of all God's people.

---
Colorado
Lutheran Advocacy Ministry Colorado (LAM-CO) – lam-co.org
Peter Severson, Director
2022 LEGISLATIVE AGENDA ADOPTED: The Policy Committee of Lutheran Advocacy Ministry Colorado has adopted its agenda for the 2022 legislative session. When the Colorado General Assembly returns in early January, LAM-CO will be prioritizing six key areas:
Fighting root causes of hunger & poverty
Promoting access to safe, stable housing
Addressing sentencing in the criminal justice system
Protecting public health
Supporting the needs of refugees
Caring for the environment & energy transition
You can see our agenda in more detail at rmselca.org/colorado-advocacy-agenda. Once the session begins, key legislation and Action Alerts will be listed in detail on our website and shared through our e-news and social media platforms.
LUTHERAN DAY AT THE CAPITOL: We invite all advocates to mark your calendar for Lutheran Day at the Capitol on Thursday, February 17, 2022. The event will take place at St. Paul's Lutheran Church and the Colorado State Capitol, with a virtual option available for our morning programming. Local guidelines may change, but we anticipate good opportunities for people to meet their legislators face to face at the Capitol and advocate on key legislative issues.
More details will be coming soon to our website!

---
Minnesota
Tammy Walhof, Director
Federal Infrastructure Bill: The Infrastructure Investment & Jobs Act, passed at the federal level, promises significant influxes of funds to Minnesota. Through various meetings and hearings, we've been trying to learn how the provisions will impact Minnesota and the programs we believe are important. The next step is to predict what it will mean for the upcoming legislative session.
The process for distribution to states includes a complicated set of formulas, competitive grants, and required state matches. If Minnesota does not act to apply or provide matching dollars, funds could go to other states. While much of the money is designated for transportation, including roads, bridges, and transit, there are categories which address clean energy, grid modernization, and other climate-focused concerns.
Unfortunately, predictions differ, so we still have much to learn, especially within the narrow areas impacting our clean energy and climate work.
Budget Surplus: The latest budget forecast for Minnesota predicts a $7.7 billion surplus. That could make a significant difference in transitioning to a clean energy economy or go a long way toward addressing Minnesota's affordable housing crisis. Or it could get diverted into other legislative priorities. Previously, surpluses have caused more legislative fighting than normal years. Even if our priorities get new appropriations, we will want to monitor appropriations and usage. Sometimes the quantity of available dollars can overshadow the quality of how it is used.
Our Website: Rachel Wyffels has been redesigning and simplifying the look of our website. Watch for the launch soon at www.lutheranadvocacymn.org.

---
Texas
Scott Atnip, Outreach Director
It has been a busy year in Texas with the Texas Legislature convening their regular 140 day legislative session followed by three special sessions, concluding in October. Following the Texas Legislature concluding for the year, Texas faith communities began to focus on responding to the efforts to suppress votes. Texas Impact joined the Brennan Center's lawsuit against the Texas voting bill and hosted an "All Hands on Deck for Democracy" event to help congregations prepare to support the Texas election infrastructure in 2022. Almost 150 Texans of faith attended.
In addition, Texas Impact amplified support of ELCA priorities in the Build Back Better Act, hosting John Johnson on Texas Impact's Weekly Witness podcast to talk about the bill and encourage Texans of faith to act.
Texas Impact's delegation to COP26, including Hunger Advocacy Fellow Isa Peterson participated in the work for climate justice in Glasgow and are continuing to help engage Texans of faith in the continued work in their own communities.

---
Washington
Faith Action Network (FAN) – fanwa.org
Paul Benz and Elise DeGooyer, Co-Directors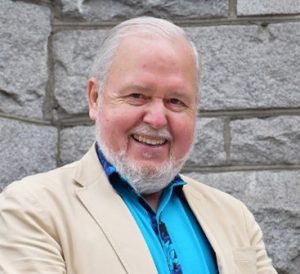 Co-Director Rev. Paul Benz's Retirement – from Paul: Been a great ride of first being the director of Lutheran Public Policy Office (LPPO) for 10 years (ELCA state office) and then very proud to be a part of the visionary effort to merge LPPO and the WAC (WA Association of Churches) into FAN (Faith Action Network) – which the ELCA advocacy leadership fully backed 10 years ago and still do!! For which I am very grateful! As an interfaith advocacy organization and also an ELCA state office we have the opportunity to keep and expand our voices for justice not only in the ELCA here in WA state but amongst all other Christian denominations, our Jewish & Muslim neighbors, and other religious communities – which we have done with our Buddhist and Sikh neighbors. I am grateful for the ELCA's continued support to do this important work of advocating for social justice in the halls of power.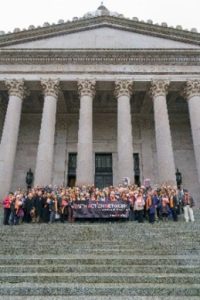 FAN Annual Dinner: We are full of gratitude for a successful Annual Dinner on November 21! We gathered virtually and in small watch parties with over 400 advocates across the state to celebrate our 10th birthday, Benz's years of service, and our shared future. With thanks to our sponsors, yearly denominational sustainers like the WA state ELCA synods and the national ELCA World Hunger Grant, and matching sponsor Rick Steves, we raised over $130,000 for the work ahead.
2022 Legislative Session: The 2022 WA State legislative session will take place January 10 – March 10. FAN will host two Pre-Session Trainings in early January in partnership with Paths to Understanding to prepare advocates for the virtual session, share our legislative priorities, and dive deeper into issue topics. Then we will host a virtual Interfaith Advocacy Day on February 10 with opportunities for advocates to meet with their legislators by district, as well as an Eastern Washington Legislative Conference on January 22 with partners in Spokane.