Lutherans are taking action across the country! Below you will find our monthly State Advocacy Newsletter. Share with your friends!
____________________
Washington, D.C. – Amy Reumann, Director of Advocacy
AUGUST RECESS IN D.C.: It's summer recess at the Capitol, which means members of Congress have returned to their states and districts until after Labor Day. ELCA Advocacy shared a resource informing advocates about ways to take action as lawmakers set up town halls, constituent coffees and other events. As political candidates prepare for the 2017 election, ELCA Advocacy will share additional #ELCAvotes mobilizing resources.
ADVOCACY AT THE CHURCHWIDE ASSEMBLY: ELCA Advocacy will be present in a number of ways at this year's Churchwide Assembly. Engagement with young adult attendees will focus on the ELCAvotes initiative to encourage civic participation and action to ensure all citizens have the right to vote, as well as to discuss the intersections of voting rights with racial, gender and economic justice. ELCA Advocacy will provide leadership at the Grace Gathering during workshops on Care for Creation, Human Trafficking and AMMPARO and in two Grace in Action afternoon events.
HOUSING PRIORITIES PASS CONGRESS: ELCA Advocacy applauded Congress for passing the Housing Opportunities Through Modernization Act on July 14. It was a top housing legislative priority for ELCA Advocacy and will help expand the reach and access of U.S. housing programs to extremely low-income families in the most need of assistance. ELCA Advocacy will be working to prepare more engagement on affordable housing and homeless assistance advocacy for 2017 and in the near future.
AMMPARO ADVOCACY – NEW BILL ADDRESSING HUMANITARIAN CRISIS IN CENTRAL AMERICA: The Secure the Northern Triangle Act was introduced in the House and the Senate. The bill provides a regional approach to addressing the humanitarian crisis of children and families being forced to flee their communities in Central America. It includes needed reforms to the U.S. immigration system that receives unaccompanied children and families while also providing guidance on how the U.S. should invest in Central America. ELCA Advocacy supports the regional approach to the bill but is concerned about providing resources to law enforcement agencies that violate human rights. See the full statement here.
ADMINISTRATION SUPPORT IN CENTRAL AMERICA: Last month, the Department of State announced an expansion to its in-country refugee processing program for Central Americans. The program, which previously allowed lawfully present parents living in the U.S. to only request refugee status for their minor children living in the Northern Triangle, will allow these parents to apply for their adult children. In addition, parents and family caregivers of children will be able to be considered for the program. To increase protection, the U.S. government will have the ability to provide protection in Costa Rica for children and their families going through the process who have an immediate need to leave their community. This announcement is a welcome step toward ensuring the safety of children and families in Central America.
____________________
New York, NY – Dennis Frado, Lutheran Office for World Community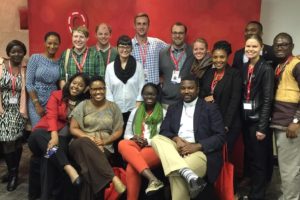 MORE THAN A DOZEN LUTEHRANS ADVOCATE AT 21st INTERNATIONAL AIDS CONFERENCE: July 18 marked the opening of the 21st International AIDS Conference in Durban, South Africa. This week-long conference centered on the theme "Access Equity Rights Now!" and put specific emphasis on achieving the fast track treatment targets produced by UNAIDS. The ELCA had 15 individuals present at the conference, including Christine Mangale and Nicholas Jaech from the Lutheran Office for World Community, as well as seven young adults from the ELCA and one young adult from the Evangelical Lutheran Church in Zambia.
This delegation also participated in the Interfaith Pre-Conference, July 16-17. This conference, organized by the World Council of Churches – Ecumenical Advocacy Alliance and themed "Faith on the Fast Track," brought together people of many faiths to discuss the role of faith communities in ending AIDS by 2030. The ELCA presented a workshop, "Breaking the silence to end AIDS: Addressing Stigma, Disparity and Sex in the Church." Ryan Muralt and Gabrielle Horton of the ELCA, alongside the Rev. Amin Sandewa of the Evangelical Lutheran Church in Tanzania and the Rev. Sibusiso Mosia of the Evangelical Lutheran Church of South Africa, spoke about their experiences breaking the silence on important issues in the church, such as HIV. The blog posts of the young adults who attended the conference can be found here.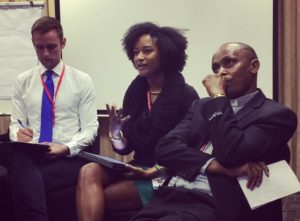 INDONESIAN LUTHERAN LEADERS VISIT U.N. HEADQUARTERS: The Rev. Basa Hutabarat, executive secretary of the Indonesian National Committee of The Lutheran World Federation (LWF), and Fernando Sihotang, coordinator of the Human Rights and Advocacy Office of the National Committee, visited LOWC in mid-July. They attended a session of the High-Level Political Forum, which was discussing, among other things, the first voluntary national reviews presented by governments on their activities in pursuit of the Sustainable Development Goals. They also attended an informal meeting of member states negotiating the proposed outcome document for the anticipated High-level Summit to Address Large Movements of Refugees and Migrants, which is scheduled for Sept. 19 in New York. LWF has joined a civil society action committee in support of the summit, and both the LWF Geneva office and LOWC have been participating in it. LWF recently endorsed the committee's proposals concerning the summit – "A new deal for refugees, migrants and society".
____________________
California – Mark Carlson, Lutheran Office of Public Policy
NOVEMBER BALLOT PROPOSITIONS: The Policy Council for the Lutheran Office of Public Policy – California met July 16 at the Southwest California Synod office to deliberate on possible recommendations on ballot measures. Priorities among the 17 propositions include support for ending the death penalty and replacing it with life without parole, opposition to an initiative that purports to speed up the death penalty, support for Gov. Jerry Brown's sentencing reform initiative, an initiative to extend the personal income tax rates on wealthy taxpayers, and defense of the plastic-bag ban. The Policy Council also supported an increase in the tobacco tax and a statewide school construction bond measure. It did not make a recommendation on the recreational marijuana initiative.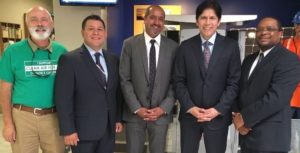 FINAL MONTH OF LEGISLATIVE SESSION: The Legislature reconvened for its final month on Aug. 1.  LOPP-CA is helping with a final push for more transparent disclosure of ballot measure campaign financing, has joined the effort to phase in overtime pay requirements for farmworkers, and continues to support placing restorative justice language in the penal code.
CARE FOR CREATION: Director Mark Carlson donned his green ELCA "I Support Clean Air for All God's Children" T-shirt for a press conference to release a UC-Berkeley green jobs report at a solar apprentice training program. The photo includes leaders of the California Environmental Justice Alliance, state Senate President pro Tem Kevin de León, and Assembly member Eduardo Garcia, of Coachella, whose district includes large-scale solar power plants. LOPP-CA participated in Green California Lobby Day on Aug. 2 and hosts the California Interfaith Power & Light Lobby Day on Aug. 16.
Colorado – Peter Severson, Lutheran Advocacy Ministry Colorado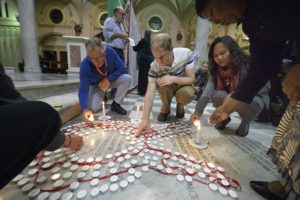 INTERNATIONAL AIDS CONFERENCE: Lutheran Advocacy Ministry-Colorado Director Peter Severson joined the ELCA's and The Lutheran World Federation delegation at the 2016 International AIDS Conference in Durban, South Africa, from July 18-22. The delegation joined other faith-based activists and advocates at the Interfaith Pre-Conference on July 15-16 as well, under the theme "Reducing Stigma, Increasing Access, Defending Human Rights." The ELCA delegation was the largest from a single religious body.
The conference focused on human rights, medical research, activism, advocacy and political change around HIV and AIDS. The International AIDS Society, which hosts the conference every two years, has the goal of ending AIDS as a public health crisis by 2030.
A majority of the members of the ELCA delegation were young adults under the age of 30. Severson's reflection on the conference – "Jesus, Politics, and the Praxis of Protest" – is at the ELCA Young Adult Cohort blog, elcayacohort.wordpress.com.
ADVOCACY TRAINING EVENT: Want to start an advocacy team in your congregation or ministry but not sure where to start? Lutherans and other faith-based advocates are invited to a day of advocacy training for congregational leaders on Saturday, Oct. 8, at the Lutheran Center in Denver. Registration will be available in August.
 ____________________
Minnesota – Tammy Walhof, Lutheran Advocacy Minnesota
SPECIAL SESSION (?): June and July passed without apparent progress in negotiations between legislative leaders and Gov. Mark Dayton. However, we now hear that Dayton will call legislators back into session the third week of August. Everything to be considered will be negotiated in advance.
AFFORDABLE HOUSING: Special-session bonding includes the $45 million for affordable housing decided in the final chaotic hours of the session! Although significantly lower than our coalition's request ($120 million), and half of the $90 million wanted by the Senate and governor, it's much better than nothing, as in the original house version or the defacto result without a bonding bill. Thank you so very much for your calls, letters, emails and meetings with legislators. Those made a huge difference! A joint letter for affordable housing from all six ELCA bishops also helped and was read at both a press conference and on the House floor by one of our champions.
CLEAN ENERGY:  Prepare for a big 2017 push and agenda.
MINIMUM WAGE INCREASE: A bill increasing Minnesota's minimum wage passed in 2014, with the initial increase ($8/hour) that August. Now, large Minnesota employers must begin paying at least $9.50/hour ($7.75 for small businesses). In 2018, Minnesota's minimum wage will be tied to inflation. Nonprofits working with low-income people and families report that the initial increase has helped working families tremendously but is still not enough, especially to meet housing costs.
LUTHERAN ADVOCACY MINNESOTA POSITIONS AVAILABLE:
Part-time office/communications assistant; Paid internship (housing and hunger focus); and Unpaid internship (clean energy focus) – Send cover letter, questions and resumes to tammy@lcppm.org.
 ____________________
New Mexico – Ruth Hoffman, Lutheran advocacy Ministry New Mexico
LAM-NM Director Ruth Hoffman attended the ELCA World Hunger Leaders Gathering in Chicago in mid-July. Synod and congregational hunger activists from throughout the ELCA gathered to network, learn and share education tools, as well as hear about the work of ELCA World Hunger, both globally and domestically.
Legislative leaders and the governor are discussing meeting in a special legislative session as a significant drop in state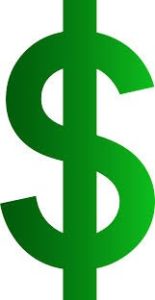 revenue has caused a revenue shortfall of more than $150 million for the just-completed state fiscal year. A projected $500 million drop in projected state revenue for the current fiscal year is also anticipated. The loss of revenue from oil and natural gas production has also drastically reduced state gross receipts and corporate income tax revenue. Slashing the personal income tax rates in 2003 along with a similar cut in corporate income tax rates in 2013 have exacerbated the current drop in state revenue. LAM-NM advocates for a tax system that would be fair to all taxpayers and also would produce enough revenue to meet the needs of our state. LAM-NM opposes balancing the state budget by cutting expenditures without increasing state revenue.
 ____________________
Ohio – Nick Bates, The Faith Coalition for the Common Good
Ohio welcomed the 2016 Republican National Convention last month. Ohio also experienced political activism from across the spectrum throughout July to raise awareness about a variety of important issues. Advocates from around the state descended on Cleveland to lift up their voices on the issues most important to them. In early July, faith leaders, joined by the Rev. William Barber, leader of the Moral Mondays movement, spoke and delivered a call to a higher moral ground.
Also on July 9, Bishop Abraham Allende of the Northeastern Ohio Synod and others joined a march for immigration justice, recognizing our biblical call to welcome and show hospitality to the stranger. Once the convention got underway, many advocates participated in further demonstrations to show their support for Black Lives Matter, immigration and economic justice. Sometimes in a democracy we need public tension to advance the cause of justice. The demonstrators and police of Cleveland all did a great job embracing the tension respectfully and helping advance justice. For further information: HungerNetOhio.org.
____________________

Pennsylvania – Tracey DePasquale, Director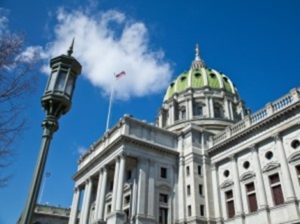 Two of LAMPa's priorities – hunger and education – received increases in the state budget package that passed in July.
The spending plan includes a 4.1 percent increase in the line item that supports the commonwealth's most critical anti-hunger programs – one of the most significant funding increases in years in our fight against hunger in Pennsylvania. An additional $200 million is slated for basic education funding. Together with the new funding formula signed last month, this represents a step in the right direction toward closing the state's estimated $3 billion adequacy gap that has earned the commonwealth a dead-last national ranking for fairness in how we fund our schools.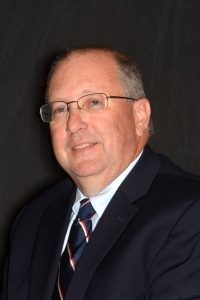 "Lutherans and our many allies in the battle against hunger and poverty made their voices heard, especially in the last weeks of the budget season," said LAMPa Director Tracey DePasquale. "I was heartened to read the letters you signed at synod assemblies and emails you sent to lawmakers. There was truly an outpouring of encouragement to remember the vulnerable in our communities and to act in hope with investment in our children's futures. We are grateful to Gov. Wolf and the lawmakers who listened." Read more.
LAMPa bids farewell to intern Kent Zelesky, who is headed back for his senior year at Juniata. We are grateful for his work on education and improving our ability to connect with Lutheran advocates and institutions. We also welcome Robert L. Rundle Jr., president and chief executive officer of SpiriTrust Lutheran, as our newest policy council member.  Read more.
____________________
Texas–Samuel D. Brannon, Texas Impact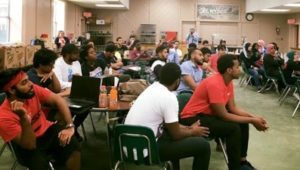 On Sunday morning, July 10, the phone rang at the Lutherhill Ministries camp and retreat center. Texas Impact, the Lutheran state Public Policy Office in Texas, was calling with an urgent question: "Would you be able to accommodate a group of 60 Muslim college students for a weekend retreat … next weekend?"
The Lone Star Council of the Muslim Students Association had reserved space for their annual leadership retreat at a different camp and conference center earlier in the summer, only to be told less than a week before the start of the retreat that they couldn't go to that camp after all – because they weren't Christians. The students reached out to Texas Impact for help, and Texas Impact staff members called Lutherhill.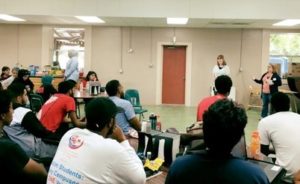 Lutherhill sprang into action. They had a few things already scheduled for the upcoming weekend, including a wedding and a staff training session, but they quickly committed to welcoming the Muslim students with open arms and moved things and people around to make it work. "Our staff enjoyed the Lone Star student group," said Matt Kindsvatter, executive director of Lutherhill Ministries. "They were one of the nicest groups we've ever hosted."
A little Lutheran welcome can go a long way. Thank you, Lutherhill Ministries!
____________________

Wisconsin – Cindy Crane, Lutheran Office for Public Policy in Wisconsin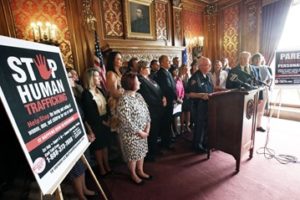 CARE FOR GOD'S CREATION: The Wisconsin Climate Table met again in July to strategize further how to build grassroots efforts to tip Wisconsin toward a commitment to diminish carbon dioxide emissions.
A bill to have the Wisconsin Department of Justice create posters with the Polaris hotline displayed and to make the posters known in key areas was passed into law. Polaris takes calls to help victims of human trafficking 24 hours per day. On July 28, a press conference at the Capitol launched a campaign to publicize the posters. LOPPW supported the bill, helped add an amendment to it, and was named as one of the partners at the press conference. A lot of work is needed to make this campaign work.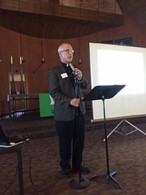 LOPPW/Cherish All Children's Northwest Synod team (on left) held its second half-day conference on human trafficking, this time at Our Savior's Lutheran Church in Superior. At the Superior conference, Bishop Rick Hoyme led devotions and later blessed the letters participants wrote to their participants. Our next event will be in Madison on Sept. 14.
ELCA WORLD HUNGER: LOPPW's director and volunteer, Eleanor Siebert, attended the ELCA World Hunger gathering.  LOPPW made contact with members of hunger teams from three synods in Wisconsin and the Upper Peninsula of Michigan at the event.
____________________
 What advocacy efforts are going on in your synod or state? We want to hear about it!