Following are updates shared from submissions of the Lutheran Office for World Community and state public policy offices (sppos) in the ELCA Advocacy Network this month. Full list and map of sppos available.
U.N. | Colorado | New Mexico | Ohio | Pennsylvania | Washington | Wisconsin
---
U.N.
Lutheran Office for World Community (LOWC), United Nations, New York, N.Y. – ELCA.org/lowc
Dennis Frado, Director
The sixty-sixth session of the United Nations Commission on the Status of Women (CSW66) took place from 14 to 25 March 2022. The Priority Theme was achieving gender equality and the empowerment of all women and girls in the context of climate change, environmental and disaster risk reduction policies and programs; and the Review Theme was women's economic empowerment in the changing world of work.
Despite taking place in a hybrid format, CSW66 had high-level participation from Member States, including two Heads of State and Government, three vice-presidents, and 111 ministers. In addition, 213 virtual side events were organized by Member States and UN entities, many in collaboration with civil society. Also, more than 800 virtual non-governmental organizations (NGO) parallel events organized by civil society took place.
The Lutheran World Federation and the ELCA participated virtually in the two-week event with a delegation of over 80 members from different parts of the world, facilitated by the Lutheran Office for World Community. Delegates highlighted the urgency of taking action against the climate crisis, especially as it relates to women's human rights and their ability to participate as equals in climate action. In addition, they showcased the vital role that faith actors play in promoting women's empowerment, and in combating violence and discrimination to achieve greater gender equality at local, national, and international levels. This CSW66 brought together the gender and climate justice work that Lutherans have led over many years including youth-led climate justice action around the world by amplifying the leadership and voices of young people.
---
Colorado
Lutheran Advocacy Ministry Colorado (LAM-CO) – lam-co.org
Peter Severson, Director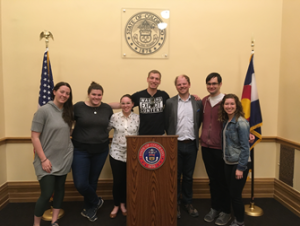 On April 9, volunteers from Urban Servant Corps, a one-year full time Lutheran volunteer program in Denver, joined LAM-CO Director Peter Severson for a visit to the Colorado State Capitol Building. 
LEGISLATIVE SESSION IN CRUNCH TIME: As the Colorado General Assembly moves into the final quarter of its 2022 session, LAM-CO is actively working on a host of bills related to our 2022 Advocacy Agenda. Among our top priorities this session:
HB 1259, Modifications to Colorado Works Program (Duran/Jodeh). This bill will offer badly-needed updates to our state's Basic Cash Assistance program, which is funded through the federal Temporary Assistance for Needy Families (TANF) program. It will remove some key barriers to eligibility and increase baseline assistance.
SB 087, Healthy Meals for All Public School Students (Pettersen/Fields). The bill continues a program initiated through Colorado's federal COVID relief funds, covering the cost of school meals for all children in schools participating in the National School Lunch Program.
SB 099, Sealing Criminal Records (Hisey/Rodriguez). Also known as "Clean Slate," the bill automates the record-sealing process for certain non-violent offenses, for which over one million Coloradans are already eligible.
---
New Mexico
Lutheran Advocacy Ministry New Mexico (LAM-NM) – lutheranadvocacynm.org
Kurt Rager, Director
It's like farming Redwood trees…  
Ruth Hoffman, the long-time director of LAM-NM now retired, would describe the work of legislative advocacy as, "farming redwood trees." In other words, positive policy change can take years of cultivation and work to achieve. The 2022 New Mexico legislature passed several bills during the legislative session that would exemplify this. We at LAM-NM are particularly proud of our role in the success of HB-132.  
HB-132 cut interest rates on short-term loans, offered by nearly 900 store-front lenders across New Mexico, from 175% to 36%. (Twenty years ago, such loans were offered at well over 400%.) These loans target New Mexico's most financially vulnerable and 65% of lenders are located within 10 miles of Indigenous lands. Even more devastating, these loans are typically rolled over several times.  What may have started as an emergency loan for a few hundred turns into several thousand dollars owed.  More than 15 years ago a concerted effort to reduce interest rates began.  
LAM-NM, working alongside partner organizations that together make up the NM Fair Lending Coalition, cultivated this effort over numerous sessions while confronting formidable opposition. n 2022, to amplify the voice of faith communities, a letter from denominational leaders of the NM Conference of Churches was initiated.  Individuals in congregations were invited to sign-on as well, and in just over two weeks almost 500 advocacy partners in 40 congregations added their names to the letter to legislators in support of the 36% interest rate cap. Indeed, the impact of the letter was clear as it was referenced during the House floor debate.
---
Ohio
Deacon Nick Bates, Director
Ohio continues to struggle to adopt fair maps in the state. It appears that Ohio's congressional maps will move forward for at least the 2022 election cycle while state maps remain in legal limbo. We encourage you to follow our colleagues at Common Cause Ohio to stay up-to-date.
In March, we were excited to host our second webinar on the intersection of hunger and other issues. This time we focused on the environment and discussed policy issues in Ohio related to clean water and energy production. For too long, Ohio has under-invested in clean water infrastructure including mapping and replacing lead pipes, wastewater, and stormwater management. We also spent a half hour discussing local congregational efforts including those in Southwest Ohio at Christ the King Lutheran Church with their efforts to not only move toward sustainability but toward restoration. You can watch our webinar here!
Our next webinar will focus on criminal justice but has not yet been scheduled. Follow our Facebook page to see when future events are scheduled! 
---
Pennsylvania
Lutheran Advocacy Ministry – Pennsylvania (LAMPa) lutheranadvocacypa.org
Tracey DePasquale, Director
Budget advocacy accelerated this month as LAMPa met with coalition partners to organize around priorities and sought input from our ministries. LAMPa Director Tracey DePasquale made legislative visits to seek support for
increases in the State Food Purchase Program and the Pennsylvania Agricultural Surplus System in the face of rising food prices. The state's two major anti-hunger programs support lower purchase prices for Pennsylvania's charitable food network that includes many congregational pantries. LAMPa also worked to identify champions for a proposed state-supported increase in minimum Supplemental Nutrition Assistance Program benefits for seniors and persons with disabilities.
LAMPa and coalition partners made progress on securing bipartisan support for legislation dealing with prescription drug pricing and funding for the state housing trust fund. LAMPa advocates have worked for years on the program, and it will be the focus of a presentation at United Lutheran Seminary on April 28. The presentation, which will include conversation with housing agency officials and advocates who themselves have experienced homelessness, will conclude the seminary's spring convocation.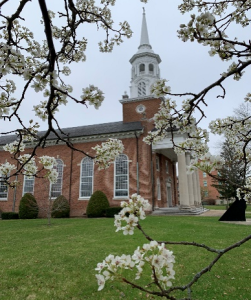 DePasquale met with Lutheran Disaster Response, Pa. Council of Churches, and Voluntary Organizations Active in Disaster regarding increases in state funding for disaster and plans to educate the next administration about disaster response.
Staff offered advocacy presentations to Allegheny Synod deans and congregations in Lower Susquehanna Synod, hosted a webinar on energy choice and community solar advocacy, met with Lutheran advocates monitoring elections legislation and continued work with partners seeking independent investigations of police use of lethal force.
---
Washington
Faith Action Network (FAN) – fanwa.org
Elise DeGooyer, Director
We are celebrating some wonderful successes from the 2022 Legislative Session that ended on March 10. This was one of the most productive short sessions in recent memory, with transformational investments across the safety net—food, school meals, housing, and cash assistance—as well as transportation and education. By the end of session, the largest supplemental budget in history passed with $64.1 billion that will make a tangible difference for our communities, along with a 16-year, $17 billion transportation package called "Move Ahead Washington" that will reduce emissions and dependence on fossil fuels. We were frustrated that our criminal justice and police reform bills did not move and recommit ourselves to continue working in coalition to move forward a ban on solitary confinement and other essential reforms. Other notable achievements of this session included bipartisan support for the nation's first alert system for missing and endangered Indigenous persons, momentous victories for gun responsibility, and additional funding to support refugees arriving in our state. You can review the full list of successes and read Policy Engagement Director Kristin Ang's recap at fanwa.org/advocacy/legislative-agenda.
---
Wisconsin
Lutheran Office for Public Policy – Wisconsin (LOPPW) loppw.org
The Rev. Cindy Crane, Director
Care for God's Creation – Message from Governor Evers' Office: "The Governor will today sign AB 727/SB 677, which Lutheran Office for Public Policy Wisconsin supported, related to creating a commercial nitrogen optimization pilot program, providing crop insurance rebates for cover crops, creating a hydrogeologist position, extending the time limit for emergency rule procedures, providing an exemption from emergency rule procedures, granting rule-making authority, and making an appropriation. We wanted to make sure you knew before it came out publicly. Thank you so much for your advocacy." signed by Camille Crary, Senior Policy Advisor in the Office of Governor Tony Evers
Human Trafficking: LOPPW's director the Rev. Cindy Crane was one of the presenters at UW-Madison Law School's Wisconsin Journal of Law, Gender Society Symposium, at the recommendation of a La Crosse legislator. LOPPW presented on recent anti-sex trafficking bills.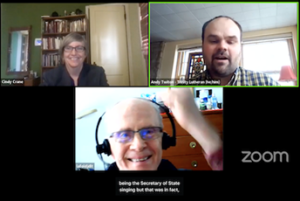 Wednesday Noon Live: Interview with Secretary of State Doug La Follette. How some leaders tried to overthrow the 2020 election results in Wisconsin: What is at stake in the Secretary of State's position? Click here to watch the interview.
Youth Advocacy: We held our first listening session for youth, who showed interest in climate justice, equity and racism, anti-bullying, equity and LGBTQ+ issues, and hunger and class. There is interest in holding a second session.
Raise the Age: Our coalition had its first online informational session, which included testimonies from two people with experience being sent to adult prison as youth. You can watch the video here.