"O come, O come, Emmanuel / And ransom captive Israel / That mourns in lonely exile here / Until the Son of God appear / Rejoice! Rejoice! Emmanuel / Shall come to thee, O Israel."
"O come, O come, Emmanuel" has always been my favorite Advent hymn. I don't really know why, but its mystic and almost mysterious melody, along with the tradition of singing a new verse of the hymn every progressing Sunday toward Christmas has made it a favorite since my childhood. But it wasn't until this Advent season that I really began to think critically about the scriptural text the song offers.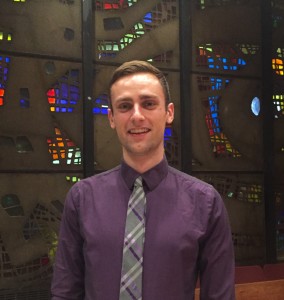 "And ransom captive Israel" – what exactly does this mean? This lyric reminds us of the captivity, enslavement, and occupation of the Jewish people by Egypt and Babylon in the Old Testament. The enslavement by Egypt of course precedes the story of Moses and the exodus of the Jews to Canaan.
It has occurred to me that "captive Israel" is a not just a reference to scripture and of times passed, but of times present as well. How many people in our world today are "captive Israel?"
I've had the privilege of working for the Lutheran Office for World Community at the United Nations in New York for almost four months now. I've learned so much about the domestic and global advocacy of the ELCA, as well as the global programs of the Lutheran World Federation. But inevitable to working in this center of global politics and decision-making, I've also had the stark opportunity to broaden my awareness of the pain and suffering that is occurring in the world.
Especially during the holiday season in the United States, the juxtaposition of the elegantly and brightly decorated stores and houses and the grim realities of hate, greed, and marginalization are distressing.
Systematic violence in Syria has led to 4.3 million refugees fleeing for their lives on land and sea. Sudden acts of violence in the Central African Republic have led to an unraveling of previous gains in peace and reconciliation. And in the United States, gun violence continues to ravage communities. Hate speech at local and national levels continues to divide and marginalize many. And members of the LGBTQ community, especially transgender women, continue to experience deadly violent attacks.
"Lonely exile" is truly a lived reality of so many in our world right now.
But this mystic hymn reminds us more than just the painful realities of life. It also brings the promise of Advent – the promise of something beautiful coming in the future; something to re-instill our hope. We are promised that "Emmanuel" – God among us – will come to us, especially those living the realities of lonely exile.
I am brought emotional relief and a renewed sense of hope when global efforts of change, such as the 17 Sustainable Development Goals or the Paris Agreement (on Climate Change), are adopted and made a priority. While these are imperfect human-made solutions, they attempt to serve and help those living in this "lonely exile." We need more systemic and humanitarian innovation like this, both in the United States and internationally. We also need a strong effort to undermine the foundations of "captive Israel" and "lonely exile" – poverty, exclusion, fear, greed, among others.
But for now, in this moment, I look to these new multilateral agreements as steps to a beautiful future; I keep on humming "O come, O come, Emmanuel" to myself; and I continue to hold onto the hope promised to us during the Advent season.