A message from the Director of the ELCA Youth Gathering, Deacon Tammy Jones West– 
I have been a part of many theme discernment spaces for synodical events, but this was my first time bringing together young people from around this church to discern a theme for an event that is two plus years away. What might be relevant at that time? How might the theme speak to the young people attending the event?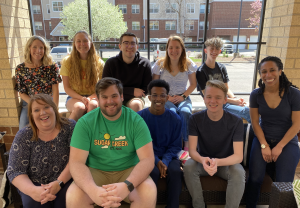 In the room were four youth, four young adults, and two adults. It was a diverse group, and it was pure joy to watch them wrestle with the task at hand. We started in prayer followed by conversations about past themes and time delving into the texts from our host synod, the Gulf Coast Synod, around their core values: Following Jesus, Walking Together, Making Disciples, Speaking the Truth in Love, Maturing Theologically, Growing Passionate Leadership, Welcoming Everyone, and Accompanying the Poor.
We also spent time telling our truths.
God, I don't understand _____.
God, please fix _____.
God, I trust you with my future even if _____.
God, I will praise you even when _____.
(Taken from The Innovative Church by the Rev. Dr. Scott Cormode)
The group spent time together generating ideas and then in prayer time alone. They spent time with the question – what do we want youth to leave the city of New Orleans knowing about themselves and God?
We talked a lot about a tapestry of gifts, hurts, harm, grace, and love.
This theme just felt right. We loved the ability to pick daily themes around ways we are created— brave, authentic, free, disruptive, and disciples. Our hope is that every person that engages with this ministry will be able to walk away knowing that they were created by the Holy One to be themselves.
We can't wait to explore this theme deeper in resources and stories over the next year and a half. We invite you to join us!