As a shy introvert, being up on stage in a room of 700+ people is one of my worst nightmares. If you would have told me years ago that I would have been playing guitar, singing, and rapping (yes, rapping), in front of hundreds of youth from the North Carolina synod, I would have thought you were delusional. I was never really one to have a place in a group. There was a voice in my head saying, "I didn't belong anywhere," and I let that voice control my life for a long time. Until I met the band.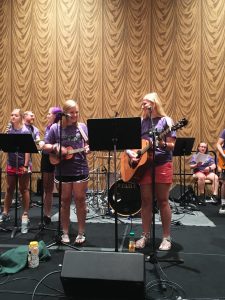 Rewind to 2015, there was an interest meeting to form a youth band for Synod Day at the Gathering in Detroit. I went to the meeting just to see what it was about. I was immediately pulled in. A few months later we had our first practice. I hated playing in front of people before, but something was different with this group. Our first practice was rough as we learned to play together, but as soon as we finished playing through our first song, I noticed something. The voice in my head telling me "I didn't belong" was gone. It was replaced by a warm voice telling me, "Here, there is a place for you."
Fast-forward to 2018, I had the opportunity to play with them again at the Gathering and many other synod events. They became my family, and that sense of belonging never left. Now in college, that sense of belonging has continued with me. Being involved with Lutheran Campus Ministry at my school and within Region 9 events, everyone and anyone is welcomed and affirmed. 
So come, the table is set, and there is a place for you. 
Grace Robinson is a sophomore at Roanoke College in Salem, VA majoring in Christian Studies and minoring in Psychology. She is originally from Concord, NC and a member of Christ Lutheran Church in Charlotte, NC.