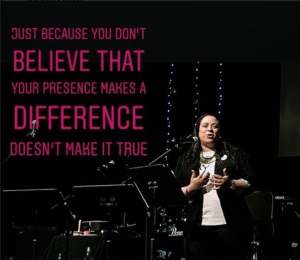 The overall theme of "ONE" resonated strongly on the first day of MYLE. The theme for the first day, "One body, many parts" was truly embodied as people traveled from across the country to gather as one community at the University of Houston for the Gathering pre-event. On the first day, there was time to begin forming relationships at community life and breaking bread with one another over dinner. Worship began with greetings from Texas-Louisiana Gulf Coast Synod Bishop Michael Rinehart. The Assistant to the Bishop for the Metropolitan D.C. Synod, Rev. Leila Ortíz, preached at opening worship, reminding everyone attending MYLE that as being one in the body of Christ, we matter, we are necessary, and we make the body of faith whole.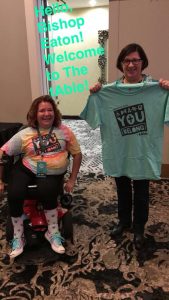 "You Belong" was the theme for the tAble, held at the Crowne Plaza. Participants traveled from around the country to come together for this pre-event to the Gathering. The theme for the first day, "Who do you belong to?" was asked throughout the day. During registration and afternoon activities, Bishop Eaton stopped by to spend time with participants. The time together began in worship, centering in the space by reflecting on the day's theme. Rev. Leslie Welton the assistant to the bishop in the Rocky Mountain Synod and pre-event chaplain, presided over worship. She reminded participants to center themselves in their bodies to experience worship however it would be meaningful and comfortable. The first day at the tAble was also a time to establish and build trust with one another in the space, living into a full and embodied experience. At the end of a busy day concluding in evening prayer, participants gathered together.
---
Follow the 2018 ELCA Youth Gathering on social media:
Don't forget to follow the hashtag #ELCAYG2018!
Follow instructions to download the ELCA Youth Gathering app here.