The deadline for Gathering Volunteer Corps (GVC) applications has been extended to November 1. 
The Gathering Volunteer Corps serves in multiple capacities throughout the Gathering. Duties might include ushering and assisting during Mass Gathering, helping with Interactive Learning activities, directing foot traffic in the convention center, staffing the info booth or moving equipment in a Gathering venue. GVCs serve wherever Gathering planning teams have identified the need for additional help.
GVCs must be at least one year past high school at the time of the Gathering and commit to being in New Orleans for one week, likely arriving Sunday, July 14, and departing Saturday, July 20, 2024.
The Gathering will provide GVC volunteers with per diem or catered meals while on-site in New Orleans and shared lodging accommodations.
See what Kurt has to say about serving as a GVC and why he's excited to be back in the bayou next summer. 
Don't forget to get your applications in ASAP – you don't want to miss this opportunity. Applications are live on the Gathering's website!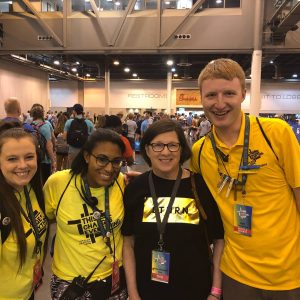 Hello, I am Kurt Saenger-Heyl!  While I never attended the Gathering as a youth, it was on my radar as something that I wanted to do after I graduated from high school. So, I made sure that I didn't miss the volunteer application deadline in 2012, and thankfully I was selected to volunteer as a Gathering Volunteer Corps (GVC) member. I served again as a GVC in Detroit in 2015 and as part of the Safety and Security Team in Houston. I'm excited to be part of the Volunteers planning team this cycle, as well!
What are you looking forward to this cycle?
I really enjoy meeting so many Lutherans from all over the world! I have fun asking people where they are from, collecting the clothes pins or other tokens, and making fun connections with those whom I have met across the ELCA over the years. I also look forward to the Mass Gatherings each cycle—being with thousands of other folks singing, praying, worshiping, and dancing all together is truly something special! This cycle I am looking forward to being back in New Orleans where it all began for me! I'm also excited to reconnect with folks from previous Gatherings; those connections are so fun to rekindle every 3 years!
What's one thing you're looking forward to in New Orleans? 
Beignets from Café du Monde and worshiping with thousands of other Lutherans!
Fill in the Blank: "I am Created to Be Me" 
Written by: Bobbi Cyr (she/her)