– Tom

Hoegel
My name is Tom Hoegel and I have the privilege and honor of serving youth and families at Bethel Lutheran Church in Cupertino, CA.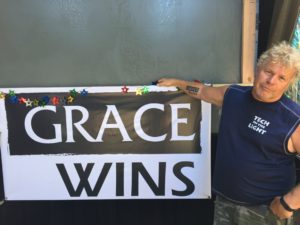 Over 30 years ago, I took my Bethel youth to the Denver National Youth Gathering and began my journey serving on the Mass Gathering Team. In St. Louis in 2000, I formed the Tech & Talent Team to coordinate talent for the event, as well as to act as the connector between volunteers and hired techs.  It has been a delight serving God through this work at the Gatherings
One of my greatest passions has always been to lift up youth musicians.  In 2009, we saw that seed begin to germinate with two talented college age bands that help launch our Immersion Day events.  In 2012 and 2015, that desire blossomed into over 60 youth bands leading Synod Day events throughout the Gathering.
Houston promises to build on this great momentum as youth really are the church of today!
When I'm not serving the Gathering, I enjoy spending time with my grown daughters, attending concerts, working out, playing bass, tearing down and building stuff, and motorcycle and convertible rides in the California hills.  I look forward to seeing you in Houston. 🙂