–

Sessen

Stephanos
I first found out about MYLE in 2012. My youth director, Brianna pitched the idea to me when I was 14 and I was adamant that I did not want to attend. Looking back on it, I think my attitude towards it was rooted in fear. Fear of acknowledging that my experience as a first generation African-American woman was different from many of my peers at school and at church. I did not attend MYLE in 2012, but the feeling lingered over the next few years. By the time 2015 came around, I was 17 and had just graduated high school. When Bri asked me this time, I said yes. I had spent a lot of time researching about race relations in the United States and I was ready to explore my identity that I had spent so much time trying to suppress.
MYLE definitely pushed me out of my comfort zone. It was a drastically new experience for me.
I think the biggest thing that I took away from MYLE is that our differences are not something that should be ignored. So often I hear people say things like "I don't see race" or "I don't see color," and while those statements come from a well intentioned places, I think it in some ways they are still invalidating. Being black is part of who I am, being from Ethiopia is part of who I am. It is not all that I am, but it is a lens through which I see the world and experience God.
MYLE helped show me that different communities and cultures feel God's love and express it in different ways.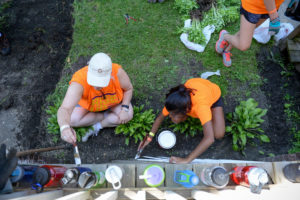 I was surrounded by people who had really similar upbringings and also drastically different ones. MYLE gave me the opportunity to engage in some of the most honest discussions about topics that I never really thought I would be able to have in my faith communities, and it was a really valuable and precious experience.