Servant Leadership at the Gathering with Companions and Coaches
Written by Bobbi Cyr (she/her)
As we have entered into the Easter Season, I have been especially drawn to the road that Jesus walked with his disciples. Jesus showed us how to be in community with, share in life's joys and hardships with, how to eat with, pray with, serve with, and how to build relationships with one another. Even after death, we see the Resurrected Jesus walk the Road to Emmaus alongside people he had just met, and he gives us a model of a good companion. Jesus accompanies them in their journey, sharing in story, and breaking bread with them. We are called to actively participate in God's mission in the world and like Jesus, we meet various people with whom we share in this journey. At its heart, accompaniment is walking alongside others with Jesus, as we answer God's call to mission.  I believe this is what it means to be a Servant Coach and Companion at the Gathering.
How Do We Accompany the City in Which We Serve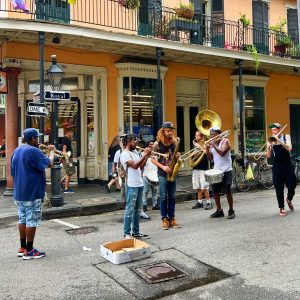 In mission, our companions on the road may be individual people in our own community, in other communities, or around the world. As we accompany these companions, it's important to remember that service comes in all forms. When we think about Accompaniment Day (formerly known as Service Learning), we need to remember the story of the road to Emmaus and that we are here to walk this road with the people of New Orleans. Tiffany Wilson, serving on the Accompaniment team, reminds us, "We need to enter into this space with an intentional mindset that we do not serve to save. [New Orleans] is doing just fine on its own.  We are here to accompany the city in the ways in which God's already working through these partners. As we prepare, we are intentionally asking our partners how we can help them reach their goals." That might be a physical task, but it also might be educational in learning about the culture and food, or more justice-centered work. Regardless of what this service looks like, as we engage in God's mission through accompaniment, we must remember that in order to proclaim the Gospel, we must first place priority on being in relationship. 
What does Servant Leadership Look Like at the Gathering?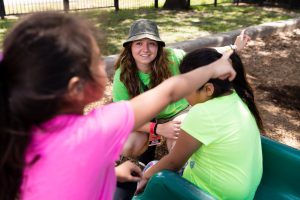 Accompaniment is one of the central experiences of the Gathering. Remember those companions who enter our life and walk alongside us on the journey? As you engage in the purpose of Accompaniment day, you will not be alone on the road; Servant Companions will walk alongside participants and their leaders helping them to connect with local organizations, hear their stories, work together, and learn how to engage in similar work at home. Servant Companions are a pivotal link between the Gathering participants and the Accompaniment team. These leaders guide congregational groups as they learn, experience, and serve alongside the people of New Orleans.  
So You Were a Participant… Now What?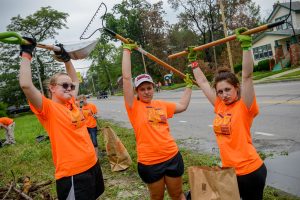 Recently, I had the opportunity to connect with Evan Rogaczewski who started his journey with the Gathering in New Orleans as a participant in both 2009 and 2012. Like many young adults after high school, Evan found it hard to stay connected to the church while going to college. Since he enjoyed the Gathering as a participant, he found that volunteering as a Servant Companion was an easy choice and one way that he could stay involved, while accompanying youth as they served. Evan recalled how helpful it was to have companions guiding him on past mission trips. He shared that when things don't always go right, it is nice having someone who has been there; especially someone who not only thrives in the midst of chaos, but can help provide stability in those situations. Evan wanted to be one of those people to support others and volunteered as a Servant Companion in both Detroit (2015) and in Houston (2018). 
For Evan, his favorite part of being a Servant Companion was building relationships with fellow volunteers, several of whom he is still good friends with 6–8 years later. When the days are long and exhaustion sets in, there may also be a lot of inside jokes that keep the team afloat. Being a Servant Companion provides a great opportunity for growth. As both a Coach and a Companion, you are in a position where you have to be calm and think on your feet. The greatest growth, both personally and in faith, happens when we are challenged and stretched. Evan shares that beyond the early mornings and the work, it's really the community that makes it worth all it and why he keeps coming back!
Answering the Call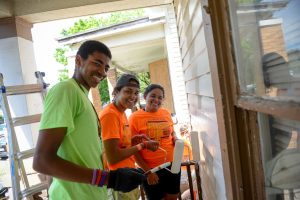 God is actively at work in the world and in the city we are being called and sent to. Together, we will be in mutual relationship with the city of New Orleans, asking how we can actively participate in God's mission and work.
Both Coaches and Servant Companions are equipped to share the good news and serve our participants as they work to serve the neighbors of New Orleans. 
Coaches train, mentor, and support young adults who serve as Servant Companions during the Gathering. 
Servant Companions guide Gathering participants as they learn, experience, and serve alongside the people of New Orleans on their Accompaniment day. 
God invites us to the table and sends us to go out as companions to walk with and to serve. When we tire, our fellow companions hold us up; when our faith is weak, our companions remind us of what we have seen and shared together. Like the people on the road to Emmaus, God gives us companions for this purpose. 
Learn More and Apply
Is the Holy Spirit stirring within you to accept this call to be a Servant Coach or Companion in New Orleans?
Applications to be a Servant Companion Coach are open through June 2. Apply Here!
Applications for Servant Companions will open on June 15. Get more information on Volunteering of the Gathering HERE.