– Bishop Michael Rinehart
Forty years ago, I was 15 years old when I attended my first national gathering. In 1976, the All-Lutheran Youth Gathering, For All the Saints, brought together ALC, LCA, and LCMS youth at the brand new (opened in 1975) New Orleans Superdome. A member of our youth group was baptized in the Superdome at that event.
The gatherings have changed over the years, then and now, but I can still feel the energy and anticipation of that event, as well as the fun of meeting people from all over the country. It strengthened my faith and gave me a sense of the scope of this church. It is one of the reasons I am a pastor and bishop today.
You can imagine how excited I am to welcome 30,000 of you to the Bayou City, where I now serve as bishop. The 2018 ELCA Youth Gathering will gather at NRG Stadium in Houston, Texas, the fourth largest city in the U.S. We will sing, pray, learn, and serve together.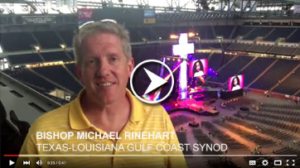 Houston is named after Sam Houston, once the President of the Republic of Texas, when Texas was a country. Sam Houston then brought Texas into the Union, becoming a senator, then governor. He opposed secession and lost his job because of it.
Houston is a big city with a big heart. Houston has no racial majority as the most multicultural city in the U.S. Houston has been working hard to battle homelessness in a significant way. Home to Mission Control at NASA's Johnson Space Center, Houston has sent people to the moon.
You don't have to be a rocket scientist to know that the blessing of the event will be in the relationships. Friends and strangers will make this event something you will remember for the rest of your life.
I'll see you in Houston in 2018!
Rev. Michael Rinehart is Bishop of the Texas-Louisiana Gulf Coast Synod, a community of over one hundred congregations, campus ministries, retreat centers, and other agencies.