– Matt

Staniz
One of the biggest ways that I have seen the Gathering transform the lives of young people is by inspiring them to become generous disciples who care about the needs of others and find ways to respond. This radical generosity has taken root among Gathering participants at Saint Luke Lutheran Church in Devon, Pennsylvania.
In fact, it has reshaped the way we prepare for our time together with 30,000 Lutheran friends.
As a congregation situated among well-to-do communities in suburban Philadelphia, God reminds us that we have the ability—and the responsibility—to make sure that all of our neighbors experience the same opportunities that we might take for granted.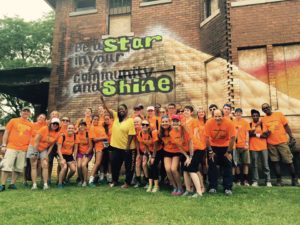 Because the Gathering is among the greatest opportunities that the young people of Saint Luke have, we know that we are called to extend the ministry of the Gathering to others. As soon as we figure out how much it will cost for our group to fully experience the Gathering, we increase our fundraising goal by enough to give away ten percent of everything we raise. Trusting in God, we contribute most of our pledge to our synod office from the very first dollars we raise so that young people from other communities can register for the Gathering.
In 2015, we also began saving some money for an additional special gift. After returning home, our young people discussed what they discovered during the Gathering and they decided together how God was leading them to use what they had left. The conversations were incredible and important, and the continued impact of the gifts are felt not just by those who receive them, but also by our group. This empowers them to not only be thoughtful stewards of God's gifts, but also to think deeply about how being a generous disciple impacts their neighbor and the world.
It allows the Gathering to continue to change our lives as we live out God's amazing and abundant grace!