– Lisa Jeffreys
Why the Gathering, and why service learning? Because Jesus!
That's the easy answer, right?
But the answer really is because of Jesus.  Nothing about organizing service learning experiences for the Youth Gathering is easy.  Yet the church places great value on cultivating meaningful service learning experiences at the Gathering.
Jesus calls us into relationship with others: other perspectives, other backgrounds, other everything.  The churchy word for that is accompaniment.  Accompaniment means we value the relationship built in service learning enough to do the really hard work of listening, respecting, inviting, and engaging fully in the experience.  Jesus models this kind of ministry when he invites himself to Zacchaeus' house for dinner, when he shares a drink with the woman at the well, and when he walks alongside two disciples on the road to Emmaus.  It's about connecting our stories: my story, your story, God's story.
Detroit is still buzzing about the Skittles explosion that was created at the 2015 ELCA Youth Gathering.  A few week's after the event I received this email from one of our neighborhood partners, a resident of the Detroit Osborn neighborhood: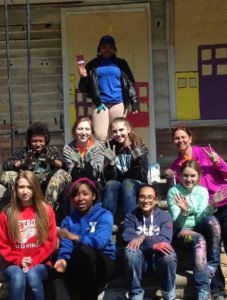 "We prayed for helping hands but never imagined the most loving hearts that would come along with them! Our team, 'Pathway from Playfield to Paradise' worked on relentlessly to uncover the sidewalk buried for decades (so the children no longer have to walk in the street) and created beautiful planters from the tires that have been dumped (causing horrible mosquito infestation). May God continue to bless you always ELCA. You bring hope for a better future!"
I am excited to see how the Spirit will move through participants and service learning partners in 2018 because, you know, Jesus.
Lisa Jeffreys was the Service Learning Coordinator for the 2015 ELCA Youth Gathering