– Keith Amano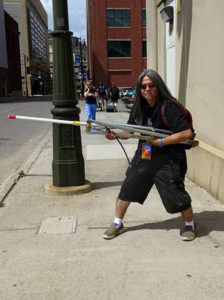 We're everywhere. Hopefully you don't notice us too much, but we're in and out of rooms, behind curtains and walls, and, yes, even under tables. We zig-zag around town, loading and unloading van-fulls of equipment.  We're the scouting crew, the staging squad, and the extraction team for phones, radios, computers, printers, projectors, screens, and displays.  We're here planning before you arrive. We're here constantly moving, setting up, configuring, maintaining, fixing, breaking down, and moving again while you attend events and activities. We're here putting away our toys after you leave.  We're the Information Technology Team:  a merry band of network nerds, gadget geeks and glorified go-fers—and we are here to serve.
Our mission is to enable and support the other leadership teams in delivering meaningful worship, learning, service, and community experiences to Gathering attendees.
We deal with "things" so presenters and leaders can concentrate on the "content."  We're the rapid-response SWAT Team of surge protectors, cables, and wires.  We're the Widget Whisperers and Doo-dad Doctors.  Sometimes, we're the Cyber Counselors—talking down those panicked and infuriated by uncooperative and megalomaniacal machines.
My name is Keith Amano, a short, long-haired Japanese-American from a little island in Hawai'i, who ended up on a much bigger island we call "The Mainland" and who, by the grace of God, has been blessed to travel the country to see tens of thousands of youth come together in the name of Jesus. I have done IT for a lot of conferences over years—mainly in the public school sector.
My first experience with the Gathering was as a volunteer at New Orleans in 2012.  I was in awe of the folks I saw orchestrating such a huge and complex event—all with grace and a common spiritual purpose.  Imagine a music fan getting to join their favorite rock band or a sports fan playing with their favorite team—that's what it was like for me when I was asked to be a co-leader for Detroit 2015 and then Team Leader for Houston 2018.  I am a humble fan amazed to now work alongside those I most admire.
Working with the Youth Gatherings, I feel so blessed that I am now part of something that is on a much grander scale and for such a beautiful purpose—to walk alongside our youth as they serve their communities and as they journey in their faith.
Yeah, this is definitely where ITs at!
Aloha ke Akua! God is Love!