–

Rev. Priscilla Paris-Austin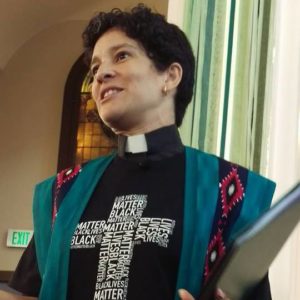 I traveled by train halfway across the country to attend the Youth Gathering in New Orleans with four youth. Months of preparation and anticipation were finally being made manifest as we rose early that first full day for our Justice Day. Our task was to pick up trash in a neighborhood still recovering after Hurricane Katrina, but the dumpsters from the city had not yet arrived. We met with leaders of the partner organization who explained that it was not unusual for folks to say they were coming to help in this area… and then not show up. The city then developed a habit of waiting to provide resources until the evidence proved they could be useful. Our presence, despite the planning, was a surprise!
After surveying the area and spending some time with leaders, our Servant Companion gathered us back on the bus for reflection. When faced with the decision of calling it a day or walking the neighborhood, I completely understood the massive number of hands on the bus that rose to end the day… until I turned to look at my youth. All of them were opting to stay. They wanted to meet the people, or at least try. It was a moment that made this veteran youth leader weep with pride. 
For by grace you have been saved through faith, and this is not your own doing; it is the gift of God.
While the majority vote meant that our day was done, my youth were transformed in that moment. They recognized that while they didn't get their hands dirty, the difference they made was not of their own doing, but it was a gift of God. They were a gift of God just by showing up.  This knowledge, it changes EVERYTHING.  
Rev. Priscilla Paris-Austin serves as the pastor of Immanuel Lutheran Church in Seattle, WA.