Since the start of the Evangelical Lutheran Church (ELCA) in 1988, New Orleans has hosted the ELCA Youth Gathering and pre-events three different times. The city has a unique blend of history, culture and beautiful venues that are within walking distance of one another— making it a prime location for the 2024 Gathering.
Emphasizing the Mississippi River and connecting it to our Baptism, River of Life was the theme of the 1997 Gathering. It was a time when less than 40% of the population had a cell phone and none of them were smartphones. Pictures were taken on a camera that then was taken to the store to develop and then later to relive the memories of a time together.
Most notably, under the theme of Jesus, Justice, Jazz in 2009, the Gathering attempted something no other group has ever attempted nor to our knowledge still has— have every attendee participate in a Service Learning experience. It may seem normal now, but at the time it was something that had never been attempted. Heidi Hagstrom, the former Gathering Director said "I think the best words for the Gathering are 'bearing witness.' We would love it for young people to come to (New Orleans) and hear stories, learn the history, and discern how God has been present in the disaster that has happened there." Prior to the 2009 Gathering, Hurricane Katrina ripped through the city of New Orleans causing catastrophic damage and at the time was the worse natural disaster to hit the United States.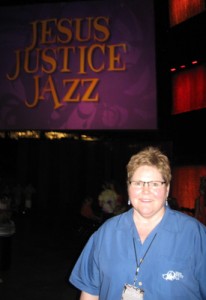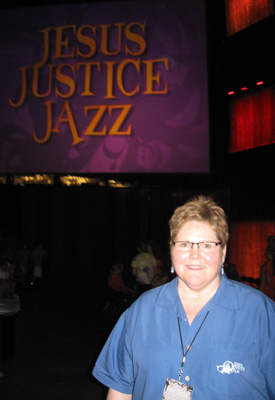 "Bearing witness means that you need to step into the story of another person, to understand the call to justice and be a part of the need in the city for a long time and witness to that," Hagstrom said.
When returning home after the Gathering, participants will be asked to share the story of how God is present in New Orleans and look for ways to live like Jesus. The Superdome that hosted Mass Gathering each night had once been a place where people had sought shelter, and some had unfortunately lost their lives just a few years earlier. During worship one evening, Bishop Mike Rinehart of the Texas – Louisiana Gulf Coast Synod declared the Superdome as a sacred space and a place for healing. It was a bold task to provide service projects for that many people, but there was a ton of work that we were called to do to help our neighbors in that moment.
In 2012, we returned under the theme of Citizens with the Saints. After listening to community leaders in the city of New Orleans, participants responded by showing up to learn justice, to walk justice, and then practice justice by being in the community in various ways.
Instead of being called "Service Learning", this cycle young people went out to "Practice Justice" through literacy camps, neighborhood cleanups, absorbing information about injustices in the city, experiencing unique cultures, painting murals, backyard gardening and more. There was even work that wasn't finished from 2009, that we were able to finish in 2012. All connected to God's restorative work that was ever living and connected with the people of New Orleans. Other daily themes focused around "Practice Discipleship" and "Practice Peacemaking."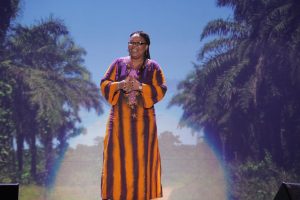 In the evening, participants came together in the Superdome to hear inspirational speakers such as the Rev. Yehiel Curry (now Bishop of Metropolitan Chicago Synod), the Rev. Nadia Bolz-Weber, activist Shane Claiborne, and 2011 Nobel Peace Laureate Leymah Gbowee. We also sang and danced to performances from Rachel Kurtz, AGAPE*, as well as many local jazz bands and artists.
The stage is set. We're headed back in 2024 to listen and learn from our neighbors in New Orleans, to grow in our faith and be inspired to live like Jesus.
A group of faithful young people and adults will soon be gathering to discern a theme for the 2024 Gathering. To help their discernment, we invite you to provide a few suggestions through a Google Form.
Until then, be safe, love your neighbor and live like Jesus.