– Don Romsa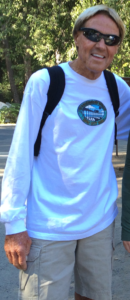 As someone involved in Lutheran Campus Ministry, I was asked, "Why a Youth Gathering?"  My answer?
I've seen firsthand that the Gathering builds community, deepens faith, inspires service, and even transforms lives.
During my thirty years of working with college and university students in Lutheran Campus Ministry, I have listened to many of those students talk about their personal experiences at a Gathering.  These young adults have often said that the Gathering was a turning point in their life and also in their faith. It was an experience in which Jesus became real and relevant for them, and they were touched by God's invitation to "change the world."
I have listened as young adults shared memories and moments of their time at a Gathering – memories and moments like these:
As I sat in the large gatherings with other youth, I felt surrounded by people who had important hopes and dreams – just like me.
I was challenged to think in new ways about how my faith and life are connected.
We didn't just talk about the need to love others – we went into surrounding neighborhoods and acted on that love.
I was deeply moved by the words and thoughts of the speakers who shared their real-life faith stories.
I was treated as if I was really part of the church – not at some future time, but NOW.
I realized the Lutheran faith community is much larger than I could ever have imagined – it extends all around the world.
I had a chance to talk about things that really matter in my life, and how those things are shaped by my faith.
I felt the presence of a gracious and loving God in my life – it was a transforming event for me.
Almost 45 years ago, I accompanied a group of youth to the 1973 Youth Gathering in Houston.  Not only was their faith deepened and their lives transformed, but mine was, too.  May the 2018 Youth Gathering in Houston be the same kind of gift to all who come!
Pastor Don Romsa is the ELCA Program Director for Campus Ministry.