– Nicolle Layman
The Youth Gathering has always held a special place in my life. My first Gathering was in 2006 in San Antonio, TX. I still remember standing in the stadium and feeling overcome with emotion, surrounded by 36,000 others worshiping God. I never experienced anything like it. Little did I know that God was planting seeds in my heart, which began to be cultivated over the next few years.
Flash forward to 2009 in the Superdome in New Orleans. I just graduated high school and was planning to attend a Christian university in the fall to pursue a bachelor's degree in Youth Ministries. I was absolutely terrified by this call, questioning if I could make any impact at all. Looking around at my fellow Christians in the stadium, the Holy Spirit stirred in me once again and gave me the courage to continue pursuing God's call to ministry.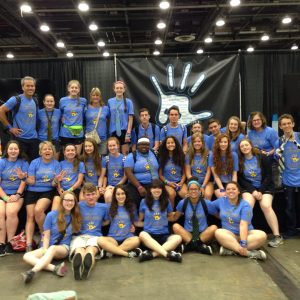 I am now preparing to attend my fifth Gathering in Houston in 2018. It will be my second time as a Primary Leader. I would have never guessed that back in 2006 in San Antonio that I'd be returning to Texas 12 years later to provide this life-changing experience to more of the incredible youth I serve. There is nothing like the Gathering and the impact it continues to have in my life, and now the lives of my youth. It is a beautiful ripple effect that God has orchestrated, and it is what I'm looking most forward to in Houston—seeing God's work in the hearts of my youth and the youth of the ELCA. 
Nicolle Layman has served as the Director of Family and Youth Ministries at Calvary Lutheran Church for the past five years and is currently pursuing her Masters in Clinical Counseling at Cairn University.