– Abby Botten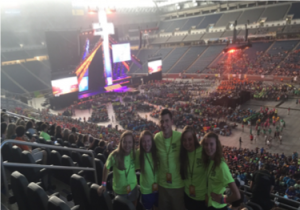 I am beyond thrilled and blessed that I will be at my third ELCA Youth Gathering, this time as an emcee. Being an emcee for this summer's Gathering brings a whole new excitement to my experiences, and most importantly, to my faith journey. I was so excited to see this year's theme "This Changes Everything," because it is a big testimony to the amazing things God does in my life daily. 
Sometimes God works in the most unexpected ways. I did not understand what it meant to have a truly intentional relationship with Christ and how much Christ does for me until this past summer. I ran weekly mission trips in St. Louis with an organization where I got to hang out with 70 high school students each week. This past summer was the most difficult experience I have had thus far in my life, yet it was the most rewarding time because of the Lord's work in it. Having a relationship with God changes everything, because God becomes our strength, our peace, and our encouragement through the easy and difficult times. God changes everything because God draws us near and places us in some weird situations so we can learn and grow in the love God has for us.
I am excited to be an emcee at the Gathering because this role is a little outside my comfort zone, but that is the best part! We grow SO much as Christians by leaving our comfort zone and putting full trust in the Lord; that God will support us wherever we are, and ultimately, trust that God wants us in that position as well. I cannot wait to walk alongside all of you throughout the week and experience the goodness God has to bring us.  
Abby Botten is a senior at Drake University in Des Moines, Iowa. In her free time you can find her leading youth group, being active, drinking lots of Caribou Coffee, and pretending she is a better dancer/singer than she really is.