The first thing that comes to mind when I think about volunteering with the Gathering is stepping outside of my comfort zone. It was an unexpected invitation that pulled me out of my day-to-day cycle and reminded me of the variety of talents and gifts God creates in me to love, support and connect to my neighbors.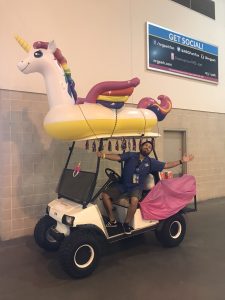 When times came that challenged my energy level or my ability level, walking through the week with hundreds of other people who had offered up their own vacation time, jobs, families to create an event for the young people of our church, made me pause and remember how great God is.
Volunteering provided me the opportunity to serve with folks from all walks of life like college students between semesters, parents giving back to the Gathering they attended as youth, pastors on vacation, and others that felt the call to give of their talents as a chance to help others grow. Serving alongside those people, I still recall the goosebumps I got from being on the floor of NRG Stadium as tens of thousands of youth and adults lit up water bottles with glow-sticks, flashlights, and cell phones and swayed to the music in a kaleidoscope of colors and movement.
It's these types memories and interactions that I stock up on to remind myself that volunteering and giving of myself is so crucial to my spiritual life and my connection to others and God. A comfort zone has its place, but so does setting it aside to help others be in theirs.
To learn more about our volunteer opportunities, please visit our website. 
Joshua Lotz is a 30-something partner and father of 2 young children. He has worked in youth ministry for 11 years and accompanied youth to the 2012 and the 2015 Gathering. Joshua has served as a volunteer in Houston and is a member of the Volunteers team for the 2022 Gathering in Minneapolis.