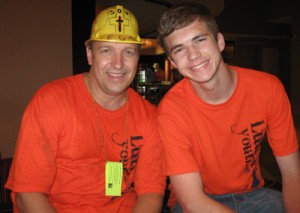 Tom Powell (left) and Patrick Allen (right) were of different minds after their work project Friday.
Allen's disappointment was obvious. His group had spent the day clearing litter and weeds from a neighborhood still recovering from the wrath of Hurricane Katrina four years ago.
The 18-year-old from Richmond., Va., had hoped to work on a project that would change someone's life, such as repairing a home. Weeds, he said, will grow back.
"I'm the dissenting voice in my group," said Allen, a member of Christ the King Lutheran Church in Richmond. "I didn't think it was worth our time and effort. But I'm told that it will help even though it's just cosmetic."
Powell, 48, a youth leader, said the day contained an important lesson about community service.
"The youth today come here with high expectations to help the impoverished," he said. "But those aren't the only communities affected. God's plan is for the work of the church to be done everywhere. In these times of reduced government services, this was an important outreach."
The 29 people from the Richmond congregation teamed with about 50 people from other groups. They filled 20 trash bags while working along Jean Lafitte Parkway in Chalmette, the seat of St. Bernard Parish.
The parish is still heavily depopulated because of the hurricane. Government services for street upkeep have been cut significantly.
"I suspect we're going to have a good discussion about this tonight with the youth," Powell said. "It's going to be the focus of our reflection time."