Voluntold – the first time I heard this word was over 4 years ago.  Voluntold – to be told by someone else to volunteer for something, in other words, not volunteering on your own.  While being voluntold to do something may happen a lot in life, Gathering volunteers serve, not because someone else voluntold them to but because they want to.
I have the honor of serving as the Team Leader for the Volunteers Team for the 2022 Gathering. I, along with the other leadership of the team, work with and train hundreds of volunteers to serve alongside participants, members of other Gathering Teams, ministry partners, and hotels. 
Volunteers serve at the Gathering because they want to, giving their time and energy to live out their faith in unique ways throughout most of the areas of the Gathering. Many volunteers were past participants or adult leaders of congregational groups and many seek to volunteer at more than one Gathering. They are servants at heart and they believe in the ministry of the Gathering and want to be a part of it. Gathering volunteers serve because they want to, not because they are told to.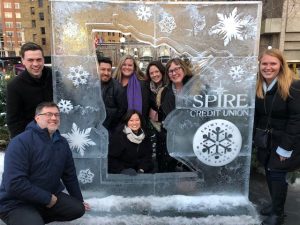 The 2022 Volunteers Team is responsible for gathering volunteers to serve as Gathering Volunteer Corps (GVC) and Local Volunteers. Our volunteers serve in a variety of capacities and they need to be flexible to the changing needs of the Gathering.  If you are interested in applying to be a part of the Gathering Volunteer Corps or a Local Volunteer, please apply by visiting the Gathering's website between May 22 – July 22, 2021. To learn more about these two volunteer opportunities as well as our Servant Companion program for young adult volunteers, visit: elca.org/Gathering/Volunteer.
 Jennifer Schultz is a pastor in southern California. This is the 3rd Gathering she has served on Gathering leadership. In 2015, she was Co-Team Leader and then served as the sole team leader in 2018 for Volunteers. She is super excited to have the Gathering in Minnesota, her home state!