My life changed the day I was told that my son has autism.  The questions swirling in my head ranged from, "What does this mean?" to "What did I do to cause this?" to "What now?"  The journey has been full of ups and downs, but through it all God has been actively working to show us beauty and grace in the autism world.
My son is now 13 and my husband and I find every opportunity we can to engage in the disability world.  We have found resources and created support systems that keep us grounded and focused.  We have discovered a worshipping community that embraces our son and others like him where we can worship together as a family.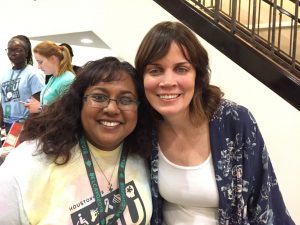 Because of the journey with our son, I am honored to serve as the team leader for the tAble planning team.  I have the privilege of leading a group of talented individuals with huge hearts who are committed to disability ministry.  Together, we are working to create an event that is meaningful and inclusive of youth with a variety of abilities, where together we can share our gifts and worship God, knowing that we all have a place at the tAble.
We look forward to the tAble in 2022 and hope you will join us. To learn more about the tAble, visit: elca.org/thetAble. 
Pastor Jamie Bruning is an ordained minister serving as chaplain at a continuing care retirement community. She is married to Todd, also a pastor, and has two children, Kaite and Nikhil.