Hello Gathering community! My name is Ed Kay, and I have the privilege of serving as the team leader for the Curriculum Team for the 2022 ELCA Youth Gathering. This is a new team for this cycle, and it a project-based team, focusing on several important areas of the work of the Gathering: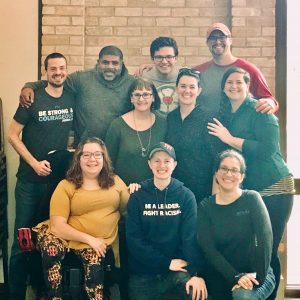 We helped to edit the latest version of the

The Official Gathering Handbook: Tips & Tricks for Adult Leaders

, a resource filled with helpful resources and guidance for having an amazing Gathering experience. 

We developed a resource of

Getting Ready Materials (launching June 22)

, a series of 10 sessions for groups to use to form and prepare their group for Minneapolis. There are sessions to use each month in the school year leading up to the Gathering, which can also be organized to use in a retreat format or other gatherings with lots of church groups. Be creative in how you use them, but makes sure you don't overlook this important time. There will also be a group of sessions to use as your group comes back home in August, 2022 to process and share your Gathering experience.

We are preparing the

Final 15

materials, which is how your group will debrief and process your daily experience at the end of each day.

During the Gathering on your Interactive Learning Day, all Gathering participants will get to experience an immersion into the daily themes and Scriptures of the Gathering. We're calling it

Voyage

, and it will be sure to be a highlight of your Gathering experience! Filled with music, video, fun, and meaningful engagement, you will get to experience that day's focus in a whole new way. This is also going to be live-streamed, so your community at home can experience it as well.
I am so excited for this Gathering, and for the work of the team I get to lead. We are working hard to help you prepare your group so you have the best experience possible, and so your time in Minneapolis will be all that it could possibly be. 
Ed Kay is a pastor in the Evangelical Lutheran Church in America (ELCA), serving at St. Paul's Lutheran Church in Lutherville, MD; he is also the team leader for the Curriculum Team for the 2022 ELCA Youth Gathering. Ed makes his home with 2 amazing children, a greyhound, and a cantankerous cat.