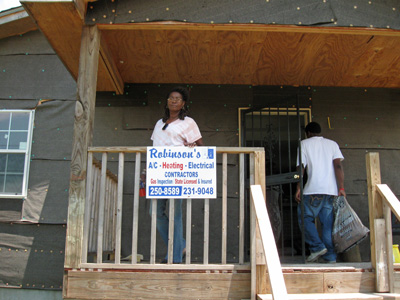 Hurricane Katrina whacked Gwennyth Thomas twice.
First, Katrina washed away or ruined everything in her home. Not a sock or piece of tile could be saved.
Then, as Thomas tried to put her house back together, she fell victim to one of the bad Katrina contractors.
*
*
The Lutheran youth who worked in her yard last week didn't know this. They showed up in the Lower Ninth Ward of New Orleans in a pickup full of shovels and outdoor plants. As Thomas looked on, the youth planted three or four plants in her front yard.
*
*
Dozens of other Lutheran youth watched from a bus parked nearby. Those youth had wanted to do a hands-on service project, but never got the chance. Instead, they were taken on a tour of areas most damaged by Katrina four years ago.
Thomas was grateful to the youth, but didn't smile much during their short visit. She didn't know they were among the 37,000 ELCA members attending the 2009 Youth Gathering in New Orleans. Or that they'd amassed the largest effort ever to help people with Katrina recovery.
*
*
"Would you like to go inside," she asked me after the youth left.
*
*
*
*
*
I stepped into a house that had no furniture, no permanent flooring or carpet, no working bathroom, refrigerator or running water. The house wasn't a place anyone could live. Empty lots where houses once stood surround Thomas' home.
"I can't even water the plants they left," Thomas, 63, said, her voice cracking. "Water destroyed my home. Now I don't have water to water the plants. Doesn't that just kill you?"
She lowered her head and covered her face in her hands.
*
*
When Katrina came gushing in, Thomas fled to the other side of the Lower Ninth Ward. She had to take refuge on a roof there, but at least she was safe. Others never made it out alive.
Katrina wasn't the worst hurricane for Thomas. She remembered racing to the nearby bridge to escape the flooding that followed a hurricane years ago. She was pregnant at the time.
"Baby, I didn't think I'd live," she said.
*
When the money arrived to fix her home, she landed one of the notorious contractors that seized upon people's hard luck. "My first contractor took half the money," she said. "The second contractor stopped working when the money ran out."
Volunteers helped her put up sheet rock.
*
"The volunteers lift your spirits," she said. "When I look at those plants I got today, they'll remind me that somebody cares. Sometimes that's enough to keep us going, just knowing that somebody cares."
She's still living with relatives, but hopes to move home someday. It's the house she's lived in all of her life.
"I'm on a fixed income, so I don't have any money," she said.
Then she walked me into an empty room with a pile of carpet squares she hopes to put down — when the floor is finally secure.
"Do you think they'll be back to help?" she asked.