– Molly Beck Dean
Faith formation in teens is the mission of the ministry of the Gathering.  It is the hub from which all things come for the tAble, MYLE, and the Gathering. We strive to create environments and opportunities for faith formation through worship, Interactive Learning, Bible study, Service Learning, and fellowship. Some of the faith formation experiences at the Gathering can be replicated – you can bring them to your home, congregation, or synod and create the same experience for others there. Some are unique to this ministry because of its size and scope.
There are also several hopes or goals that I have for those who come to the Gathering, especially the youth participants.
The first is that they are both affirmed and challenged in their faith. I hope that at least once during their time with us that each young person feels the undeniable presence of God and is affirmed in their beliefs. Likewise, I also hope that each participant has a moment where something troubles their heart or their mind enough to challenge their faith. Maybe they have to rethink what they have been taught about God. Maybe their heart breaks over a story they hear and they have to wonder why God would let such a thing happen? Our faith is deepened on the mountaintops and in the valleys.  It is my hope that participants can be vulnerable enough to let both happen while they are at the Gathering, surrounded by caring adults and peers.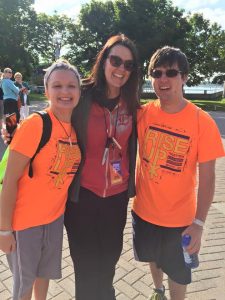 MYLE, the tAble, and the Gathering are opportunities to experience new perspectives. It is my hope that youth and adults will open their minds and hearts to let in those perspectives. For some, that will happen in NRG Stadium through a speaker's story that is different or even contradictory to their own story. For others, the new perspective is being in a large city. Others will experience a new perspective by learning the story of the organization and people they serve with on their Service Learning day. No one is trying to change another person's mind on an issue or invalidate one story in exchange for another, but rather we seek to expose our participants to stories, sensations, and situations that are new and encourage growth.
Intentionally, and often completely unintentionally, we know that the Gathering is a place for young people to ponder who God is calling them to be. Vocation is how we live our baptism out in daily life, how we are the hands and feet of Jesus in our corner of the world. The Church needs to have a stake in the development and understanding of our young peoples' vocation. Gathering leadership hopes and plans for moments of "aha!" as our young people meet inspirational people, hear their stories, and then listen to the nudges of the Holy Spirit calling them to something similar in their lives. Almost every time I'm at an event representing the Gathering, someone will tell me that the Gathering helped them realize they were meant to be a social worker or a volunteer or a youth director or an advocate and on and on.