– Theodore Kooistra
After a long day of working, I refilled my water bottle but was forced to empty it at the door of the stadium. This was one of the many things I vividly remember from my trip to Detroit.  That day, my group worked in a neighborhood to clean up trash.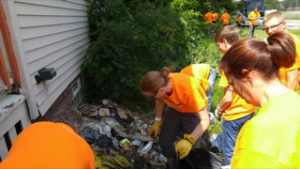 Countless areas in Detroit didn't have city garbage disposal. So few people occupied spaces per block, that along with the cost of gas, waste companies would lose money driving out to pick up trash. Small and isolated neighborhoods also meant that sending police units to patrol the streets wasn't efficient either. This set the stage for disorderly and dirty neighborhoods.
Each inhabited house had bags upon bags of garbage just sitting at the curb. All of the bags were in various stages of decay, with some bags even housing bees. Residing under the garbage were jungles of grasses, with weeds sprouting from the cracked sidewalks. Glass was all over the place.
When we learned that many people didn't have running water because they couldn't afford the bill, we immediately opened our bottles to share.
We learned later that day that often it was much easier to just leave a house abandoned than to file for bankruptcy. Those abandoned and unoccupied houses were falling apart. Often, houses were missing copper pipes as they were sold for money. These were only some of the looming complications that the people in our neighborhood explained.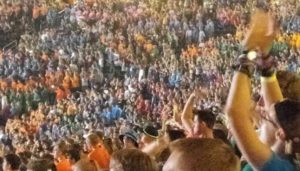 Everyone tirelessly worked so we were exhausted, but enthused with what was accomplished.  Now you can imagine why my breath got caught in my throat while my water washed over the pavement.
However, being at the Gathering filled up the cups of those living in Detroit.
This is one of the transformational stories that overflowed me with love, reminding me of why I attended the Gathering.