by: Elizabeth Peter
"God's power at work in us can be far more than we dare ask or imagine."
I couldn't breathe. It was minutes before I was to be ushered in front of thousands of excited teens for the 2018 ELCA Youth Gathering in Houston, Texas. It would be the most vulnerable I have ever been to such a large crowd of strangers. I felt paralyzed, the words had run out of my head, my heart was pounding, palms sweating, fear course through my veins.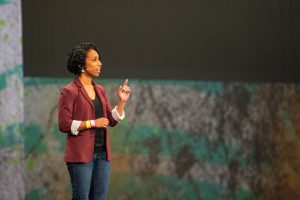 As I waited backstage, a friend walked over, saw the nervousness in my voice and body, grabbed my hands and we prayed. The cacophony of screaming youth dissipated into the background and a calm swept over me. The Holy Spirit was so present and palpable in that moment, that I knew that everything was going to be alright. We said "Amen", the music came on, I took a breath, I walked into the bright lights and began.
I thought that I was standing up there all alone and vulnerable. But I was actually surrounded by the manifestation of Gods love and grace; I was in the midst of Gods people – feeling the boundlessness of love all around me. In that moment I felt the Holy calm that comes from a life filled with all that God is. The Spirit flowed through me with every breath, it was life giving and freeing.
I had been given a once in a lifetime opportunity to share a story about the limitlessness of Gods grace in our lives. I had the chance to be a part of an amazing experience in the life of our youth, but what I received in return was greater than I could have imagined. I had been given the chance to witness Gods church gathered together, love filling the space from the floor to the ceiling, and grace beyond measure.