– Carrie Gubsch
Do you think we should go back, Carrie?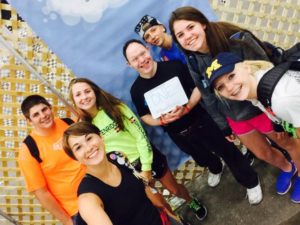 It seemed like an innocent question. A few weeks ago, a colleague and I were talking about the 2015 Youth Gathering in Detroit. The Gathering was a whirlwind. We left Nebraska at 6AM and drove to Des Moines. We picked up Ryan, a person supported by Mosaic, and his caregiver, Mike. We drove late in the evening, prepping Ryan for the trip. We talked through what the Gathering would be like and how important it was that Ryan was with us. His role was to share about his life, dreams, and goals with those attending the Gathering. My role was to teach parents, volunteers, and teens about the barriers people with disabilities face when they interact with faith communities and the rest of the world.
It was a beautifully chaotic week sharing stories with thousands of teens and adults who stopped by Mosaic's booth. They learned about some of the injustices and barriers people with disabilities face. It wasn't that long ago parents were encouraged to send children with disabilities to state-run institutions. In many places, they only received basic care. In others, they were mistreated, neglected, and abused. To this day, we hear stories from parents who were asked to leave a faith community because their children were deemed too disruptive in worship. Too often, people with intellectual and developmental disabilities are missing in our communities. When this happens, we all suffer and our communities lose.
Ryan and a young woman named Sarah became fast friends. They talked about Ryan's successes in Special Olympics, his job, and his friends. Sarah shared that she volunteered with Special Olympics and waned to study psychology and special education in college. Sarah gathered members of her group and Ryan and grabbed his selfie stick. She took a photo and shared it on Twitter, with the promise to make Ryan "Twitter famous."
RETWEET TO MAKE RYAN TWITTER FAMOUS! #MosaicPossible #RiseUpELCA pic.twitter.com/30hiF1P4r2

— Sarah Rhyne (@sarah_rhyne) July 16, 2015
By the end of the week, hundreds of youth took photos with Ryan and his selfie stick. They shared them on Facebook, Instagram, and Twitter, giving life to Mosaic's belief that our faith communities are better when everyone can fit into God's picture.
My carefully laid plans to teach how churches are not complete without people with disabilities couldn't compete with Ryan and Sarah's friendship in a chaotic sea of 30,000 strangers. These experiences at the Gathering are so important for youth. This is why Mosaic continues to attend the Gathering, even as we prepare for disastrous cuts to Medicaid, our primary funding support.
Our churches, towns, and world need people with disabilities. The body of Christ is not complete without them.
Carrie Gubsch (@cgubsch) is the Digital Communications Coordinator at Mosaic, an ELCA-affiliated social ministry that provides services to more than 3,700 people with intellectual and developmental disabilities in ten states. She is a member of Emmanuel Lutheran Church in Tekamah, Nebraska.