by: Erin Strybis
I went to the 2018 ELCA Youth Gathering to tell their story. 
I didn't anticipate how they'd change my story, too.
When my editor and I discussed my assignment – to shadow a youth group at the Gathering for Living Lutheran – my stomach flipped with excitement. I believe this event for youth is one of the best things this church does. Not only does it inspire Lutheran teens in their faith journeys, the Gathering also affects adult participants and community members.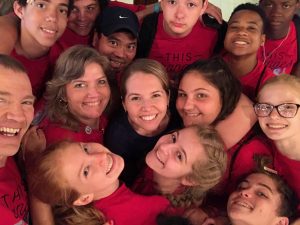 Walking into Houston's NRG Stadium for opening night with my reporter's notebook in hand, however, I felt timid. Would they accept me? Would they open up? I settled into my seat beside youth from Holy Trinity Lutheran Church, Laurel, Md., and let a wave of cheers and music wash over me.
In her opening message, ELCA Presiding Bishop Elizabeth Eaton urged Gathering participants to watch for God to "show up in places we least expect." OK Bishop, I thought, observing the sea of Lutherans surrounding me, I'll keep watch. 
I turned on my tape recorder, started asking questions, and sure enough…
          God showed up as youth served with their hands and opened their hearts to seniors at a local YMCA.
          God showed up in Interactive Learning, where I met teens who'd found acceptance at the Reconciling Works booth.
          God showed up in the stories of speakers who shared myriad challenges and gospel hope.
          God showed up in the blare of bands and synod gatherings and holy conversations.
After Friday's Mass Gathering, Holy Trinity youth were bouncing with excitement as they exited the stadium. We pulled off to the path's edge and I found myself surrounded, each jumping for a turn to speak into the recorder. As I watched their faces light up, I thought, Yes! This electric faith, this community, this growth is why the Gathering matters.
God showed up in the clear, honest testimonies of these 12 young people – Alicia, Caroline, C.J., Jenna, Jordan, Lewis, Madison, Michael, Peter, Samantha, Tyler and Will.
I came into their group an outsider; I left with 12 friends in Christ.
Erin Strybis (middle) is a lifelong Lutheran, mother of one and voracious reader who believes in the healing power of stories. Find more of her stories at erinstry.com or on Instagram (@erinstry).