Music starts at the Super Dome at 6:30 p.m. Will we make it?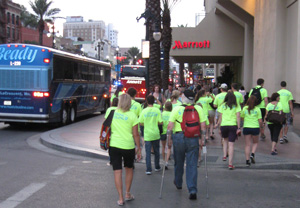 At my hotel, it's pure Lutheran madness (in a good sense). Lots of teens still arriving. Four busses are parked outside and more are lined up down the streets.
The lobby is a sea of hyperactive teens wearing backpacks and carrying luggage.  It's loud — the sounds of laughter and storytelling everywhere. The excitement is palpable.
But the elevators are impossible. If I go back to my room, will I make it to the Superdome on time? Probably not. My floor is in the 20s.
The restaurants are packed, too. I didn't bother with breakfast or lunch. The youths were smarter. They ordered pizza and had it delivered.
Outside, along Canal Street, the sidewalks are every bit as packed as the main drag. Lutheran teens are walking in groups, each wearing distinct T-shirts. Drivers patiently allow the red group pass, then the neon-green group and, finally, the group wearing horned viking helmets.
I'm guessing they're from Minnesota. In fact, I'm convinced that there are no Lutheran teens left in Minnesota. They're all here this week. Three out of four times I stop a teen for an interview, it goes something like this:
Me: Where are you from?
Teen: Minnesota
Me: Uff da!
Teen: (Blank stare)
Texas teens are prominent, too. Lots of hook 'em horns shirts the color of Texas grass in July. One Texas synod is wearing red and white.  Nothing quite like those Lone Star Lutherans.
Photo: ELCA teens wearing yellow T-shirts head toward the Mariott Hotel.