Searching for Peace
In life we tend to always be on the search for peace. Peace of mind, peace and quiet, stop to violence, and more. While searching for this peace I find myself wondering if this "peace" we are in search of actually exists. If it does exist where is it located and how do I obtain this peace? That is where faith comes into the picture. At some point in my life I had to decide if I would allow faith to lead me to peace.
Palestine and Peace
Palestine is a very dear place to my heart. It's everything to me – the food, the people, the land, this list can go on forever. Visiting Palestine became a reality for me when I was trained to be a Peace Not Walls trip leader. Through that travel experience I have learned that there are many similarities with my life and the lives of Palestinians. As a Black man in America I have experienced a great deal of oppression. While in Palestine I quickly learned that their oppression mirrors my own on many levels.
When I arrived I noticed separation. It wasn't hard to see while in Bethlehem, that is probably because there is a large wall to maintain the separation between Bethlehem and Jerusalem. I live in Milwaukee, Wisconsin –  right now we are the most segregated city in the USA. There isn't a physical wall up but you can definitely imagine the wall that separates the oppressed and the oppressors. In moments when I see this type of oppression I start to wonder: How can people be happy in these conditions? How does one plan for a future? What hits me hardest is how can one believe in God or see God when hate is all around?
Faith and Peace
I am a faith based person. Most anything I do is done within the realm of my faith. I have a belief that everything will work out somehow. I have a three year old son. I have faith that if "Peace on earth" does not happen for me, the work that I put in will help create a more peaceful world for my son.
In Proverbs chapter three we are told to "Trust in the lord with all your heart, and do not lean on your own understanding".
With that scripture in mind I used that energy to find God in the West Bank. It took me three visits to the West Bank to finally see God. I had to stop trying to understand it for myself and started trying to understand it through the people. Although my faith was tested beyond it has ever been, after gaining an understanding through the people and not of the people, I was able to see God. I was able to see "peace": I saw kids playing, families eating, friends hanging out. 
Forward in Peace
Faith for me is the answer, being able to find God in a country where I see so much pain showed me that I needed to make some adjustments back at home. I no longer needed to feel or think "why me" or "I wish". I gained the power to stop trying to understand my oppression and start taking actions to relieve my oppression. I was able to gain peace within myself through someone else, and in turn I took that peace within and built it so I can create peace outward. I truly believe if we can all find peace within ourselves we will all see and help build the peace that we need in this world to thrive. 
Reflection Questions:
Xavier talks about how his faith has impacted his understanding of peace. How are faith and peace related in your understanding? How is this different from the way peace is talked about in other contexts?
When faith + peace seem hard to come by, Xavier leans on Proverbs Chapter 3 "Trust in the Lord with all your heart and lean not on your own understanding". What scripture are you leaning on in these days?
Peace is not only a lack of violence. When we hear about peace from our Palestinian siblings, we hear about a "just peace". What have you learned this season about what a just peace in Palestine might look like? How are you committed to playing a role in this?
Where is your community in need of a just peace? How are you committed to playing a role in this?
Additional Resources:
Learn more about how you can advocate for a just peace in Palestine by signing up for ELCA Advocacy Action alerts here: https://www.elca.org/Our-Work/Publicly-Engaged-Church/Peace-Not-Walls
Give financially to Opportunity Palestine, a Lutheran and Palestinian-led organization bringing peace and justice to Palestine through education here: https://www.opportunitypalestine.org/secure-online-giving.html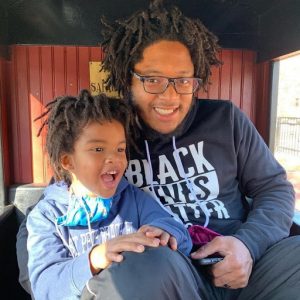 My Name is Xavier Thomas and I was a trip leader for Peace Not Walls in January 2020. I was born and raised in Milwaukee Wisconsin. I am the youth director at All Peoples Gathering in Milwaukee. I have the unique opportunity to serve the same church I grew up in. I have been married for 5 years and we have one son, and we foster as many children as we can fit in our house. I would say that Fatherhood and Palestine have become my passions but I will always love my Xbox!