What I thought I knew
My childhood connection to nature was effortless. It was filled with state park camping trips, summer camps, Minnesota lakes, and my roomy backyard. It informs my adult life in countless ways– including my environmentalism, political beliefs, and faith. So when I peered out the window of our ELCA Young Adults in Global Mission (YAGM) van as it climbed for my first time to the Environmental Education Center (EEC) atop a blustery peak in Beit Jala, Palestine – a place I would spend much of the next year – I imagined myself having quite the grip on environmentalism and anything it might entail.
I had not expected to learn many things. I was quickly proved wrong. 
I learned more at the Environmental Education Center (EEC), a ministry of the Evangelical Lutheran Church in Jordan and the Holy Land, than I could ever have imagined.
What I learned
I learned that access to water is not guaranteed to any Palestinian living in the West Bank, as it is controlled by Israel, who often diverts it to Israeli settlements. 
I learned that the occupation wall tears through land people and wildlife have called home for tens of thousands of years, disrupting migration patterns, habitats, and agriculture.
Israel controls the allocation of funds available for Palestine's waste management. While Israel's landfills take up several areas previously used by Palestine, it has severely restricted landfill capacity for Palestinian waste, resulting in a significant amount of  litter.
Some land-grabbing in Israel entails the rapid planting of non-native, fast-growing trees, creating a makeshift forest to hide remains of pillaged Palestinian towns. It is not uncommon that these "protected forests" are planted with funding from American Christians concerned about the holy land's environmental health. It is also not uncommon that after 10-15 years, these trees are again uprooted to make room for a new Israeli settlement.
My shiny American Environmental Studies major suddenly made the world of plastic straw bans and buckthorn pulls seem utterly insignificant, if not naïve. 
What it means
Christians, Muslims, and Jews around the world lay a sentimental claim to the Holy Land, the land in which Jesus sat beneath olive trees, where the prophet Muhammed ascended to heaven, and where the Israelites were led to freedom. "The land of milk and honey" rang through my head sometimes as I stared out the EEC's window amidst editing grant proposals and publications. Everyone clamors for this land, but they use the word "land" in a hollow way. People seemingly refer to the bare minimum of the word — the lifeless chunk of earth that sits in that particular spot on the planet, worthy only because of who has walked and what was written there, not the life present and reliant upon it today.
What God desires
Matthew 6:25-26 says, 25 "Therefore I tell you, do not worry about your life, what you will eat or drink; or about your body, what you will wear. Is not life more than food, and the body more than clothes? 26 Look at the birds of the air; they do not sow or reap or store away in barns, and yet your heavenly Father feeds them…".
I could write novels about how my time at the EEC taught me more about environmental justice than I ever learned from any college course, but I will instead share a memory with you.
For context–the EEC holds the first bird-ringing (often called bird banding in the U.S.) station in the Middle East. Mostly volunteer-run, much important research has come from the ringing work done here. This includes documenting various species of native Palestinian birds, piecing together native Palestinian ecosystems, and observing the occupation's effects on migration patterns and those same ecosystems.
Bird in flight
As the EEC holds youth at the center of their ministry, bird ecology is an important way they connect students with the Palestinian biodiversity. According to their mission, this connection is inseparable from the ever-coveted land itself. Student groups who tour the EEC often get the memorable chance to release a freshly "ringed" bird under the loving supervision of EEC researcher Michael Farhoud and his devoted college volunteer, Bashar Jarseyeh. 
Students are always timid when the bird is first placed in their hand, palm stretched flat to provide a stable takeoff platform. Sometimes the bird will stand there an extra second or two, cautiously taking in the circle of awestruck seventh-graders. This moment is beautiful — student taking in bird, bird taking in student. Then, a flutter of wings and the bird is off, quickly becoming smaller and smaller as it soars above the Al Makhrour Valley.
As they release the birds, students marvel that checkpoints, walls, and borders will not be on the mind of this avian Palestinian. Yet the students know these barriers can never leave the mind of the human Palestinians their bird friend flies over.
Still, maybe this bird sows a small seed of hope that one day things will change. One day, maybe the students, maybe all Palestinians will be as free to move as the "birds of the air" Jesus describes in the text from Matthew.
Additional Resources
Learn more about the Environmental Education Center supported by the Lutheran Church in  Jordan and the Holy Land here:
Read more about the environmental impact of the Occupation of Palestine here:
https://time.com/5714146/olive-harvest-west-bank/
https://www.amnesty.org/en/latest/campaigns/2017/11/the-occupation-of-water/
Reflection Questions
Maddi challenges us to consider those who rely on the earth in the present-day in the Holy Land, not just the religious figures who have walked there. How does thinking about the environmental impact of the occupation of Palestine today challenge the way you have thought about the Holy Land in the past?
Maddi and the Palestinian students she worked with learned about faithfulness and freedom and joy from the birds at the Environmental Education Center. What have you learned from the creation around you? How has your relationship to the earth shaped your relationship with God?
The Environmental Education Center in Palestine taught Maddi that care for the land and all creation is a central part of our call as people of faith. How have you considered your relationship to creation this Advent? In this period of waiting, how might you better care for creation?
Matthew 6:25-26 says, 25 "Therefore I tell you, do not worry about your life, what you will eat or drink; or about your body, what you will wear… 26 Look at the birds of the air; they do not sow or reap or store away in barns, and yet your heavenly Father feeds them". How have you experienced God providing for you or community? Who in your community needs to experience God's freedom? How is God calling you to respond?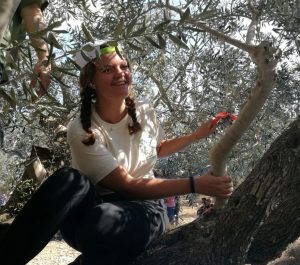 My name is Maddi Froiland and I was a 2019-2020 Young Adults in Global Mission (YAGM) volunteer in Jerusalem and the West Bank. I grew up in Milwaukee, WI, and graduated with a major in Environmental Studies and a concentration in Women and Gender Studies from St. Olaf College in Northfield, MN. I am currently serving as an AmeriCorps member in Palm Beach County, FL, where I am a reading tutor and teach a nightly ESL class for adults.