Expanding Lament
A great practice for expanding language is to read the definition of a word that you already understand.
I've heard the word lament plenty of times—I was an English major who loved Gothic novels—but I had never actually taken the time to really define it.
The definition didn't hold any surprises, but as I researched definitions, I also researched Bible verses. And as I read Bible verses, I thought about lament in the context of my own life. And as I thought about lament in my own life, I realized that I have several memories that fit this vision before the word was even in my vocabulary.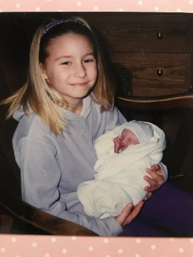 Lament was the tears at 6 years old watching my grandfather baptize my sister in the hospital because we knew she wouldn't live long enough to see anything outside of that building.
Lament was the fear when, later that year, I saw that same grandfather with yellow skin and no hair. Lament was understanding that those things were not good.
Lament was the work put into making a colorful picture with the words "Greif is a token of love" and presenting it, spelling mistake and all, to my fifth-grade classmate at his father's wake.
Our lives are made up of moments of lament even before we grasp what grief is. No one is exempt. Perhaps we are lucky enough to have less of these moments than others; perhaps we are not. Not even Jesus Christ was immune its power:
The Word
They went to a place called Gethsemane; and he said to his disciples, "Sit here while I pray." 33 He took with him Peter and James and John, and began to be distressed and agitated. 34 And he said to them, "I am deeply grieved, even to death; remain here, and keep awake." 35 And going a little farther, he threw himself on the ground and prayed that, if it were possible, the hour might pass from him. 36 He said, "Abba,[a] Father, for you all things are possible; remove this cup from me; yet, not what I want, but what you want."
21st Century Lamentations
Lament is an old word, dating back to the 16th century, and clearly one that is not often part of our written vocabulary anymore. It involves a demonstration of grief, an intensity of sorrow that cannot be stored inside of the body. Yet, even as the word itself slowly recedes from our attention, we still perform it.
Today I feel a different grief, that of an unformed and uncertain tomorrow, and I lament this dying future with others of my generation and beyond.
We lament with our reusable bags and bulk bins.
We lament with metal straws and bamboo forks.
We lament with washed out salsa jars now serving as containers.
We lament with empty refillable water bottles through airport security.
We lament with our voices in the street instead of our voices in the classroom.
I read Jesus' lamentations in Gethsemane often because this is when he seems the most human to me, right before he transitions to becoming the most divine by being nailed to a cross for our sins. It is the passage where I can begin to even try to understand his humanity and divinity in one body.
This season of Lent I have chosen my lamentation, my demonstration of grief, to be to give up single use plastic, but it is not restricted to this. We all have different lives and different sorrows, and whatever form your lamentation for the degradation of the environment takes, we join in support together as the Children of God, each crying out in our own Gethsemane.
Discussion Questions
How does lament tie into your sustainability practices this season? How do you make your action more intentional?
How have your experiences of lament affected you throughout your life? Are you currently mourning something?
How does Jesus' pain in the scripture open you up to your own?
How might your #NoPlasticsforLent lament affect your relationship to creation during this season? Beyond?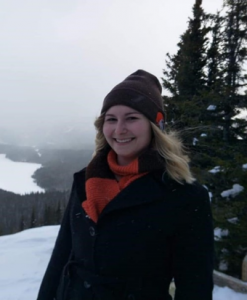 Tessa Comnick is serving in Washington D.C. as the Hunger Advocacy Fellow with ELCA Advocacy. She comes from Cleveland, Ohio with a bachelor's degree in English from Baldwin Wallace University in Berea, Ohio and a master's degree in Global Environment, Politics, and Society from the University of Edinburgh in Scotland. The granddaughter of a Lutheran pastor, Comnick has attended an ELCA church since she was born and is immensely touched by the support of her home congregation, Prince of Peace Lutheran Church in Westlake, Ohio. She is grateful for this opportunity with the ELCA to explore her passions for food security and waste reduction, along with the opportunity to expand her knowledge in other areas such as environmental economics and climate induced migration. Comnick is a staunch believer that good things will come in the future, both in terms of altruism as a society and in Cleveland sports.