Today's post is from Benjamin Stewart, Gordon A. Braatz Associate Professor of Worship and Director of Advanced Studies at the Lutheran School of Theology at Chicago.
Death is currently enjoying a season of fashionability.
I don't mean our mini-liturgical-season of November, with All Saints Day and end-of-the-world lectionary texts. I mean something that is changing in the wider culture.
From the #DeathPositive movement, to the pop mortician Caitlan Doughty channelling Morticia Addams, to gimmicks like pressing your loved one's cremated remains into vinyl for your turntable, there are signs that the cool kids have noticed that death practices are due for some rethinking.
Some things are on the way out. The SUV-style casket, the antiseptic funeral home, and the astroturfed grave are in decline. Even the dead body itself is disappearing from American death rituals. Theologian Thomas Long wryly observes that the dead are increasingly "banned from their own funeral."
Where are we headed in death practices?
There's a lot of noise in the cultural system now, but it may be that we are — in the old words of our tradition — returning to the earth. Increasing numbers of people are looking for death rituals that speak honestly about both earthly life and earthly death, and honor the body and its return to the earth in God.
This four minute video, The Coffinmaker, shows that even a simple wood coffin can lead us into the heart of theology and spirituality. (It would be easy to have 30 minutes of discussion on this video sometime during this little season of November, perhaps as part of a larger session or series.)
If you're looking for inspiring help in navigating — and even shaping — this new era of death practices, I highly recommend this new book: In Sure and Certain Hope: a funeral sourcebook.
Worth the price alone: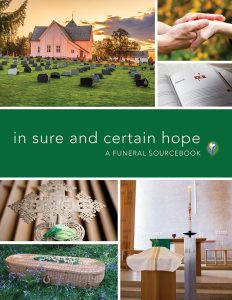 articles on how to work with funeral homes (or to forgo them)
specific diversity and cultural considerations
planning resources — including helps for especially difficult deaths like suicide, the death of a child, or a funeral that occurs in a public spotlight
how to offer a natural burial ministry
a four-week course you can offer on spirituality and planning for death and funerals
up-to-date theological and historical overviews of funeral and death practices
three pages of film recommendations
e-versions of many of the resources are included
I've only highlighted a few things from this significant (280 page) book that offers a welcome mix of seasoned experts and emerging voices among its authors.
We are surrounded by a great cloud of witnesses. But there's at least a fog bank of goofiness out there too. This new resource helps us do some sorting, discerning what we might welcome for this era, what we might let go, and what continues to promise abundant life even in the face of death as we return to the earth.