Today's blog post is from Megan Neubauer, Interim Program Associate for the ELCA Strategy on HIV and AIDS.
Each year, December 1st marks World AIDS Day; a day to commemorate all of those who have and continue to be affected by HIV and AIDS. The day is a powerful one to remember, but also a day to look, with hope, toward the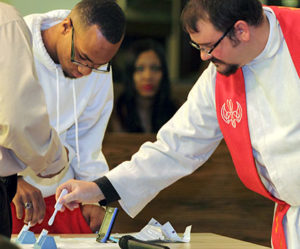 future. This year marks 35 years since the first reported case of what would come to be known as AIDS in the United States by the Centers for Disease Control. Since that time, we have learned much more about effective treatment and prevention. However, there is much progress to be made. HIV continues to affect many in our communities and throughout the world, including more than 1.2[i] million people in the United States alone, and approximately 36.7[ii] million worldwide.
In 2009 the Church Council passed the ELCA Strategy on HIV and AIDS. In it, we outlined the many ways that we must respond. Together we are called to reflection, and we are called to action. This year on World AIDS Day, let us join in prayer, worship and reflection for HIV and AIDS in our community. This church can be a resounding voice in speaking out against stigma and discrimination; Let us examine how we become or maintain a welcoming community for all affected. In remembering World AIDS Day in our worship, we continue to raise awareness. December 1st is a day we join in prayer, reflection and remembrance, and we go forth renewed to continue the response.
World AIDS Day worship resources are now available at www.elca.org/hiv.
If your congregation will be commemorating World AIDS Day or wishes to integrate commemoration into your Sunday worship on Dec. 4th, prayers, a brief healing rite, hymn suggestions and more worship components are available here.
[i] Centers for Disease Control, 2016. HIV in the United States: At A Glance [10/5/2016]. http://www.cdc.gov/hiv/statistics/overview/ataglance.html
[ii] UNAIDS, 2016. Fact Sheet 2016[10/5/2016] www.unaids.org/en/resources/fact-sheet