Today's post is from Mary Shaima, Diaconal Associate at Bethlehem Lutheran Church in Encinitas, California. 
In early October, I cleared the decks for two days to travel to Denver for the first of the "Strong Center, Open Door" events commemorating the 10th anniversary of the publication of Evangelical Lutheran Worship.  The event not only celebrated the anniversary – it also reminded us of our baptismal identity and how that continues to form and re-form us for service in the world through worship.
As a candidate for the roster of Ministry of Word and Service, I'm all about baptismal identity.  My diaconal project explored the question of how worship is one of the primary places God's Holy Spirit shapes us to be sent to love our neighbor, and that all begins with our baptism.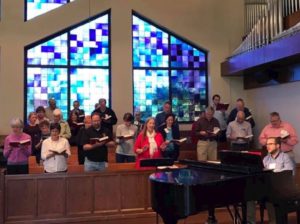 One of the most useful aspects of our time together was the reminder to look and listen for those things that made a deep impression on us.  What might we take back to our own synods or congregations to put into practice?  We heard not only specific ideas, but broad concepts.  Here are just a few:
*Think of baptism not only as promise, but invitation – of/to a future that is already and not yet, just as water exists for us in an already/not yet way.
*What are areas of life together that could benefit from an affirmation of baptism?  Blessing for a mission trip might be one.  Perhaps a couple could incorporate some symbol of baptism into their wedding (Luther has a lot to say about marriage as vocation!).
*Think of the ordo – the order of worship, specifically Gather-Word-Meal-Send, as a skeleton onto which are added a variety of options (muscles, ligaments, fat).  Sometimes the resulting body is full and corpulent (Easter) and other times it might seem lean (Lent).  What seasons or events might suggest different "body types" of worship?
*What do the lessons say?  What images are in the day's scripture?  How do those relate to our contextual environment?
The plenary sessions ("Strong Center") and the workshops ("Open Door") both emphasized the importance (and the fun!) of a deep examination of all the elements of our worship.  They also reminded us that while Evangelical Lutheran Worship is considered the church's core resource, there are literally countless resources available online from all over the world that can be new wineskins for us.  This is reformation in its truest sense – holding what we know to be true, but holding it in the light of our context today.  We hold together as church our Strong Center in Christ.  What does your Open Door look like?
Registration is still available for the final Strong Center, Open Door event in Lansdale, Pa. Nov. 4th and 5th. Go to http://www.elca.org/Our-Work/Congregations-and-Synods/Worship/Evangelical-Lutheran-Worship