St. Matthew Trinity Lutheran Church's Lunchtime Ministry offers a warm meal, hospitality and community to neighbors in Hoboken, New Jersey. This important work is supported in part by a Domestic Hunger Grant from ELCA World Hunger. Stanley Enzweiler is the Program Manager of St. Matthew Trinity's Lunchtime Ministry and has worked with the ministry since 2016. In this post, Stanley reflects on the uncertainty and stress the community faced in the early days of the COVID-19 pandemic – and on the hope, hard work and perseverance that has kept Lunchtime Ministry going. You can read a previous post from Stanley here.

March 16th, 2020, I didn't want to open the door. The guests, I knew, were crowded outside, ready to rush in, grab a seat, and line up for coffee. They were expecting a long, leisurely morning with steaming cups of soup served to their tables by volunteers who knew their names. At Lunchtime Ministry (LTM), a soup kitchen/drop-in center in the heart of Hoboken, New Jersey, everything is free: the coffee, the wifi, the laughter, and the community. Today, all that was about to change.
I unlocked the door. "Hang on, everyone," I said. "You have to come in one at a time. Wash your hands, and then I will give you a bagged lunch. We're serving everything to go."
For years, LTM had been a pillar of stability in people's lives. We were open every Monday to Thursday, holidays and blizzards be darned. Some of our guests had gone through the same routine every day for years.
But that weekend in March 2020, the country had shut down around us. A new world had arrived. The virus could be anywhere.  Masks were not yet required, and people argued about whether gloves did any good. Instead of saying "Goodbye," we told each other to "Stay safe."
LTM was shutting down too. Our priority was keeping each other healthy—but avoiding COVID was just part of the picture. It was cold outside, and our guests had nowhere to go.  Some of them stopped coming to LTM, and I still don't know where they ended up.  One woman sat down on the floor in front of the coffee machine and refused to leave.
We worked with the Hoboken Shelter and the local welfare office to lodge some of our older and less healthy guests in hotel rooms. As much as this helped space out our homeless population, several of our hotel guests continued to come to LTM every morning. That's how much our community mattered.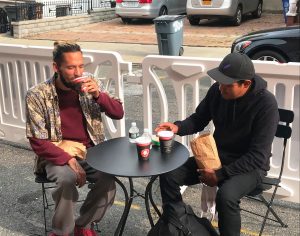 As the summer went by, we borrowed an idea pioneered by some restaurants in Hoboken and opened up our own strEATery: outdoor tables and chairs where guests could sit together and enjoy to-go food. This gave us back a taste of the community we had missed so much. In Autumn, we began reopening for volunteers and asking our community to donate hot dishes, which we served in to-go cups.  And when temperatures dropped, we opened back up inside. We have limited our capacity in accordance with statewide regulations, and we have continued to enforce hand-washing, masks, and social distancing. Of course, it is much more work serving people inside than providing food to go, but having our community back has been worth it.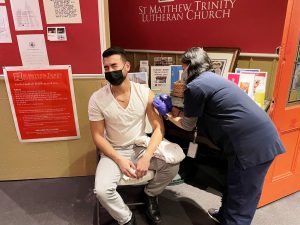 We have worked closely with other local services, including the Hoboken Shelter, the city's food pantries, and the county's clinics. We have provided our guests, volunteers, and community members with onsite flu shots, health screenings, and, this spring, over 150 COVID-19 vaccines. Individuals, schools, restaurants and spas from across the country have overwhelmed us with their support, donating food, hygiene items and money; spreading the word about LTM; and providing moral support. At least once a week, I hear from a former volunteer who wants to say hello and see how they can help.
This has been a year like no other. We are not used to thinking on our feet and changing things up at LTM, especially not when lives hang in the balance. But everyone has had to adapt this year, and through it all, LTM has continued to be there for our guests. We have provided as many services as we can while keeping our population healthy.
Who knows what the next steps will be?  Regardless, we'll take them.
God's work through the guests, volunteers and community members at LTM still continues – and continues to thrive! As of April 2021, over 500 vaccines have been distributed through LTM and its partners. With more community members protected, LTM has been able to offer more events at its site, including screenings for HIV, blood pressure, and glucose levels, haircuts for guests, assistance signing up for health insurance and housing, and fundraisers to keep the ministry going.