St. Matthew Trinity Lutheran Church's Lunchtime Ministry offers a warm meal, hospitality and community to neighbors in Hoboken, New Jersey. This important work is supported in part by a Domestic Hunger Grant from ELCA World Hunger. Stanley Enzweiler is the Program Manager of St. Matthew Trinity's Lunchtime Ministry and has worked with the ministry since 2016. Below, he shares more about what this ministry means to the people of Hoboken. To apply for a Domestic Hunger Grant to support your ministry, visit ELCA.org/DomesticHungerGrants.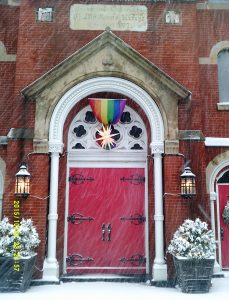 Everyone's life, at some point, takes an unexpected body blow. An accident, an addiction, the loss of a job or family member. These forces come out of nowhere, and for a while, it seems like the world is against you. However, eventually someone throws you a lifeline—a good lawyer shows up, a friend makes a job offer, or time spent in the stability of everyday life heals that wound.
Lots of people who have come back from having their feet kicked out from under them believe that those in the worst shape—people who are homeless or living in poverty—are either lazy or helpless. "I helped myself, so why can't you?" moralizes one person, while another shakes their head, saying, "I've been so fortunate, and all these poor people are just down on their luck. No one actually wants to be homeless."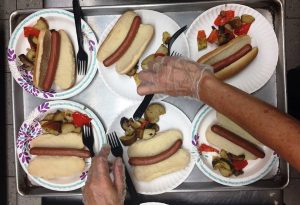 As anyone who has worked in a social service will tell you, both perspectives take it too far.  Many people in poverty have gotten the wind knocked out of them, but, unlike those in more fortunate situations, they haven't had lifelines thrown their way. They often don't have a stable job to begin with, or their family and friends are unable to give them a loan or a place to stay.  On the other hand, many people have simply rejected or misused the lifelines thrown to them.  And yes, some people do want to be homeless.
What I love about St. Matthew Trinity Lunchtime Ministry, a soup kitchen and drop-in center operating out of St. Matthew Trinity Lutheran Church in Hoboken, New Jersey, is that we don't care about that stuff. Of the 65 or so people we serve every day, some are looking for work, some are waiting on their benefits to come in, some are about to lose their housing, and some enjoy living on the streets. But we do not screen our guests based on why they are in need. We don't ask for your fingerprints or your ID or your immigration status. Our only requirement is respect for the people and space around you. We'll give you a warm meal, a fresh pair of socks, and a listening ear no matter what you did last year or last night. Whatever your story is, we will welcome you.
And here's the really amazing thing. Even if you break the rules at Lunchtime Ministry and have to leave our community for a few days, we will always welcome you back. Everyone messes up a time or two, but no one is beyond forgiveness. We are one lifeline that never goes away.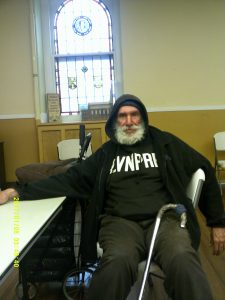 Len (pictured at left), one of our longtime guests, was generous enough to share his story with us. Born in Jersey City in 1959, he attended technical school in Texas before getting deployed to California to work as a forklift driver for the U.S. Air Force. After his honorable discharge, he stayed in California until his father died, and he returned to New Jersey to take care of his mother. She died in 2011, leaving him with nowhere to go. Although he stayed at other county shelters, a few bad decisions got him kicked out of these for life.
Len came to Lunchtime Ministry as a last resort. Although we are not an overnight shelter, he is able to get a few hours of sleep on our benches or floor during our open hours. Like many of our guests, he helps out when needed by cleaning tables, taking out the garbage and posting event flyers. He also attends church services, Alcoholics Anonymous meetings, and Bible study. Most of all, he is known for encouraging our volunteers with one-liners such as "This is the best food in town…and I'm not just talking about the prices!"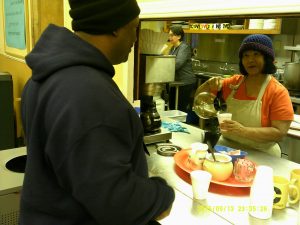 Like many social services, we are a community effort.  We welcome volunteers from all walks of life and enjoy partnerships with numerous other social services. Our financial support comes from various sources, including ELCA World Hunger's Domestic Hunger Grant, whose recent gift toward our food and supply costs will assist us in continuing to dish out delicious and filling meals every day.
It's easy to list the things that make Lunchtime Ministry unique—the food donations from restaurants as diverse as Qdoba Mexican Grill and Schnackenberg's Luncheonette, the free haircuts on Mondays, the cardboard barn in which we collect spare change for ELCA World Hunger, the "billritos" that our chef Bill makes from scratch on Wednesdays, the guitar music half an hour before we close. But when we're asked why our program is necessary to Hoboken, there's only one answer: respect. For many people in town, we are the one place where they can spend a peaceful morning, the one place where they have a forgiving community, the one place where they can go when they have burned all their other bridges.  In Len's words:
"A little respect goes a long way.  A lot of respect could be eternal."