We are excited to introduce the four recipients of ELCA World Hunger Big Dream Grants for 2021!
ELCA World Hunger's Big Dream grants, one-time gifts of $10,000 to $75,000, support ministries in the United States and Caribbean as they pursue innovative and sustainable approaches to ending hunger. Together, we celebrate the ways God is working through these ministries and their "big dreams" for their communities.
Around the world, the COVID-19 pandemic and the associated economic repercussions have brought into focus the weaknesses in the systems and structures intended to ensure that basic human needs are met. In the United States, unemployment, under-employment and healthcare costs are high, and hunger is on the rise. In 2021, ELCA World Hunger's Big Dream grants will support ministries that are boldly working to uproot, transform or re-envision the structures and norms that perpetuate disparities in access to resources and result in 77% of low-income Americans living without the savings to cover costs when an emergency arises.
Introducing the ELCA World Hunger Big Dream Grants for 2021:
Posada
Pueblo County, Colorado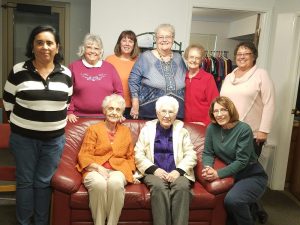 For 33 years, Posada has been providing shelter, housing and supportive services to people experiencing homelessness or at risk of becoming homeless in Pueblo County, Colorado.  The focus of Posada's service delivery is the provision of housing and supportive services, which includes referrals for food assistance, food banks and more, with a special focus on food items for youth. The mission of the agency is "to provide housing and supportive services that empower homeless individuals and families in Pueblo County to become self-supporting members of the community."
The Big Dreams Grant from ELCA World Hunger will help Posada implement and strengthen their Senior Housing facility through the creation of a safety net to support unhoused older adults. Posada addresses the needs of homeless individuals, families, youth, veterans and, now, older adults to break down barriers, reduce inequality and build strong relationships that move us toward a just world where basic needs of all are met.
MOSES
Detroit, Michigan
MOSES is a faith-based, grassroots-led community organizing nonprofit serving residents of Detroit, Michigan, and its surrounding region. An interfaith, multi-racial and regionally-focused organization, MOSES especially emphasizes the leadership of laypeople and clergy from member congregations based in Black communities in Detroit and other southeast Michigan communities. MOSES identifies as a Black-led organization, and their overarching ministry is to develop the civic skills of marginalized residents so that they may act upon their values in the public arena. By focusing on grassroots leadership, MOSES remains rooted in their commitment to addressing needs that are directly expressed and identified by members of marginalized communities. To this goal, MOSES' priority issues are based upon direct input from community leaders.
The Big Dreams Grant will help MOSES achieve its long-term objective of reforming the ways in which water is sourced, delivered and billed in southeast Michigan, in order to end water shut-offs in low-income neighborhoods. This work is critical in ensuring access to clean water in a city that has experienced crises in access to water over the last decade or more.
MOSES is also working to counter the trend of divestment from Michigan's public health system by building public demand for increased state investment in public health infrastructure. MOSES is doing this by working to make affordable access to clean water (water equity) and renewed investments in public health central areas of focus in the 2021 Detroit mayoral campaign. At the same time, MOSES is working to build capacity to drive increased investment in public health infrastructure. They are also working with a coalition to establish a graduated income tax structure in Michigan that will protect people living in poverty and create the opportunity for much-needed investment.
Church on the Street
Sioux Falls, South Dakota
Church on the Street is a Synodically Authorized Worshipping Community (SAWC) of the ELCA and a vital ministry in Sioux Falls, South Dakota, with a primary focus of being the church with people living with poverty and homelessness. Church on the Street (COTS) works towards equality, peace, justice and advocacy while offering a place at the table for everyone to be fed physically and spiritually.
Responding to the pandemic, the "small" ministry of COTS has served in big ways. COTS has deep, genuine, ongoing relationships that have enabled them to meet the needs of the most vulnerable people in the community, especially when larger organizations have not been able to provide services to them. The Big Dream grant will enable COTS to double their work in the city, meeting the immediate needs of neighbors, advocating for justice and creating a system of change alongside community responders to best serve those in need.
ForKids
Norfolk, Virginia
ForKids is committed to breaking the cycle of homelessness and poverty for families and children in Norfolk, Virginia. Their integrated services are vital to the safety and well-being of families in their community.
When schools closed for the COVID-19 pandemic in 2020, ForKids partnered with Mercy Chefs, local restaurants and individual donors to deliver over 8,000 meals to ForKids families in the region. Their Housing Crisis Hotline geared up to meet the unprecedented call volume which peaked at 935 calls in a single day. The Hotline now handles over 3,000 calls weekly, and ForKids is partnering with multiple cities to administer over $5 million in rental assistance to households experiencing a COVID-related financial setback, in addition to expanding emergency shelter placement. The team has been working diligently to keep families connected to social supports, academic support for their children and other vital resources.
The Big Dreams Grant from ELCA World Hunger will support a digital storytelling campaign to help public officials and community leaders make informed decisions about the issues contributing to hunger and poverty in their region. It will also support the construction of the new Center for Children and Families slated to open in March 2021. The Center includes the Regional Services Headquarters, a 135-bed family shelter, an expanded 24-seat Housing Crisis Hotline which will double call response capability and an education center with the capacity to tutor up to 120 children in creative learning spaces. With a full-service kitchen, ForKids estimates they will be able to provide over 31,000 meals each year. The Center will connect more than 85,000 individuals annually to services when complete. The Center will also be the home of a long-awaited dream: The ForKids Research & Advocacy Center.
Even amid challenging times, we know that God is at work in new and surprising ways. Through these transformative, holistic and integrated ministries – and the generosity that makes Big Dream Grants possible – we can see the impact of this work, and be part of it, in communities near and far. Thank you for your support of ELCA World Hunger as we work together to respond to hunger and poverty in the United States and 59 other countries around the world. To learn more about ELCA World Hunger's approach, visit ELCA.org/hunger.
Big Dream Grants are part of ELCA World Hunger's support of local and regional ministries. Through Domestic Hunger Grants, Big Dream Grants, Daily Bread Matching Grants, and Hunger Education and Networking Grants, we accompany partners throughout the United States and the Caribbean. Each year, several ministries that exemplify the values of transformative, holistic and integrated work are invited to apply for Big Dream Grants.