​
"If you hold your hand out clenched, you can't give or receive.  But if your hand is open, you can give and receive."  Pebbles Phillips, a vocalist and musician who has performed with top acts, lives by this motto.  As a single mother, she not only takes care of her daughter but also helps her daughter's father, her neighbors and people she meets in food lines.  Pebbles teaches her daughter to be grateful for what they have, even though both of them depend on food pantries and government assistance to keep food on the table.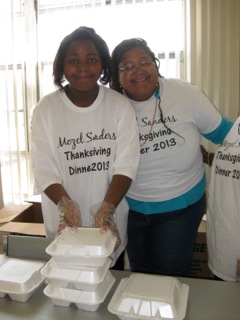 Pebbles' daughter receives SNAP benefits each month, but Pebbles herself does not because she receives a small amount of Social Security which "barely pays rent."  Getting benefits for her daughter is a burdensome process that requires "a lot of patience."  Still, she says, "I have to do it."  Without help from other family members, her daughter depends on SNAP to eat, though even with the meager benefit she receives, both Pebbles and her daughter were going hungry by the last week of each month.  SNAP helped a lot, but it didn't keep them from going hungry.
To make it through the month Pebbles "never misses the food line," sometimes waiting three to four hours in line to receive fresh food for herself and her daughter.  Finding My Friend's House, a ministry supported by ELCA World Hunger, was a "blessing."  In line there, she joined folks who would sleep on the porch or arrive in the wee hours of the morning to get food.  When her daughter's benefits were reduced November 1, 2013, she relied even more on My Friend's House and other food programs.
Still, Pebbles makes the best of her situation.  "Even if all we have is beans and potatoes, we make it into a feast."  Together she and her daughter served other folks at My Friend's House dinner on Thanksgiving Day.  Her positive attitude helps Pebbles face the grim reality of food insecurity: the laborious process of applying for and maintaining benefits, the long lines at food pantries, the anger and frustration of some of her friends and neighbors in similar situations, the uncertainty of having heat or power each month, and the pressing fear that SNAP, Section 8, Social Security or other programs might be threatened by cuts.  Her family depends on the assistance they receive from both the church and the state.  Without both, Pebbles and her daughter will join the millions of Americans who go hungry in a land of plenty.   With them, Pebbles and her daughter not only feed themselves but are also able to contribute to their community in many ways.