Teri Mueller
​Many powerful and meaningful ministries are flourishing across the United States. This past Fr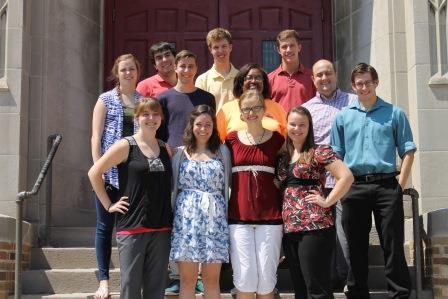 iday, the interns at the ELCA Churchwide office had the opportunity to hear from two Milwaukee-based ministries on our second and final field trip of the summer. Joe Young, ELCA Program Director of Community Development, described the trip as "an opportunity to integrate what is happening at the Churchwide level with what is actually happening on the ground." I was really excited about the trip because of my interest in community gardening and social ministry organizations. We visited Cross Lutheran Church andAlice's Garden, two organizations that are doing really incredible work.
We arrived at Cross Lutheran Church in the late morning and were greeted by Pastor Michelle Townsend de López. She talked to us about the history of the church, the ministries of the church, and the city of Milwaukee. Cross is an urban congregation located in the heart of the city. Originally founded as a Missouri Synod church, Cross has German and Polish roots that date back 144 years.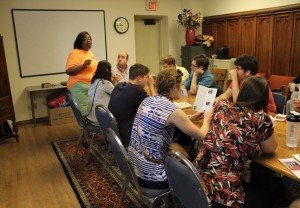 Cross has a rich tradition of embracing diversity and is known as "one of the most diverse congregations in not only Wisconsin, but also the entire U.S." according to Pastor Michelle. During the 20th century, Cross was seen as a safe place for mixed race couples in the midst of segregation and as a shelter for refugees fleeing oppression from countries in conflict like Bosnia, Somalia and Sudan. In 1984, Cross was one of the first churches to becomeReconciled in Christ, meaning that they welcome and affirm lesbian, gay, bisexual and transgender couples and individuals. Their decision to openly embrace so many forms of diversity has been contentious at times, but now diversity is a given at Cross. Inclusivity is a key focus of the church in all that they do. We were all encouraged to remember the importance of welcoming and including others as we move forward with our lives.
Numerous services and programs are run through Cross Lutheran Church as part of their outward, community focus. Pastor Michelle gave us a tour of the church and explained many of the ministries that occur. The Bread of Healing Empowerment Ministry provides a hot meal every Wednesday, operates a food pantry and hosts a Bible study. The Bread of Healing Clinic offers free services to uninsured individuals and serves over 3600 people each year. The church additionally is home to the Bridges Tutoring Program, a job training program, yoga classes, three different church choirs (Cross Youth Praise Team, Community Gospel Choir, and Cross Praise Choir) and more. Over 2000 people come through the church every week!
Funds from ELCA Domestic Hunger Grants have helped the church with its various social ministry programs. Cross has plans for expansion in the near future. The ministries and programs of the church are simply outgrowing the space. Visiting Cross really helped us make connections to work at the churchwide office in a variety of different ways. Ben Skelton, an intern with the Mission Investment Fund (MIF), explained how the visit connected to what he has experienced through working in MIF. He explained, "Working with the Mission Investment Fund, I was able to see how supporting a congregation like this with a loan would allow them to make expansions to their facility. This would ensure that they can continue to grow and have a positive impact on a community that is in desperate need of it."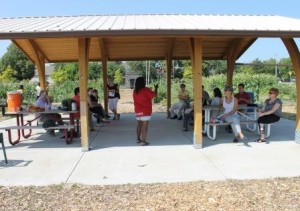 After a very informative morning at Cross Lutheran Church, we continued on to Alice's Garden and met with the Executive Director, Ms. Venice Williams. The garden has undergone a lot of positive change in recent years under her direction. Ms. Williams has a strong passion for using the earth's resources and explained, "I came to farming and urban agriculture because I was unhappy with how we feed people as the church." She emphasized that there was not enough responsibility, accountability or harvesting of people's talents. She wanted a different model that helped enable people so she invested heavily in Alice's Garden. It was really touching and inspiring to hear Ms. Williams talk about the positive impact of the garden on the community. She described Alice's Garden as "the best blessing outside of family or spouse that I've ever had."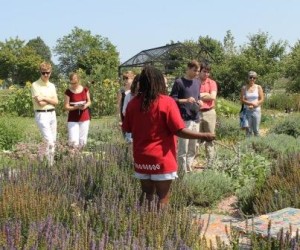 Alice's garden occupies 2.2 acres of land and is described as both an urban farm and a community garden. A number of plots are available for community members to rent out to grow their own plants and produce.  However, so much more than food is harvested from the garden! Alice's Garden is a cultural haven for people as 20+ ethnicities are represented among the gardeners. There is an herbal product line, Alice Garden Healing Herbs, that is produced. Forty-seven young people ages 14-24 have found work in the garden over the summer due to Milwaukee's Earn and Learn program. Nine caterers and food trucks use food from the garden. Yoga is held in the garden twice a week.  The list could go on and on.
On a personal note, I was really touched by the thriving community garden in the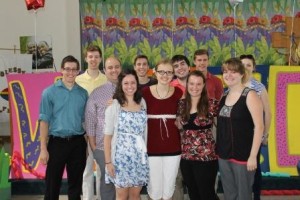 midst of the city. I did not grow up on a farm, but I am from a rural community in Iowa. My family had a garden where we grew varied produce like strawberries, squash, and tomatoes. There is something about growing one's own food that warms my heart. Ms. Williams talked a lot about how Alice's Garden taps into the community resources and gives people an outlet to help themselves. Alice's Garden is a beautiful gift to the community, but community members are also a beautiful gift to Alice's Garden. It is a partnership between people and the land that is far too often ignored.
Cross Lutheran Church and Alice's Garden are two amazing community partners of the ELCA that promote social justice in Milwaukee. It was a true blessing to hear about their work and see the context of their ministries. I have no doubt that they will continue to do great things in the years to come.
Teri Mueller is an intern with ELCA World Hunger.
Would you like to subscribe to the ELCA World Hunger blog?  Click here to enter your email address on the homepage.